This week's article will be a review of six of the largest public direct sales companies' 2017 growth figures. Although they cannot represent the whole global industry, how these "biggies" have been doing surely gives an idea: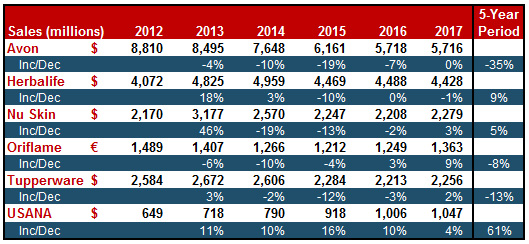 AVON
Avon's Q4 2017 sales was at par with its previous year same period sales: Approximately $1.6 billion. This brought the company to $5.7 billion which was also almost the same as Avon's 2016 performance.
Avon's largest region South Latin America grew by 4% to $2.2 billion in 2017. The rest of the three regions concluded the year with negative growths: Asia-Pacific -6%, North Latin America -4% and finally, Europe, Middle East & Africa -1%,
The weakening on the field was even worse with the company's active representatives declining by 3% in 2017. All four regions contributed to this with their negative performances.
Besides the not-so-good news from the revenue side, Avon management's reports on the profit side made the investors happy this time: Avon realized more than $250 million of cost savings, exceeding its target of $230 million for 2017. This impacted its profitability positively and increased its operating profit by 21% in Q4, bringing a net income both quarterly and annually. This was the main reason that moved Avon's share price from $2.14 to $2.94. It was only a few weeks before that, some of Avon's institutional shareholders were so pessimistic that they had wanted the company to sell itself to an investor.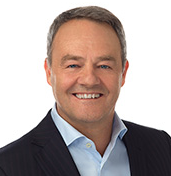 Jan Zijderveld, the newly-appointed CEO of Avon said, "Many people have asked me why I was attracted to this role… I came here because I can make a difference. Avon is operating in a dramatically changing consumer and competitive environment and business as usual is not an option. The Board has given me a clear mandate to dive deeply into all aspects of this business."
Avon management did not expect the closure of Australia and New Zealand that will happen this year to have any negative impacts. CFO Jamie Wilson said the business there had been a net loss position for a number of years and with the exit, that loss would no longer hit their results.
In January this year, New Avon, the North American unit that Avon had sold before, launched a food supplements line and got into a new category. Whether if and when these products will be made available in Avon's other markets has not been disclosed yet.
For more on Avon's 2017 performance, please click here and here.



HERBALIFE
Herbalife's revenue growth in the last quarter was 5%, bringing the quarterly sales to approximately $1.1 billion. Despite this, company's sales was down 1% on an annual basis.
EMEA was the most successful of Herbalife's regions in 2017 achieving a 7% growth.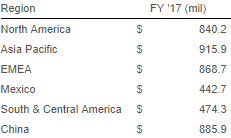 With its $869 million annual volume, EMEA is now company's third largest region after Asia-Pacific (0% growth in 2017) and China (2% growth in 2017). Mexico's sales declined by 1%, South-Central America's by 3% and last but not least, North America's by 12%.
The revenue decrease in North America was $116 million last year, taking it from its "pole position" to fourth in one year. CEO Rich Goudis said during the earnings call that this decline had slowed down in the US: -19% in Q2, -17% in Q3 and -8% in Q4.
"After a year of transition, we returned to net sales growth in the fourth quarter as expected, and we anticipate stronger net sales growth for the full year in 2018," said Rich Goudis. For 2018, Herbalife's expectation is to reach a net sales growth of 5.5 to 9.5% versus 2017.
Herbalife announced a new executive organization structure effective May 1, 2018. According to this, President Des Walsh is transitioning to the new role of Executive Vice Chairman. Concurrently with this, CFO John DeSimone will assume the role of Co-President and Chief Strategic Officer. Current Sr. VP Bosco Chiu will be promoted to Executive VP and CFO, general counsel Richard Werber will assume the new role of Chief Legal Officer and Sr. VP and Chief Compliance Officer Henry Wang will be promoted to Executive VP and General Counsel.
For more on Herbalife's 2017 performance, please click here and here.
Thanks mainly to the growth performances achieved in China (+18%) and its Americas region (+15%), Nu Skin achieved 3% sales increase in 2017, globally. These two regions' Q4 growths were exceptionally phenomenal: Quarterly revenue increase in China was 60% and in Americas it was 33%. These two regions together generated 45% of Nu Skin's volume. In fact, Nu Skin has not much business in the U.S. Company's CFO Mark Lawrence said during the earnings call, "… the vast majority of our revenue and all of our profit, virtually all of our profit is overseas."
EMEA's annual revenue was up 9% in 2017 and South Asia/Pacific's 1%, whereas South Korea ended up with -13%, Hong Kong/Taiwan with -9%, and Japan -8%.
Last year's $2.279 million revenue also meant the end of a three-year-long era of declining sales for Nu Skin. This also put the company ahead of Tupperware as of end-2017. But still, Nu Skin's 2017 sales is far from its 2013 revenue when it peaked at $3.177 million.
"We concluded 2017 on a high note with solid quarterly results driven by customer and sales leader growth.Our growth strategy, which remains focused on three key elements – engaging platforms, enabling products and empowering programs, continues to drive our positive results," said Ritch Wood, Nu Skin's CEO.
For 2018, Nu Skin announced it expected annual sales of $2.44 billion to $2.49 billion, and if this happens, that will be a 7 to 9% growth.
For more on Nu Skin's 2017 performance, please click here and here.
Oriflame closed the year with an impressive 9% revenue increase. The company's fourth quarter sales was EUR 380 million (up 7% from last year) and the year-end result was EUR 1.363 million. Despite this, Oriflame's annual sales in 2017 still was lower than that of 2013 (EUR 1.407 million).
Unit sales in Q4 increased by 4% and the price/mix effect was up by 10%. This positive mix effect was attributed by management to "a combination of geographic and product mix, mainly driven by skin care and wellness".
The positively contributing regions to this yearly 9% global sales increase were: Asia & Turkey (17%), CIS (10%), and Latin America (6%). The only sales decrease came from Europe & Africa (-1%). For several years, CIS region (Armenia, Azerbaijan, Belarus, Georgia, Kazakhstan, Kyrgyzstan, Moldova, Mongolia, Russia, Ukraine) has been a headache for the company with its continuously diminishing sales. This region (Oriflame's second largest after Asia & Turkey) succeeded to report Euro sales growth in each of the four quarters in 2017.

CEO Magnus Brannstrom was happy with the results saying, "2017 was another year of healthy Euro growth and double-digit local currency growth. We delivered very strong profitability improvements…  Our strategic categories – Skin Care and Wellness sets and routines –  served as significant drivers of growth and price mix development." In fact, Oriflame's skin care (28%), and wellness (11%) categories together accounted for 39% of its global sales in 2017.
Oriflame management also announced that 94% of company's global orders were placed online last year and approximately 2/3 of visits to its websites came from mobile devices.
For more on Oriflame's 2017 performance, please click here.



TUPPERWARE
Following $589 million sales in the last quarter of 2017 (down from last year same period), Tupperware ended the year with $2.256 billion sales. Apart from South America (+6%), all of its regions brought negative growths in 4Q.
This situation was the final result for whole of 2017, too. On an annual basis, sales in South America increased by 20%, whereas each of Europe and Asia-Pacific reported -2% and North America -1% revenue growth. So, basically in 2017, Tupperware owed its 2% global sales increase to South America's 20% regional growth.
At the markets level, Tupperware's stars in the last quarter of 2017 were China (+33%), CIS (-18%), Mexico (+13%) and Brazil (+4%). Brazil is Tupperware's largest market with its volume exceeding $300 million. China made over $200 million and has become the third largest (US & Canada, the second). Among those that disappointed were Indonesia (-21%), India (-19%), Italy (-12%), South Africa (-7%), and France (-6%).
In the fourth quarter, Tupperware announced it would close down its manufacturing and supply chain facilities in France. Management admitted during the earnings call that while they found it a necessary move, it impacted both the sales force and the consumers, resulting in undesirable numbers especially in France, Germany and Italy in the end.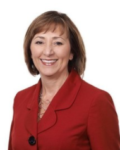 After having declining sales for three consecutive years since 2013, last year was the first with a positive growth. For 2018, Tupperware announced it expected 2 to 4% sales increase, globally. Assuming the high-end (4%) is achieved ($2.346 b), Tupperware's global sales will still be lower than that of its 2014 figure which was $2.606 b.
Tupperware last week announced Patricia A. Stitzel as the new CEO. Rick Goings has been at this post since 1996 and from now on, he will serve as Executive Chairman.
For more on Tupperware's 2017 performance, please click here and here.
USANA reached another record high sales in 2017: $1.047 billion. In fact, it succeeded in increasing its revenue each and every year during the last decade. In seven of the last 10 years, company's growth was double-digit:

For the fourth quarter of 2017, the revenue was $273 million compared with $253 million in the prior-year period, representing an 8.0% increase. This was the highest quarterly sales in company's history, as reported by the management. North Asia's year-over-year quarterly growth was 25%, Greater China's 14% and Southeast Asia-Pacific's 4%. Sales in Americas-Europe region decreased by 5%.
During 2017, company had  announced its plans for a mid-2018 entry to four new European markets: Germany, Spain, Italy and Romania. It said products now have been available to preferred customers on a not-for-resale basis in these countries.
Currently, more than half of USANA's volume is being generated in China where it has been dealing with a problem. It was announced in February 2017 that the company had been voluntarily conducting an internal investigation of its operations there, focused on compliance with the foreign corruption regulations. USANA says at this time it cannot predict the duration, scope, or result of the investigation.
For 2018, the company expects its net sales to be between $1.11 and $1.16 billion, a growth of 6.0%-10.8%.
For more on USANA's 2017 performance, please click here and here.
…..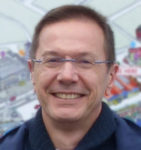 Hakki Ozmorali is the Principal of WDS Consultancy, a management consulting firm in Canada specialized in providing services to direct selling firms. WDS Consultancy is a proud Supplier Member of the Canada DSA. It is also the publisher of The World of Direct Selling, global industry's leading weekly online publication since 2010. Hakki is an experienced professional with a strong background in direct sales. His work experiences in direct selling include Country and Regional Manager roles at various multinationals. You can contact Hakki here.
SHARE THIS: