Having received the quarterly results, we can now review and compare companies' growth performances as of end-third quarter. We also now have a better idea as to how these direct selling giants will close this year.
This analysis will focus on the public direct selling companies, Avon, Herbalife, Natura, Nu Skin, Oriflame, Tupperware and USANA, in alphabetical order.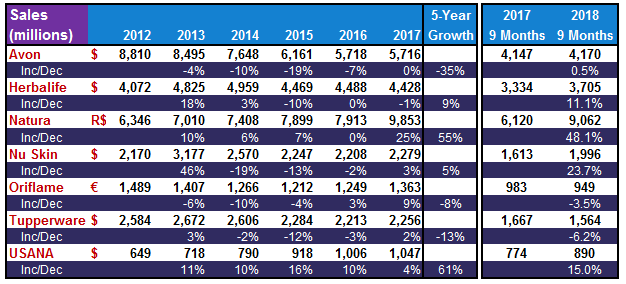 After the third quarter, Avon's CEO Jan Zijderveld gave an opening speech at the investors call and said that six weeks ago he had described Avon as the "patient on the operating table". Avon has been presented by its management as being in similar situations over and over again… for seven years now.
Avon reported $1.4 billion revenue in the third quarter, almost the same as last year same quarter. However, excluding the Brazil IPI tax release in this quarter, Avon's total revenue decreased 11% to $1.3 billion. South Latin America reported 9% sales growth, sales in Asia-Pacific was up +2%, North Latin America reported unchanged sales, and sales in EMEA was down 8%.
Management said Brazil's performance had continued to negatively impact company's  overall results. The sales decline, it was said, represented more than 80% of the overall revenue decline from all segments.
Avon's active representatives declined 5% with decreases in all its regions and its ending representatives were -6%, again, with decreases in all regions.
During the investors call, CEO Zijderveld responded to a question and told about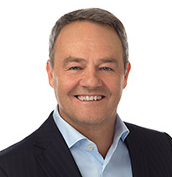 their strategy: "Internally we're shifting really a lot of focus to productivity of our representatives and increasing her earnings. And in the end, that is all about rep retention. So, we've a pretty good recruitment machine, but what we really need to add to it is a retention machine, and the core of the retention is really about earnings, and earnings is really driven by training, and it's as simple as that."
Avon's beauty product sales dropped by 16%, "color" recording the highest decline (-21%. Its fashion and home line declined by 8%, too.
For more on Avon's Q3 results, please click here and here.
HERBALIFE
Herbalife increased its quarterly sales by 15% compared to last year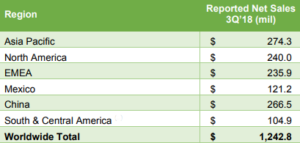 third quarter ($1.243 b vs. $1.085 b). The highest growth came from its China region that grew by 27%. North America (+20%), Asia-Pacific (+19%), EMEA (+10%) and Mexico (+6%) were the other regions that contributed to growth. South & Central America, the smallest of Herbalife's all regions, was the only region that came up with decreased sales (-10%). After these results, Herbalife's revenue in the first three quarters is 11% above the same period of 2017.
Herbalife CEO Rich Goudis said, "This quarter was our largest third quarter in the company's history, with 15% year-over-year growth, and the second largest quarter overall following the record that was set in the second quarter this year."
A few weeks ago Herbalife announced it had entered the $38 billion coffee category, starting from the U.S. Apart from this, the company introduced during the last quarter, a total of 58 products in its 51 markets.
Following the the third quarter, Herbalife targets 6.5%-10.5% sales increase for the last quarter and 9.9%-10.9% for the whole year versus last year. If achieved, Herbalife will be ending the year with a revenue of very close to $5 billion.
For more on Herbalife's Q3 results, please click here and here.
Natura's net sales in the third quarter was up 37% versus prior year. A significant part of it came from the acquisition of The Body Shop. Even without this though, the consolidated quarterly revenue growth was 17%.
Natura's business now consists of three segments and each of them posted positive growth figures last quarter: Natura 4.5%, The Body Shop 277% (not comparable because of the timing of acquisition), and Aesop 67%.
Following these results, management said, "With double-digit growth in revenue and adjusted EBITDA and net income more than doubling, Natura &Co posted another quarter of solid performance, providing new evidence of the growing momentum and strength of our global, multi-brand, multi-channel group. All three of our brands and businesses continued to contribute to a very satisfactory underlying performance."
Management was quite happy with the results in Brazil, Natura's home country. Sales grew by more than 9% in Brazil in Q3. Along with its direct selling channel, Natura has been opening and running retail stores in Brazil. It was announced that the number of these has reached 31 now with the opening of 12 new stores throughout the country last quarter. Natura Brazil has more than 1 million consultants on the field.
For more on Natura's Q3 results, please click here.
Nu Skin came up with a strong 20% revenue increase in Q3 as compared to last year's third quarter ($675 m vs. $564 m). Nu Skin's all regions posted positive revenue growths in the last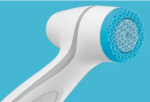 quarter. The performance in Mainland China was especially impressive (31%), contributing $54 million to this increase. Southeast Asia brought 21% growth. During the investors call, Nu Skin said its product Lumispa had accounted for $74 millon sales in Q3.
"We delivered strong year-over-year financial results with reported revenue growth in every region," said Ritch Wood, CEO of Nu Skin."This is our fourth consecutive quarter of revenue growth of 20% or more, driven by the continued execution of our growth strategy focused on engaging platforms, enabling products and empowering programs which led to solid customer growth of 9% and sales leader growth of 14%."
Nu Skin's total revenue after the first three quarters is $1.996 m which is 24% above last year. For 2018, management announced they had increased their annual revenue guidance to be between $2.66  and $2.68 b, expecting $665 to $685 million in the last quarter.
For more on Nu Skin's Q3 results, please click here and here.
Oriflame's global sales declined by 1% in the third quarter from €295.3 million to €292.5 on a year-over-year basis. Company's nine-month sales growth performance is below last year's, too (-4%).
The only region that came with a positive growth in Q3 was Europe & Africa (+4%). Sales in Asia & Turkey and Latin America units were stable (0% growth). CIS reported the worst among all: -8%.
Active consultants in the quarter was stable, amounting to 2.7 million. Oriflame's unit sales decreased by 3% and the price/mix effect was up by 7%, driven by mix. The positive mix effect, as reported, was mainly driven by skin care and wellness lines.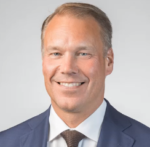 CEO Magnus Brannstrom commented on the quarter results, "We entered the third quarter facing continued challenging market conditions in some of our key markets… Measures focused on driving activity and recruitment to enhance sales growth in CIS and Latin America have proven successful… The performance in Asia & Turkey was slower during the second part of the quarter, partly as a result of the macroeconomic conditions in Turkey and lower activity in China. Sales development into the fourth quarter is slightly above the previous quarter and actions focused on driving activity and recruitment are ongoing."
For the developments on the digital platforms, management said the transition to mobile devices continued to increase. More than 95% of the orders were placed online, of which 40% were placed on mobile devices. Key activities during the quarter included the continued rollout and development of the company's e-commerce capabilities and further investments to the Oriflame App Suite.
For more on Oriflame's Q3 results, please click here.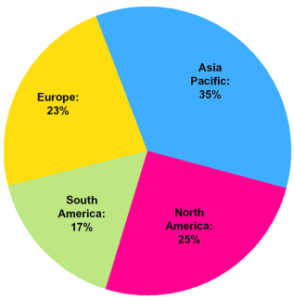 Tupperware reported $486 million sales, down 10% versus last year. Sales in its Europe business unit increased by 1%, led mainly by South Africa (+16%) and CIS (+10%) and offset by Tupperware's "established" markets in Europe. Asia-Pacific's sales decreased by 8%, North America's by 11% and South America's by 24%.
Leading worse-performing markets in the third quarter were: Indonesia (-31%), India (-27%), Brazil (-23%). Tupperware United States and Canada sales were down 3%, too. Management said this year-over-year decrease was due to a "blockbuster campaign" in July 2017 that was not repeated in Q3 2018.
For the rest of the year, Tupperware expects -9% to -7% growth in the fourth quarter and to close the year by -7% to -6%. Management reports "there is a negative 2-point impact in the 2018 full year sales comparisons from the closure of Beauticontrol in 2017 and the combination of NaturCare and Tupperware in Japan, effective at the beginning of 2018."
Tupperware recently introduced a nutritional line in China. Currently, this line is being sold in the outlets and regionally. Eventually, it is expected to be sold online.
During the earnings call, CEO Patricia Stitzel was proudly announcing they had their first e-commerce launch for Europe, in Germany, providing the sales force with their own personal websites with e-commerce functionality… Well, having been so late, it seems Tupperware needs to hurry on the digital platforms if they want to make Tupperware a relevant brand.
For more on Tupperware's Q3 results, please click here and here.
USANA's third quarter sales was $297 million, representing an an increase of 13% year-over-year (vs. $262 million). As far as regional performances were concerned, North Asia grew by 27%, Greater China by 23% and Southeast Asia- Pacific region by 12%. Sales in the Americas & Europe region decreased by 9%.
CEO Kevin Guest commented, "USANA generated very strong results for the

third quarter, notwithstanding the notable strengthening of the U.S. dollar both year-over-year and sequentially. Our growth is due to the momentum we continue to see across most of our markets. For instance, local currency net sales in five of our markets grew by more than 20% during the quarter. Five additional markets grew by more than 10% as we had several additional markets grow."
With this third quarter performance, USANA's first nine months' revenue is 15% higher than last year same period's.
The management updated its outlook for the whole year of 2018 and announced its sales expectations as "between $1.185 and $1.2 billion". This was previously $1.17-$1.2 billion.
Regarding the internal investigation of China operations (i.e. "BabyCare Ltd."), USANA said the company had assumed direct responsibility for reviewing the matters and  hired an experienced counsel to conduct the investigation. The Company added, it did not believe the amounts would materially impact its financial statements, but it could also not predict the outcome of this investigation.
For more on USANA's Q3 results, please click here and here.
Will the fourth quarter be better than the first nine-month performances for these direct sellers? We will have to wait and see…
Please click links for these companies' 2018 Q1 and Q2 reviews.
…..
Hakki Ozmorali is the Principal of WDS Consultancy, a management consulting firm in Canada specialized in providing services to direct selling firms. WDS Consultancy is a proud Supplier Member of the Canada DSA. It is also the publisher of The World of Direct Selling, global industry's leading weekly online publication since 2010. Hakki is an experienced professional with a strong background in direct sales. His work experiences in direct selling include Country and Regional Manager roles at various multinationals. You can contact Hakki here.
SHARE THIS: