This article is a review of the first-half 2018 performances of seven major public direct selling companies from a revenue growth perspective. You will see there were both impressive and unsatisfactory performances in the second quarter.
Avon's second quarter global revenue was down 3% from last year previous quarter ($1.352 b vs. $1.396 b). Still, Avon's 2018 first-half growth (Q1+Q2) is almost 1% above 2017.
Out of the four regions of Avon, only EMEA reported sales growth in the first quarter (+1%). North Latin America was at par with last year, Asia & Pacific was down 1%, and South Latin America down 8%. Avon saw active representative losses in all of its four regions, ending with 4% global decrease. Active representative declines in Brazil, Russia and Mexico were specifically noted.
Management commented that Brazil had impacted overall revenue performance this quarter significantly, in part due to the impact of the truckers' strike that prevented orders, deliveries and delayed cash collection. Without this impact, Avon's global revenue would have been -1%.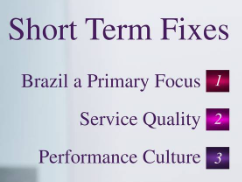 CEO Jan Zijderveld said, "Entering my seventh month at Avon, I am encouraged by improved revenue growth in three of our top five markets… However, we are not yet satisfied with the overall operating results of the quarter… We are prioritizing achieving profitable, sustainable top line growth by focusing on our representative experience and satisfaction through enhanced training for 500,000 representatives in the second half, as well as new sales incentives programs, better service and improved forecasting… And, finally, we are placing digital at the center of all actions to drive our future progress." Mexico, Argentina and Philippines were those three top markets Zijderveld mentioned that had grown in Q1.
During the second quarter, Avon completed the early redemption of its 2019 bonds (worth $238 million) in an effort to to reduce its debt and strengthen its balance sheet. This move brought Avon's gross debt down to $1.6 billion as of June 30.
Avon has also made significant changes in its top management 

recently: Benedetto Conversano was appointed to the newly-created role of SVP, Chief Digital & Information Technology Officer; Anna Chokina was appointed to VP, Global Brand Marketing, Skincare and Personal Care; Elena Degtyareva to VP, Global Fashion and Home; Amy Greene to VP, Investor Relations; and has added new Country General Managers in Russia & Eastern Europe; in Italy & Mediterranean region, and in the Asia &Pacific.
For more on Avon's Q2 performance, please click here and here.



HERBALIFE
Herbalife reported a remarkable revenue growth for

the second quarter: Net sales of $1.3 billion, an increase of 12% compared to the second quarter of 2017. Of the five regions, four grew. Company's highest growth came from its North America region (20%). It was followed by China (18%), EMEA (16%),  Asia & Pacific (7%), and Mexico (2%). The only negative growth was reported by South & Central America (-5%).
Satisified with the results, CEO Rich Goudis said, "Our top-line growth rate accelerated in the second quarter reflecting the strength of our business model to provide solutions to many of today's global nutrition and wellness megatrends."
In Q2, Herbalife continued to expand its product portfolio, launching a total of 35 products globally.
Management announced its 2018 outlook as: 9-14% net sales growth in the third quarter and 8-12% in 2018 versus 2017. This forecast, if achieved, will take Herbalife very close to becoming a $5 billion revenue-company, once again after 2014. Company's 2018 mid-year revenue realization is 9.5% above last year's.
For more on Herbalife's Q2 performance, please click here and here.
Natura's consolidated net revenue increased by 53% to R$3.1 billion in the second quarter. R$2.06 b of this came from its Natura unit, R$807 m from The Body Shop and R$236 m from Aesop. At R$ 5.8 billion, company's first half-2018 growth is 54% up from 2017.
İn Brazil, Natura's sales grew by 7% in Q2. This was achieved despite the disruptions from the truckers strike and the World Cup. The rest of Latin America's performance was on the other hand, +21%. Management's comment on the results from Mexico and Argentina were "robust". The Body Shop's quarterly sales was down 12%,
Roberto Marques, Natura's Executive Chairman of the Board stated, "We are very pleased with these results. Natura has revitalized its business model through its revamped relationship selling approach, digitization and growing multichannel presence; The Body Shop's ongoing transformation plan is delivering initial results and Aesop continues its stellar growth trajectory. Natura &Co is well positioned to deliver further growth, reach its medium-term and long-term ambitions, and create triple bottom line value through continued advances in sustainable business practices."
For more on Natura's Q2 performance, please click here.
Nu Skin announced very strong second-quarter results with revenue of $704.2 million, up 28% over the prior-year period. Nu Skin's first six months sales growth is also 26% above last year.
Quarterly sales in China was up 41%, Southeast Asia 31%, Americas/Pacific 25%, Hong Kong/Taiwan 21%, EMEA 15%, and South Korea 5%. The only business unit that reported a sales decline was Japan (-1%). Among these seven regions, China is Nu Skin's largest region, generating 35% of Nu Skin's global volume.
"Based on our strong first-half results, with double-digit growth in both the first and second quarters, we now see revenue growth of approximately 15 to 17% for the year," commented, Ritch Wood, Chief Executive Officer.
In fact, Nu Skin announced it expected $650 to $670 million revenue during the third quarter (i.e. 15% to 19% growth), and $2.63 to $2.67 billion as of end-2018.
For more on Nu Skin's Q2 performance, please click here and here.

Oriflame's global sales decreased to EUR 309 million from EUR 348 million in Q2 of 2017. Company's 2018 first half growth performance was down 7% as well.
The number of registered active field members in the quarter decreased by 1% to 2.8 million.
Negative growth in the second quarter was widespread in Oriflame's regions: Asia & Turkey (-1%),  Europe & Africa (-3%), Latin America (-10%) and finally, CIS (-19%). Asia & Turkey is currently company's largest region, accounting for about 40% of its global sales.
CEO Magnus Brännström commented, "Despite facing significant currency headwinds, we are pleased to report an improved operating margin for the quarter. However, the overall sales development during the second quarter was weak due to challenging market conditions in key markets such as Russia, Indonesia and Turkey."
For the third quarter of 2018, management announced that the year to date sales development was approximately +4% in local currency and the development in the third quarter to date was approximately +5% again, in local currency.
As the long terms, the aim was announced as achieving local currency sales growth of approximately 10% per annum.
For more on Oriflame's Q2 performance, please click here.



TUPPERWARE
Following a negative growth in the first quarter (-2%), Tupperware's second quarter was also a disappointment: Net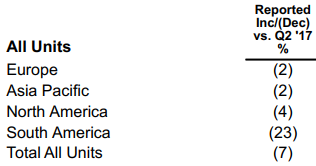 sales in Q2 was US$535 million, 7% down from last year's same period (US$573 m). Maybe worse than this overall figure was that sales decrease was present in all regions.
Acknowledging the current not-so-good situation, the newly appointed CEO of Tupperware Tricia Stitzel is optimistic about the future: "We do acknowledge that we must perform better across the global portfolio. I am confident that with this dynamic team of experienced leaders and the 3 million entrepreneurs in our sales force, we will be able to innovate and execute to solidify our position as a thriving global brand."
At the markets level, South Africa (+27%), China (+20%), CIS (+13%), Mexico (+6%), Germany (+2%), and US & Canada (+2%) came up with better results in the last quarter. On the other side, there were big disappointments: France (-29%), India (-29%), Indonesia (-23%), and Brazil (-21%).
As a result, Tupperware's share price went down to US$ 34 that is drastically lower than US$ 96 when it had peaked at the end of 2013.
Similar to Avon's move, Tupperware has also recently announced major executive appointments: Asha Gupta as Executive VP and Chief Strategy and Marketing  Officer, Stein Ove Fenne as Group President of EMEA, Jim Bellonz as President of U.S. & Canada, and Justin Hewett as Group President of Asia Pacific.
For the rest of 2018, management announced it expected 10-12% revenue decrease in the third quarter vs. Q3 of 2017, and 6-7% decrease for full 2018 vs. 2017. This means Tupperware will only be able to achieve a yearly revenue in 2018 (approx. US$ 2.1b) that it was making 9-10 years ago.
For more on Tupperware's Q2 performance, please click here and here.
For the second quarter of 2018, USANA's net sales were US$301.5 million, compared with US$257.1 million in the prior-year period, an impressive 17.3% increase year-over-year. With this, its net sales for the first six months exceeded US$593 million. This is more than the figure USANA had achieved during the whole year only seven years ago in 2011 (US$582 million).
USANA's regional revenue growth performances in Q2 were as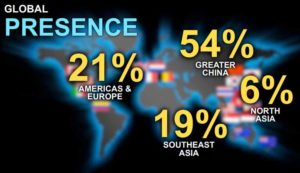 follows: North Asia 36%, Greater China 23%, Southeast Asia & Pacific 13%, and Americas & Europe 4%. Asia & Pacific countries altogether generate 80% of USANA's sales, and Americas & Europe account for the remaining 20%. During the quarter, USANA expanded into four new European markets: Germany, Spain, Italy and Romania. Management said the launch of these markets had gone very well and the initial operating results had been positive.
"Our operating results for the second quarter exceeded our expectations and reflect the momentum we are seeing in most of our regions. This momentum helped us generate the highest quarterly revenue and earnings per share in the Company's history," CEO Kevin Guest commented on the results.
The Company has updated its net sales outlook for 2018 as between $1.17 and $1.20 billion (previously it was between $1.13 and $1.17 billion).
Currently, USANA's market value is approximately US$3 billion. Only a year ago in August 2017, USANA was valued at US$1.4 billion. To compare, today Avon's market capitalization is less than US$1 billion and Tupperware's is less than US$2 billion.
For more on USANA's Q2 performance, please click here and here.
This analysis covers how seven of the largest direct selling companies have done so far in 2018. We will need to wait to see how they will perform in the rest of the year.
…..
Hakki Ozmorali is the Principal of WDS Consultancy, a management consulting firm in Canada specialized in providing services to direct selling firms. WDS Consultancy is a proud Supplier Member of the Canada DSA. It is also the publisher of The World of Direct Selling, global industry's leading weekly online publication since 2010. Hakki is an experienced professional with a strong background in direct sales. His work experiences in direct selling include Country and Regional Manager roles at various multinationals. You can contact Hakki here.
SHARE THIS: