Having received their first quarter reports, the time has come to review how the industry's giants did in the first three months. The analysis covers the seven largest public (e.g. whose shares are traded on the stock exchanges) direct sellers: Avon, Herbalife, Natura, Nu Skin, Oriflame, Tupperware, and USANA.
Once again, the article will focus on these companies' revenue growth performances.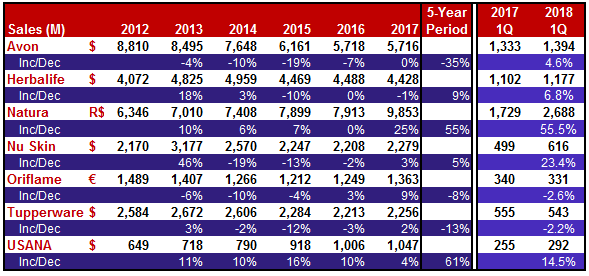 AVON
Following many quarters with disappointing sale figures, Avon started the year with a 5% revenue increase achieving $1.4 million worldwide sales.
Yet, company's new CEO Jan Zijderveld was not happy. He said, "Avon's first-quarter results were unsatisfactory and do not represent the underlying potential of the business."
In fact, out of four regions, only EMEA came up with a meaningful sales increase (12%). EMEA is Avon's largest region, generating more than 40% of its global volume. North Latin America was up 1% in the first quarter, South Latin America was at par (0%), and Asia Pacific reported 2% decline.
When it comes to the active representatives on the field, the situation was even worse as all four regions reported decreases: Asia Pacific and EMEA each -1%, and North and South Latin America each -6%, bringing the global figure to -4% as compared to Q1 of 2017.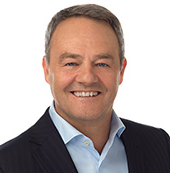 CEO Zijderveld summarizes what they should do in Avon as: "To win in this market, we must significantly step up our competitiveness. It is important to be agile and quickly identify, understand emerging trends and capture those opportunities faster. This means Avon must start driving bigger on-trend innovations and platforms, and bring them to market much faster with greater scale and impact. For this, we need to become more glo-cal, this means global and local. A few big global innovations with scale and impact, while at the same time capturing opportunities through locally relevant innovations with speed and agility."
Following the first quarter, Avon announced it had sold its business unit in Japan to LG Household and Health Care for approximately $96.5 million.
For more on Avon's first quarter results, please click here and here.
Herbalife closed the first quarter with a solid 7% increase in its global sales. Company's Q1 revenue was $1.2 billion this time.
Just like it was Avon's, EMEA was also Herbalife's star region during

 the last quarter. Revenue increase was over 18% in EMEA. Sales grew in Asia-Pacific by 12%, in Mexico by 9%, in South & Central America by 3%, and in North America by 1%. The only decline came from China (-2%). Management stressed the importance of the newly launched products in getting these results. Herbalife reported it had introduced over 60 products in this last quarter globally.
CEO Rich Goudis was more than satisfied with his company's performance. "In the first quarter, we exceeded expectations as we return to growth in the U.S. ahead of schedule and, as such, we raised our financial outlook for the year. This is an exciting time for the company," he commented during the investors' call.
So, Herbalife management was even more optimistic following these results, stating their second quarter sales increase target as 8.5%-12.5%. Herbalife's full year target for 2018 is 9.0%-13.0% over last year. If achieved, Herbalife will have between $4.8 billion to $5 billion revenue by the end of this year.
A few weeks ago in April, the company announced its strategic name change from "Herbalife" to "Herbalife Nutrition". Rich Goudis explained the reasoning behind this move, "Our new name, Herbalife Nutrition, reflects our strategic transformation as a leader in the nutrition industry."
For more on Herbalife's first quarter results, please click here and here.
Brazil's Natura described its first quarter performance as "another solid growth in sales and profitability across the group". In fact, Natura's net revenue increase during Q1 was 56% versus prior year's same period, reaching R$2.7 billion (approximately, US$750 million). This included three months of additional revenue from The Body Shop.
The group's main line, Natura's quarterly growth was 7% over prior-year. Its Brazil unit grew by 1% and its LATAM division by 23%. Natura has over 1 million consultants on the field.
The group has recently been re-branded itself as Natura & Co. Currently, Natura accounts for 62% of the group's net revenue, The Body Shop for 30%, and Aesop for 8%.
For more on Natura's first quarter results, please click here.
Nu Skin achieved an impressive 23% sales growth in the first quarter and all of Nu Skin's regions contributed to this. The highest percentage growths came from China and EMEA (both 32%). Americas/Pacific region's contribution was 29%. China is Nu Skin's largest market that accounts for about 1/3 of Nu Skin's global revenue.

After having reached $616 million sales in Q1, CEO Rich Wood said, "Our revenue growth was driven by an 11 percent increase in customers and a 16 percent improvement in the number of sales leaders. We are encouraged by the early execution of our growth strategy centered on engaging platforms, enabling products and empowering programs."
During the earnings call following the first quarter, Nu Skin management explained their growth strategy that had focused on three key pillars: Platforms, Products, and Programs.
For the second quarter, Nu Skin expects $630 to $650 million sales. This is 15% to 18% growth over prior year. And Nu Skin announced its 2018 revenue guidance as $2.51 billion to $2.56 billion, that is 10%-12% yearly growth.
For more on Nu Skin's first quarter results, please click here and here.
Oriflame reported disappointing growth results this time. Its €330.8 million quarterly sales meant a 2.6% decline. Without the one-time impact of the new reporting standards the company announced it had started implementing, the decrease would still have been 2%.
In the first quarter, only one region recorded sales growth and that was Oriflame's largest region, Asia&Turkey (9%). The rest reported declining sales: CIS (-17%), Latin America (-4%), and Europe&Africa (-2%). Once a very important region for Oriflame, CIS (i.e. Armenia, Azerbaijan, Belarus, Georgia, Kazakhstan, Kyrgyzstan, Moldova, Mongolia, Russia, Ukraine) seems to continue being a problem.
Oriflame's active global sales force grew by 1% and reached 3.034 million. However, Oriflame owed this global growth only to the performance in Asia&Turkey, the active sales force declined in its all other regions.
Oriflame's unit sales dropped by 6% and sales per active by 4% during the last quarter. From the category perspective, the management was especially happy with the performances of skin care and wellness as both achieved double digit sales growth during the quarter.
For more on Oriflame's first quarter results, please click here.
Tupperware joined Oriflame in the first quarter to report a sales decline: -2.2% with $543 million revenue. Its total sales force of 3.1 million was also down 2%.
At the country level, the most significant positive contribution to the first quarter results in local currency was in China, the management said. This was along with good results in Argentina, CIS, Fuller Mexico, Malaysia/Singapore, Tupperware Mexico and Tupperware South Africa. The local currency sales decreases were most significant in France, Germany and Italy, partially offset by the United States and Canada. Tupperware United States and Canada's sales were up 9%.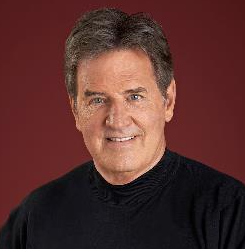 During the earnings call, CEO Rick Goings commented on the results, "As you've seen in the first quarter it was a disappointment, down 2% in dollars, while local currency sales decreased 6%, which was below the low-end of our January guidance range of 3 points."
Patricia Stitzel takes over as CEO so this was Rick Going's last earnings call participating in as Tupperware's chief executive. He said on this, "In the direct selling industry, there have been numerous horror stories regarding new leadership taking over a company with no industry knowledge. That continues to this day. And I've got to say that's not the case here."
Management expects -2% to 0% growth for the second quarter, and -1% to 1% for the whole year of 2018.
For more on Tupperware's first quarter results, please click here and here.
With a global revenue of $292 million, USANA grew by 14% in the first quarter. The company's total number of actives also increased 1.9% year-over-year to 585,000.
USANA's North Asia region reported 40% sales increase, Greater China 20%, and  Southeast Asia Pacific 12%. Sales in Americas and Europe decreased by 1%.
More than half of USANA's global business is being generated in China where it has been voluntarily conducting an internal investigation of its China operations, BabyCare Ltd as announced in February 2017. The investigation focuses on compliance with the Foreign Corrupt Practices Act and also certain conduct and policies like expense reimbursement policies. The company said it could not predict the duration, scope, or result of this investigation.
"We are off to a solid start to the year as we continue to see strong momentum in most of our regions around the world," said Kevin Guest, USANA's CEO.
USANA plans to open four new European markets, Germany, Spain, Italy and Romania in June this year. In preparation for this, company said it had already made products available on a not for resale basis in these markets.
After the results in the first three months, management announced its 2018 net sales target as $1.13 and $1.17 billion (previously between $1.11 and $1.16 billion).
For more on USANA's first quarter results, please click here and here.
This concludes are brief analysis of a group of seven public direct sellers. We will wait and see how their results will evolve in the rest of 2018.
…..
Hakki Ozmorali is the Principal of WDS Consultancy, a management consulting firm in Canada specialized in providing services to direct selling firms. WDS Consultancy is a proud Supplier Member of the Canada DSA. It is also the publisher of The World of Direct Selling, global industry's leading weekly online publication since 2010. Hakki is an experienced professional with a strong background in direct sales. His work experiences in direct selling include Country and Regional Manager roles at various multinationals. You can contact Hakki here.




SHARE THIS: