Having received their periodical financial reports, we now have the opportunity to review companies' growth performances as of end-third quarter. We also now have a better idea as to how some of the giants will close the year.
This analysis will focus on the public direct selling companies, Avon, Herbalife, Natura, Nu Skin, Oriflame, Tupperware, and USANA, in alphabetical order.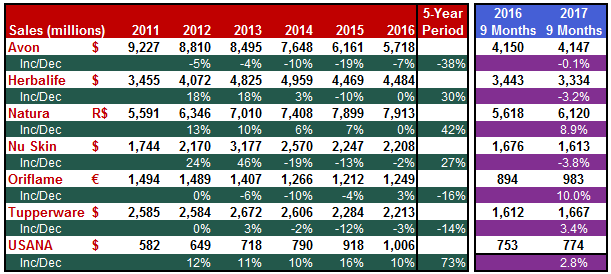 AVON
Avon reported 1% sales increase in the third quarter on a year-over-year basis. But this was not enough to declare a nine-month growth. When the total of first three quarters taken, Avon's sales is only at par with last year's.
In order to close this year with at least 2016 sales figure (i.e. $ 5.718 billion), Avon will need to generate $1.571 billion in the last quarter. That means bringing in 2% more sales than what they did in 4Q of 2016.
CEO Sheri McCoy said, "While we saw mixed results, I am encouraged by the revenue improvement in many of our top 15 markets and the underlying business trends we are beginning to see… It will take time to fully realize the benefits from our near and long-term initiatives in this highly competitive market, but with the right team in place we are poised to accelerate the pace of our progress." In August this year, Avon announced the CEO transition plan that is expected to be completed with Sheri McCoy stepping down in March 2018.
The decline in the number of Avon's active representatives continued in the last quarter (-3%). Management's view is that this decline was mainly driven by Brazil as a result of the intentionally applied tighter credit policies in this country. Global average order on the other hand, increased 3% with growth in South Latin America, Asia Pacific and North Latin America.
North Latin America achieved the highest quarterly sales growth (+5%), followed by EMEA's 1%. Both South Latin America and Asia-Pacific regions reported 1% sales decreases. At the country level, the highest growth came from Mexico and Philippines (each 4%), and the lowest from the UK, where Avon's new global headquarters is located. (-13%).
For more on Avon's 3Q growth performance, please click here and here.
Herbalife's third quarter 2017 net sales of $1.1 billion showed a decline of 3.3% as compared to the third quarter of 2016. As of end-3Q, Herbalife's sales this year is 3.2% lower than that of last year's, too.
CEO Rich Goudis was confident, saying, "During this year of transition, we believe our performance has now stabilized and we are seeing improvements in trends. By continuing to implement our strategic plan, we expect to build on the improving trends and return to growth in 2018."
The "transition" Rich Goudis mentioned refers to the changes Herbalife had to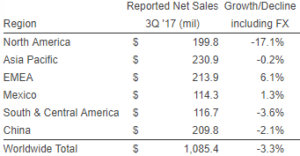 make in its business in the U.S. as a result of the FTC settlement it had agreed to in 2016.
North America with its 17% decline, was the #1 contributor to Herbalife's negative growth in the third quarter. South & Central America (-3.6%), China (-2%) and Asia-Pacific (-0.2%) followed it. EMEA (+6.1%) and Mexico (+1.3) were the two regions of Herbalife that reported positive figures.
Based on the current trends, the company expects sales growth in the range of  2.3-7.3% in the last quarter of 2017 on a year-over-year basis. Even with this, Herbalife's year-end global sales guidance is between -1.9% and  -0.6%.
For more on Herbalife's 3Q growth performance, please click here and here.
Natura reported a strong growth in the third quarter with advances in all its businesses: R$ 2.4 billion, up 24.3% vs. Q3 of 2016, including one-month of revenue from the recently acquired The Body Shop. Excluding this, it was still double-digit: 11.4%.
Natura posted revenue growth of 10.4% in Brazil, its home country. In other countries in Latin America it achieved sales growth of 19% in local currency, "despite the difficult political and economic situation in Peru and the earthquake in Mexico" as Natura reports.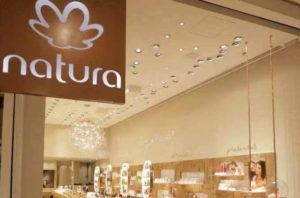 The sales through the Natura Network, Natura's online channel maintained the trend of triple-digit growth in the first nine months. In the meanwhile, the company continued to expand its retail presence, reaching 18 Natura stores in shopping malls, 13 of which are in Sao Paulo and 5 in Rio de Janeiro. In addition to these Natura is present in 3,300 stores of major drugstore chains.
"This quarter represents a historical milestone for Natura. With the closing of the acquisition of The Body Shop, we took a decisive step towards becoming a global, multi-brand and multi-channel group, with three different businesses and brands committed to ethical and sustainable business practices that generate positive social impacts," management commented on results. The "three different businesses" that are referred to here are Natura, Aesop, and The Body Shop.
For more on Natura's 3Q growth performance, please click here.
Third quarter sales of Nu Skin was $564 million. This was 7% less than 3Q of 2016. Speaking in percentages, the biggest decline came from Nu Skin's South Korea region (-35%). South Korea used to generate more than 20% of company's global sales. The other two negative figures were reported by Hong Kong-Taiwan (-15%) and Japan (-14%).
CFO Mark Lawrence said, "Looking forward, we expect fourth-quarter revenue in the $650 to $670 million range." This, if achieved, will bring Nu Skin to an annual sales of $2.263-$2.283 billion that will be higher than its 2016 sales ($2.208 billion). Again, if achieved, this will also be the end of Nu Skin's three-year consecutive revenue decline.
For more on Nu Skin's 3Q growth performance, please click here and here.
Oriflame reported a solid 6% sales growth in the third quarter, bringing its quarterly sales to €295 million. This result also brought Oriflame's 2017 end-3Q sales to €983 million that is 10% better than 2016's same nine-month period.
Commenting in a written statement on the results, "CEO Magnus Brannstrom said,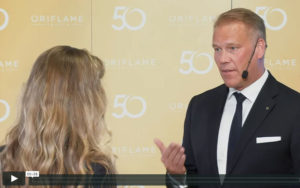 "We continued to execute on our strategic priorities resulting in yet another quarter of healthy growth and improved profitability. The overall performance in Asia & Turkey remained strong… the growth in the CIS continued… Latin America was affected by the earthquakes and negative timing. " Please click on the image to watch what Brannstrom had to say in his own words.
Currently, 38% of Oriflame's global business comes from its Asia & Turkey region. 24% from Europe & Africa, 24% from CIS, and 14% Latin America.
Unit sales in the third quarter increased by 2% and the price/mix effect was up by 9%, primarily driven by mix effect. The positive mix effect was reported as a combination of geographic and product mix, mainly driven by Skin Care and Wellness.
Oriflame's number of registered actives was stable at 2.6 million at the end of 3Q.
During the quarter, Oriflame held its largest conference ever to celebrate its 50th Anniversary. Reportedly, close to 6,000 participants at the Global 50th Anniversary Cruise sailed together in the Mediterranean.
For more on Oriflame''s 3Q growth performance, please click here.
Tupperware's quarterly sales growth was up 3% versus last year, reaching $540 million. Company's nine-month sales performance was 3% above 2016's same period as well.

Last quarter, Asia-Pacific was the only region that posted negative growth (-2%). South America was the growth champion with 12% increase compared to last year's same period. It was followed by Tupperware North America (+7%), Europe (+3%), and Beauty North America (+2%).
At the markets level, Tupperware's sales growth stars in the third quarter were China (+33%), Tupperware South Africa (+12%), Argentina (+12%), Brazil (11%), Tupperware Mexico (+9%), and Tupperware US & Canada (+8%). The most disappointing markets were India (-30%), France (-19%), and Indonesia (-18%).
Tupperware had announced previously it would close its manufacturing and distribution facility next year in France due to overcapacity.
Chairman and CEO Rick Goings said, "Our restructuring program, much of which relates to improvement actions in Europe, is on track, while we are also focused on strategies to reignite revenue growth in key markets, particularly India and Indonesia."
For the last quarter of 2017, Tupperware's revenue growth expectation is 0-2% and for the whole year 2-3%, compared to 2016. If the company succeeds in meeting this, just like Nu Skin, 2017 will be Tupperware's first growth year after a three-year period of declining sales.
For more on Tupperware's 3Q growth performance, please click here and here.
USANA reported $262 million global sales in 3Q, up 3% from last year same quarter. This brought company's sales to $774 million for the first three quarters combined, again representing a 3% increase from last year.
USANA's North Asia region grew by 36% and Greater China by 5.5% during the third quarter. Southeast Asia-Pacific declined 3.8% and Americas-Europe by 2.1%. Currently, 50% of USANA's business comes from China.
"The third quarter was an exciting quarter for USANA. In addition to achieving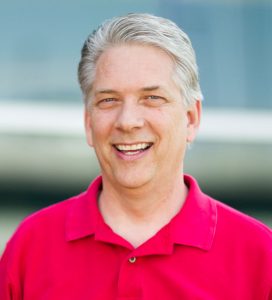 record quarterly sales, we celebrated our 25th anniversary," said CEO Kevin Guest.
During the quarter, USANA announced the introduction of a new skin care line, under Celavive brand, having seen a drop in skin care's share in total sales. The expectation is to bring skin care's 6% share to 10% by the end of 2018. USANA said it would discontinue Sense, its current skin care line. So, Celavive line is expected to be generating more than $100 million per year.
Management updated its net sales outlook for 2017 as $1.030 billion that is the top end of the company's previously issued guidance of $1.015 billion.
USANA plans to continue expanding into Europe by by opening four new markets in 2018: Germany, Spain, Italy and Romania. CEO Guest said, USANA had allowed a customer base to grow in those markets that already reached several thousand customers in those countries.
For more on USANA's 3Q growth performance, please click here and here.
These companies' 2017 past reviews are at First Quarter and Second Quarter, if you wish have a look at.
Next week, we will be reviewing these seven companies' look from a cost and profit perspective. We will also look into how the investors have been responding to their figures on the stock exchanges.
…..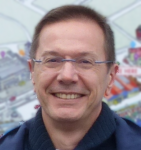 Hakki Ozmorali is the Principal of WDS Consultancy, a consulting firm in Canada specialized in providing services to direct selling firms. He is also the publisher of The World of Direct Selling, global industry's leading weekly online publication. He is an experienced professional with a strong background in direct sales. Hakki was the first corporate professional in the Turkish network marketing industry. His work experiences in direct selling include Country and Regional Manager roles at various multinationals in Turkey and in Canada. You can contact Hakki here.
SHARE THIS: