Seldia, the umbrella organization of direct selling associations in Europe shared the findings of a large-scale survey, during the annual conference a few weeks ago.
The study which was actually the first of its kind, that was conducted in a long time. It was done by the international research firm Ipsos over a two-month period between February-April 2018. Participants were from the databases of direct sellers provided to Ipsos by direct selling companies. The survey covered over 30,000 direct sellers from 11 markets.
Some of the the key findings from this significant study are summarized below:
Direct Selling = Entrepreneurship with Equal Opportunities
Entrepreneurship is so deeply rooted in the model that it has become synonymous with direct selling. Most direct sellers associate 'independence', 'freedom' and 'flexibility' with their work and the sector and cite this as part of the reason why they choose to be involved.
Women Are the Driving Force of Direct Selling
According to the study, 88% of all direct sellers are women. This is almost three times higher than the European average across all entrepreneurial businesses, helping to reduce the entrepreneurial gender gap in the European Union.
Direct Selling Offers Opportunities to Individuals from All Ages and All Backgrounds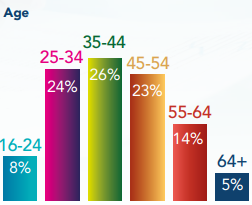 Although most of direct sellers are aged 25-54, 19% of direct sellers are aged 55 and over. Median age is 43. Also, sellers are coming directly from secondary school education, from vocational training, or from university or post-graduate degrees or with no educational background at all.
Direct Selling Reinforces Social Connections
68% of the respondents say they use personal, social and professional networks. While they have adapted well to the online space, face-to-face meetings remain as a very popular channel. 1/3 of direct sellers mention meeting new people as a primary motivator for becoming involved in the direct sales sector.
Flexible Earning Opportunities   
Again, 1/3 of direct sellers cite flexibility and long term supplemental income as a very significant factor in choosing direct selling. 63% say they have part or full time jobs outside of direct selling, highlighting the flexible nature of the industry.
Direct Selling Helping People Go Back to Work
Direct selling's offerings has helped 27% of the respondents go from unemployment to running their own micro-businesses.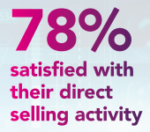 Direct Sellers Constitute One of Europe's Happiest Workforces
About half of the respondents have been in the industry for more than three years, six years being the average. Those they have been direct-selling for over 10 years is 23%.
78% say they are satisfied with their activity. 8 out of 10 believe direct selling is a good way to earn additional income and 9 out of 10 are likely to continue with their current company.
Definitely, there is a lot of takeaways from such a large-scale, multi-market survey. Analyzing all of them is beyond the scope of this article.  It is now up to Seldia and the sponsoring direct sales companies to make good use of the findings and also to make them available to the public.
…..
Hakki Ozmorali is the Principal of WDS Consultancy, a management consulting firm in Canada specialized in providing services to direct selling firms. WDS Consultancy is a proud Supplier Member of the Canada DSA. It is also the publisher of The World of Direct Selling, global industry's leading weekly online publication since 2010. Hakki is an experienced professional with a strong background in direct sales. His work experiences in direct selling include Country and Regional Manager roles at various multinationals. You can contact Hakki here.
SHARE THIS: