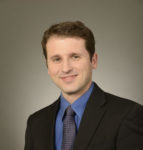 Guest author Ben Gamse is the Senior Market Research Manager at the U.S. Direct Selling Association. Ben is passionate about uncovering market trends and delivering actionable insights to improve decision-making and drive growth. For more than seven years, Ben has led the market research department at the Direct Selling Association (DSA) and collaborates with the Industry Research Committee, made up of senior business intelligence and analytics executives at DSA member companies to deliver market-sizing, salesforce, consumer, and other studies to meet stakeholder needs.
Ben Gamse
Five Key Insights from New DSA & Ipsos Consumer Attitudes & Entrepreneurship Study 
DSA's Industry Research Committee commissioned Ipsos for the first time to conduct its 2020 Consumer Attitudes & Entrepreneurship Study, which provides insight into:
American attitudes toward the gig economy and entrepreneurship in general
How to make direct selling the best opportunity to be an entrepreneur
Consumer attitudes toward evolving technology such as social media, e-commerce, and mobile commerce and their impact on direct selling.
Here are five of the key takeaways from the study:
1. Americans' interest in entrepreneurship and supplemental earning opportunities is high.
 Despite the U.S. unemployment rate returning to a 50-year low earlier this month, wages have remained stagnant over the past 50 years. Additionally, credit card, student loan, and medical debt is an increasing burden for many Americans. Younger Americans, in particular, are not accumulating wealth at the same levels as previous generations.
Within this context, this study finds that 77% of Americans desire flexible, entrepreneurial/income-earning opportunities. Interest in these opportunities is highest among younger generations, with 91% of Gen Zers and 88% of Millennials interested in entrepreneurial opportunities.
2. High interest in entrepreneurship has coincided with the rise of the gig economy. Despite increased competition for entrepreneurs, direct selling is seen as an attractive option.
Favorability ratings toward direct selling and gig work are comparable. Direct selling compares particularly well against other options in terms of being low-risk and having low start-up costs.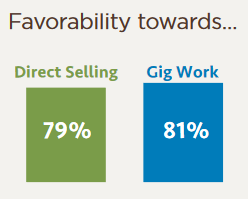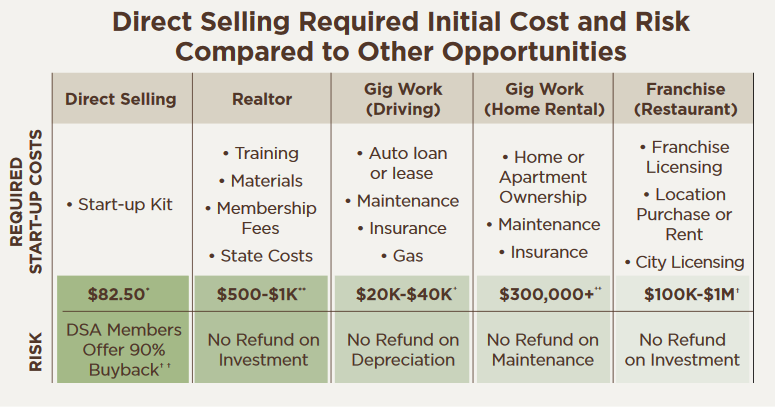 3. Direct selling has broad, diverse appeal.
Demographics of potential direct sellers generally match the U.S. population/current direct sellers. Men are as interested as women in becoming a direct seller, even though men currently represent only about 25% of current direct sellers. Young people and minorities are also particularly receptive to entrepreneurial opportunities.
4. U.S. consumers continue to be positive about direct selling.
Perceptions toward direct selling have remained stable at about 80% over the last 10 years. Most consumers find value/appeal in the good feeling of supporting a small business (69%) and the personalized service (67%) that direct sellers provide.
5. Social media can help direct sellers be more effective and improve the customer experience.
89% of Americans are on at least one social media platform, and the majority of users say they log in at least once per day. Almost half of Americans (46%) would welcome contact from direct sellers regarding business opportunities on social media.
This study was released to all U.S. DSA members earlier this month. Check out the following resources for even more information about this study:
SHARE THIS ARTICLE: