Following the third quarter, five of the largest public direct sellers' sales so far in 2019 have been lower than last year. The sales declines range from -1% (Herbalife) to -15% (Avon).
Let's take a look at these companies' sales performances one by one…



AVON
Following the third quarter results, Jan Zijderveld, Avon CEO, said, "We continue to execute our Open Up turnaround strategy, with productivity gains driving adjusted operating margin expansion and improved free cash flow… As expected, revenues declined as we continued to make sharper choices designed to drive a healthier, more sustainable and more profitable business." The four pillars of Avon's Open Up Strategy is as follows:

In fact, Avon's global revenue declined by 17% for the quarter versus last year, to $1.2 billion. All four regions reported declines: South Latin America -23%, Asia-Pacific -12%, North Latin America -11%, and EMEA -10%.
During the earnings call with the investors, management said they were focusing on "digital", saying they had been "kick-starting the development of Avon beauty entrepreneurs as Avon influencers and bloggers to accelerate social selling," and added, they would "continue to expand new digital tools that enable consumers to shop anywhere, anytime, and improve representative's experience with better digital tools and training to run her business."
Avon is aiming to expand its digital reach by initiating a "School of Bloggers" to help Avon's micro-influencers develop social networks that get them closer to the customers and attract a new generation of representatives.
In 2018, Avon had an 8% reduction in its head count and continued this in the first half of 2019 with a further 15% reduction. As a result, Avon announced it had reduced the total workforce from 25,000 people in 2017-2018 to less than 20,000 today. It also have so far reduced the number of SKUs by 21%.
Earlier this year, it was announced that Natura, the cosmetics giant from Brazil would acquire Avon. This transaction is expected to be finalized early in 2020.
For more on Avon's third quarter performance, please click here and here.
Herbalife's third quarter net sales of $1.2 billion meant a slight

increase (0.1%) compared to the third quarter of 2018.
Asia-Pacific region reported 18% growth in Q3, North America 7%, and EMEA 3%. Sales in China was drastically down by 22%. However, this is still an improvement as the previous quarter revenue growth in China was even worse (-35%). South & Central America and Mexico business units reported declining sales, too (-9% and -4%, respectively).
Commenting on the China market, CEO Michael Johnson said, "As we projected last quarter, the trends in our China business improved in the third quarter and our recovery in that market is on track. The strategies in China are progressing. And we continue to expect further improving trends in the fourth quarter."
Herbalife management announced their full-year sales outlook as between -1.2% and 0.1% for 2019. For 2020, though, Herbalife aims at growing again (by between 1% and 7%). As you can see on the chart above, Herbalife has not been able to increase its sales in the last five-year period.
In a separate press release following the quarterly results, Herbalife announced its CEO transition plan that would go into effect in March 2020. According to this, Michael Johnson who has been serving as CEO on an interim basis, would remain as the Chairman of the Board, and Co-President and Chief Health and Nutrition Officer John Agwunobi would become the new CEO.
For more on Herbalife's third quarter performance, please click here and here.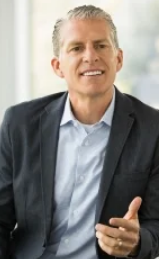 "Revenue came in slightly below expectation, primarily due to the challenging regulatory environment in Mainland China, where meeting restrictions continued throughout the quarter. Despite this, our sequential sales leader trends stabilized both in China and globally, and recent product introductions and business incentives drove year-over-year increases in customer acquisition," commented Ritch Wood, CEO of Nu Skin.
Nu Skin reported $590 million revenue in the third quarter which was 13% less than last year same quarter's figure ($675 million). The highest decrease came from China (-23%), company's largest region that generates more than 1/3 of its global volume. In the third quarter, Nu Skin's all regions but Japan (+2%) reported negative growths.
For the whole year, management expects its revenue to be between $2.41b-$2.43b in 2019. This is 9-10% lower than Nu Skin's 2018 sales.
For more on Nu Skin's third quarter performance, please click here and here.
Apparently, Tupperware's difficult times are not over. It reported declining sales for the third quarter in a row this year. The first quarter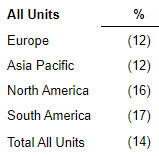 was -10%, the second was -11%, and this last quarter's revenue growth performance was -14%.
On the regional level, South America reported -17%, North America -16%, Asia-Pacific -12%, and Europe, also -12%. Tupperware's active sales force was 546,000, down 8% from last year's same period.
"Sales for the third quarter ended in line with our forecasted guidance as the challenging trends we've been experiencing in Brazil, China, and US and Canada persisted as we expected," said Tricia Stitzel, company Chairman and CEO. "We understand that we need to live up to the challenges of being a competitive global business and we need to drive rapid improvement. We can and we will," she added.
As far as the year-end forecast is concerned, the management expects a 12-14% sales decrease as compared to 2018. This will be Tupperware's lowest yearly sales in more than a decade.
Tupperware shares tanked last Friday, after the company said it would suspend dividends. Tupperware share price is down 67% as compared to beginning of 2019.
For more on Tupperware's third quarter performance, please click here and here.



USANA
Following the disappointments in the first and the second quarters (7% and 15% declines in sales, respectively), USANA reported a negative growth in the third quarter as well: -12%.  USANA's total number of actives at the end of the third quarter was 558,000, compared to 615,000 in the prior-year period.
CEO Kevin Guest said, "Although we continue to face a challenging sales environment in China and other regions, we were pleased to see sales in several markets improve on a consecutive quarter basis… We also recognize, however, that we still have work to do in the Southeast Asia Pacific and Americas/Europe regions towards regaining sales momentum."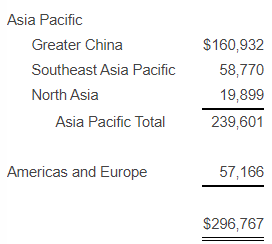 All regions contributed to the declining sales in Q3: The largest region China was down 19%, North Asia was again, -17%, Americas & Europe -9%, and Southeast Asia Pacific -8%. China generates more than half of company's global volume and sales in this region was down 23% in the second quarter, too.
Management announced USANA would be hosting its Annual China Sales Meeting in November. 10,000 people are expected to attend this event in Macau and at this event, the attendees will be offered "a preview USANA's plans for China in 2020".
At the end of the quarter the company updated its sales outlook for 2019 as between $1.030 billion and $1.045 billion (was previously between $1.020 and $1.060 billion). This outlook shows USANA's year-end sales will be less than last year's ($1.189 billion).
For more on USANA's third quarter performance, please click here and here.
Click this link for our previous Quarterly Reviews of major direct selling companies.
…..
Hakki Ozmorali is the Principal of WDS Consultancy, a management consulting and online publishing firm in Canada, specialized in providing services to direct selling firms. WDS Consultancy is a Supplier Member of the Canada DSA. It is the publisher of The World of Direct Selling, global industry's leading weekly online publication since 2010. Hakki is an experienced professional with a strong background in direct sales. His work experiences in direct selling include Country and Regional Manager roles at various multinationals. You can contact Hakki here.
SHARE THIS: