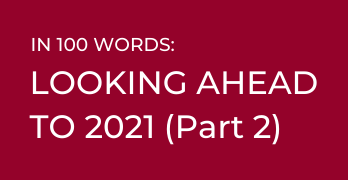 We have come to the end of 2020. This was a rather difficult year for all and the hardships are still there. I asked some of the prominent figures of the global direct selling industry their opinions on this matter:
"What will be the most important issue, whether it be an opportunity or a threat, in the direct selling industry that will need a closer focus Next Year?" was the question.
Previous article covered the first group of responses. You will now read the second group below. Please feel free to add your own comments.
Brenton Kugler, Partner at Scheef & Stone

"MLM companies in the U.S. must continue to restructure their compensation structures based on recent FTC statements and enforcement filings. Beginning in late 2019, the FTC announced new criteria for determining what is a legally compliant compensation plan. This criteria is seemingly at odds with established legal precedent and even the 2018 FTC Guidance. In 2020, the FTC shifted its focus to COVID-related claims. As the pandemic finally begins to recede, companies should be prepared for a new wave of regulatory enforcement actions. This means increased risk for companies that continue to utilize antiquated compensation plan structures and start-up companies that make the mistake of adopting an outdated compensation model. At a minimum, companies should be able to demonstrate that a genuine retail demand exists for their products and services and that a significant percentage of revenues are generated from sales to non-participant consumers."


Jay Leisner, President of Sylvina Consulting

"In 2021, the most important issue for direct selling will be coping with COVID-19 fatigue. In fact, this issue will also be the most important issue in all of our lives.  Everyone wants things to be get back to normal and our desire for normalcy will distract us from doing other things, like direct selling. Direct selling companies will need to address this issue with words of encouragement, good news and entertaining distractions for their sales force members to respond to coming drops in recruiting and sales."


Peter Maddox, President of the Direct Sellers Association of Canada

"I believe that customer focus must be an emphasis for direct sellers in 2021. So many non-direct selling companies discovered the advantages of going direct to their customers in 2020. This creates added competition for our channel, but has also increased consumer comfort with virtual retail. Direct selling companies must rise to this changing market by providing excellent customer service, unique and innovative products, simple digital tools, and building strong partnerships with their passionate consultants in every city and town. Likewise, DSA Canada is focused on serving our customers (our members), by providing tangible resources to help them navigate this new normal."




Nick Mallet, Director at Pan European Solutions

"Every challenge represents an opportunity. The challenges of 2020 have been enormous and well documented. Many sectors of society have seen a bifurcation. Many are worse off, but many are better off. This also applies to companies, and direct sales companies are no exception. Some direct sales companies have met the challenge by embracing international expansion. The companies which continue to thrive and prosper in 2021 and beyond are those which embrace the challenges of limits to personal contact by opening new channels and new territorial markets. Those companies which are quick on their feet will leave other more conservative companies in their wake."


Susannah Schofield OBE, Director General of The Direct Selling Association UK

"2021 offers strong potential for direct-to-consumer to outperform other areas of retail in 2021, and my expectation is for modest growth across the direct selling channel in the coming year. New customers – acquired as a result of people forming new shopping habits through Covid-19, as well as significant increases in the number of people joining brands as independent salespeople – are likely to fuel this growth. As with many other areas of UK business, direct selling faces a degree of uncertainty resulting from the final stages of the Brexit process, but despite this, there is significant potential for growth in direct-to-consumer retail in the UK over the coming year."


Terrel Transtrum, President and Founder of ServiceQuest

"Direct sales companies are uniquely positioned to serve more people than ever before with our remote working environments and e-commerce business model. 2021 is the year to focus on creating exceptional customer service, training reps on new digital marketing ideas, and supporting their personal growth. Remember: the top reasons people leave are poor communication, poor training, unmet expectations, and poor support. Actively solve these problems and you'll keep your reps happy. After all, just a 1-5% increase in customer retention will increase your profits by 10-25% to secure your best year yet!"


Daryl Wurzbacher, CEO of ByDesign Technologies

"The business environment that is emerging in the upcoming new year will be driven by the customer. Companies must deliver a true "customer first" experience, from a constant focus on the purchasing experience to post-purchase marketing to drive repeat purchases. This will include more customer segmentation and journey mapping and less emphasis on the wholesale buyer.  We will see more companies implementing VIP and Preferred customer plans to enhance the customer experience on multiple levels.   Additionally, compensation plans will become simpler and include customer acquisition bonuses, customer referral programs, and incentives that draw more influencer/affiliate marketing audiences into the industry."
….
We send our appreciation to everyone who contributed to this two-part article.
SHARE THIS ARTICLE: