Few weeks ago the WFDSA (World Federation of Direct Selling Associations) announced 2015 figures it had gathered from local organizations. Before that, we had Direct Selling News magazine's company-specific sales volumes.
Both reports contain interesting statistics, especially from a comparative point of view. Let's take a look at these numbers.
Regions and Countries
WFDSA reports the sales volume generated in 2015 by its member countries as $184 billion and the number of individual direct sellers as 103 million. The number of direct sellers do not include those who are in China as this country's figure was not reported. The sales volume in 2015 represents a 7.7% growth from the previous year in constant Dollars.
As the chart to the right shows, Asia-Pacific remains to be the world's largest direct selling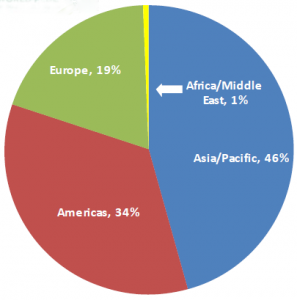 region with a 46% share. Among the regions, Europe has been the fastest-growing in the last four years, followed by Asia-Pacific. Europe has grown from 16% in 2011 to 19% in 2015 and Asia-Pacific from 44% to 46%. Losing its share to these two regions, Americas has gone down from 39% to 34% in four years.
When we turn to countries, the US still keeps its #1 position with an annual sales volume of $36.1 billion. China is a close second with $35.5 billion. The US market's growth rate in 2015 was 4.8% and China's was 19%. So, it is very likely that China will be announced as the world's largest direct selling market by this time next year.
The top ten markets are ranked, together with their shares in the global volume, as follows: US (20%), China (19%), South Korea (9%), Germany (8%), Japan (8%), Brazil (5%), Mexico (4%), France (2%), Malaysia (2%), and UK (2%). In 2011, while the US was at 20%, China's share was 11%.
Product Categories
In 2015, wellness category was the largest one globally with 34% share. Cosmetics category produced 32% of the volume. Household goods and durables accounted for 11%, and clothing and accessories for 7%.
Region-wise wellness was the strongest in Asia-Pacific (41%). In fact, its share was 89% in Philippines, 64% in Hong Kong, and 63% in Taiwan. This category was the weakest in Americas (29%).
Companies
Amway kept its leadership position among direct selling companies in 2015. Amway's 2015 global sales was $9.5 billion, representing a 12% decline as compared to the previous year.
As of end-2015, Amway was followed by Avon ($6.2 billion), Herbalife ($4.5 billion), Vorwerk ($4 billion), Infinitus ($3.9 billion), Mary Kay ($3.7 billion), Perfect ($3.6 billion), Natura ($2.4 billion), Tupperware ($2.3 billion), and Nu Skin ($2.3 billion). Avon's figure here does not include Avon North America's (a.k.a. "New Avon") figure as this unit was sold to form an entity outside Avon. New Avon's 2015 revenue was $1 billion.
Among the top 100, those that increased its sales the most in 2015 were: Le-Vel (254%), Jeunesse (160%), NHT Global (112%), Kasly Ju (99%), and World Ventures (97%).
Regions' top 5 companies in sales volume in 2015 were as below:
North America: Amway (US), Avon (US), Herbalife (US), Mary Kay (US), Tupperware (US)
South America: Natura (Brazil), Belcorp (Peru), Yanbal (Peru), Fuxion Biotech (Peru)
Europe: Vorwerk (Germany), Oriflame (Switzerland), Telecom Plus (UK), Forbes Lux (Switzerland), PM International (Germany)
Asia / Pacific: Infinitus (China), Perfect (China), Tiens (China), New Era (China), DXN (Malaysia)
Note: Public companies report their financials quarterly so their numbers can be accessed to easily. Direct Selling News magazine that compiles the "Global 100 List" every year relies on private companies' self-reported figures. And these make up nearly four-fifths of the top 100. To ensure reliability, Direct Selling News says it requires the net revenue number to be validated by the CEO and certified by a qualified agent. Consequently, those private companies that chose not to disclose their revenue figures did not appear on this list. And Direct Selling News believes there are a number of companies like doTERRA, Nikken, Shaklee and Stella & Dot  that could have been on the list.