In an article I wrote back in October 2016 I was discussing if Oriflame was back on track. The reason was that after a period of unsatisfactory results between the years 2010-2016, Oriflame had reported quite positive figures for the second quarter of 2016.
As a background information, with an annual sales of EUR 1.2 billion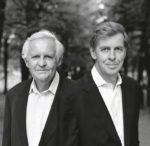 (approx. $1 billion), Oriflame is Europe's second largest direct selling firm, after Vorwerk. The company was founded in 1967 in Sweden by Jonas and Robert af Jochnick brothers and Bengt Hellsten. Listed on the Stockholm Stock Exchange, Oriflame has been a public company since 2004.
Between the years 2010 and 2016, the picture was not bright at all for Oriflame. At the end of 2015, company's revenue was 20% less than what it was in 2010 and its net income was about one-third!

2016
2016's first quarter was not promising, either. Revenue was down 1%, unit sales down by 6%, and the number of active consultants by 9%, as compared to the first quarter of 2015.
Then, Oriflame reported different results in the second quarter: Global sales was up %3, operating profit increased by 42% and net profit doubled, on a year-over-year basis.
3Q also came with positive figures: Global sales increased by 6%, operating profit by  32% and net profit by 160%.
The last quarter's revenue was up by 5%, operating profit by 29% and finally, net profit by 183%.
At the end of 2016, Oriflame's annual sales was EUR 1.249 million that was 3% higher than what it was previous year. With this, Oriflame was reporting an annual growth figure for the first time since 2010.
CEO Magnus Brannstrom commented, "2016 was a year when we made significant steps to improve the overall position of Oriflame and when the success from our online leaders and the sales of Skin Care and Wellness sets and routines reached new levels. It was a year when we returned to Euro growth."
In fact, skin care and wellness were the two categories that increased their shares in 2016:

The management reported it had focused mainly on the below areas in 2016:
* Strategic product categories
* Driving sustainability across the business
* Continuing the online development
* Digital business transformation in the IT and finance areas
* Capturing manufacturing opportunities
2017
First Quarter
Oriflame started the year with a strong sales growth performance, achieving +11% over Q1 of 2016. Its strategic categories skin care and wellness continued to perform well, with double digit sales growths during the quarter.
At the business units level, Latin America grew by 20%, CIS (former Soviet Republics) 15%, and Asia & Turkey 15%. Oriflame's Europe & Africa region was the only one that reported negative growth in the first quarter (-1%).
Company's performance on the profit side was even better. Operating profit increased by 41% and net profits by 83%, compared to last year's same quarter.
Second Quarter
Last quarter, Oriflame reported EUR 348 million sales. This represented an increase of 12% from previous year. This increase was a result of the strong growth achieved in two regions, Asia & Turkey and CIS each of which reported 19% quarterly sales increase. Latin America's sales was up 6% and Europe & Africa's was again, down 1%.
Quarterly operating profit was up 32%, bringing operating margin to 12%. Oriflame's net profit increase was also 10%.
Outlook
Oriflame's global results in the last four quarters are on the chart.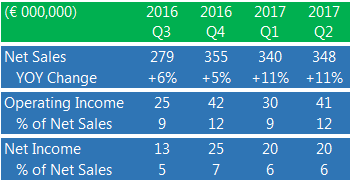 Here, what we see is a strong growth both in terms of revenue and profitability.
As far as regional performances are concerned, two regions stand out among the four: Asia & Turkey and CIS. Oriflame's biggest region Asia & Turkey's average growth rate in the last four quarters was an impressive 21%. This region posted double-digit increase in each and every quarter. For Oriflame, just as important was the developments in its CIS region. This unit for a very long time, has been a major headache. At last, CIS succeeded to report positive figures in Q1 and Q2 of 2017.
Having all those said, it seems there are two important areas that still need to be tackled by Oriflame management: Unit sales and the number of active consultants on the field. These are obviously the two key performance indicators in the direct selling industry that are vital to long-term success.
Oriflame's unit sales performances in the last four quarters, were as follows: +1%, -4%, -3%, and +4%. As can be seen from these numbers, Oriflame's revenue increase within this period was largely impacted by price increases (or, price mix), rather than unit sales.
On the active consultants' side, the situation was even worse: -5%, -7%, -4%, and again, -4%.
So, maybe it is too early to say Oriflame has successfully comeback. The stock market first, positively reacted to the results in the second half of 2016, taking the share price up to SEK (Swedish Krona) 373 in early March 2017. To compare, it was  SEK 107 in February 2016. After that however, the stock price started going down and has reached SEK 279 most recently: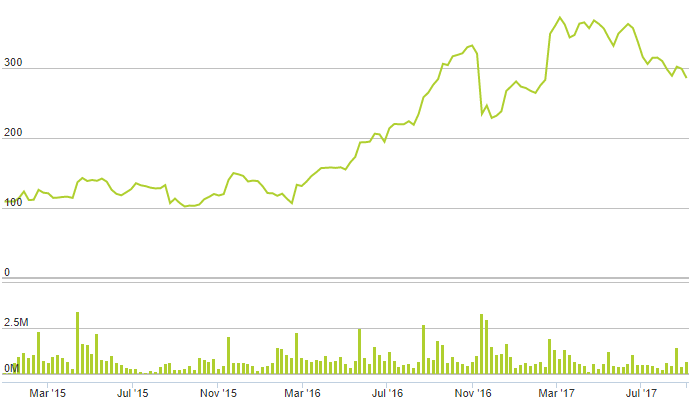 Apparently, Oriflame's future success will depend on:
1) How it will deal with the two significant key performance indicators (i.e. unit sales and number of active field members)
2) Whether it will be able to maintain and even improve the positive numbers achieved in CIS markets.
3) If it will make successful launches in large but difficult markets like the U.S. and Brazil as the CEO Brannstrom said last year they had intentions to expand into.
…..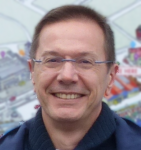 Hakki Ozmorali is the Principal of WDS Consultancy, a consulting firm specialized in providing services to direct selling firms. He is also the publisher of The World of Direct Selling, global industry's leading weekly online publication. He is an experienced professional with a strong background in direct sales. Hakki was the first corporate professional in the Turkish network marketing industry. His work experiences in direct selling include Country and Regional Manager roles at various multinationals in Turkey and in Canada. You can contact Hakki here.
SHARE THIS: