This week I have the quarterly growth analysis that I have been doing for several years. It focuses on the largest public direct sales companies and as far as I am concerned, gives an insight on the global industry's direction.
Previously, this analysis had included Oriflame as well, but as this company decided to go private (i.e. its shares would not be traded on the stock exchange) last May, we no longer have access to its public figures.

AVON
Avon's second quarter revenue was $1,174.8 million, down 13% from 2018 Q2. All of its four regions reported declining sales last quarter: EMEA -15%,  South Latin America -14%,  North Latin America -7%, and Asia-Pacific -4%. Active representatives declined 10%, too, with decreases reported in all regions.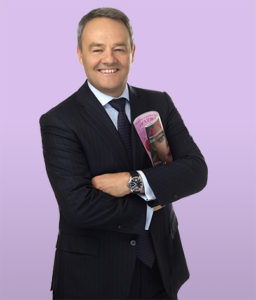 Jan Zijderveld, Avon CEO, said, "We continued to execute our Open Up strategy, with pricing and productivity gains which drove adjusted operating margin expansion and improved free cash flow. Our focus on productivity in the second quarter, including less discounting, more effective incentives, optimizing promotions and more favorable mix, led to a 5% improvement in average representative sales with price/mix up 9%." This clearly showed management's focus was on productivity and profitability rather than growth.
Miguel Fernandez, Global President, explained how their focus had been shaping in terms of recruiting new reps. He said, "The previous recruiting narrative that we had in the company for many years was 'Come to Avon because you're going to get great products at the best price'. So, in many cases we were recruiting the consumer that was looking for a discount… We're stepping away from that."
You will remember that Avon was acquired by Natura, the cosmetics giant of Brazil in last May. This acquisition is expected to be completed by early 2020.
For more on Avon's second quarter performance, please click here and here.



HERBALIFE
Herbalife reported net sales of $1.2 billion, a decrease of 3.5% compared to the second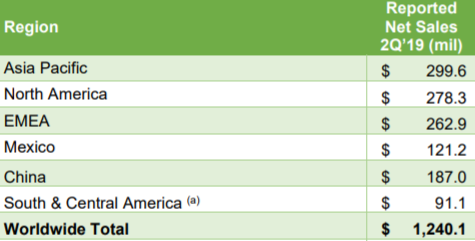 quarter of 2018. The worst performance came from China: -35%. South & Central America came up with -13%. Remaining four regions of Herbalife reported positive figures: Asia-Pacific 18%, North America 6%, Mexico 3%, and EMEA 1%. Excluding China, its net sales grew 5.4%.
Chairman and CEO Michael Johnson said, "Our second quarter results were within our guidance range. We delivered year-over-year net sales growth in 4 of our 6 regions. We reported year-over-year net sales growth in 8 of our top 10 countries. However, we recognize China is an issue and we have a plan in place that is working."
Herbalife's growth expectation for the whole year of 2019 is between -1.7% and +2.8%.  As of mid-2019, Herbalife's sales is down 2% versus last year.
For more on Herbalife's second quarter performance, please click here and here.
NATURA
Natura's consolidate sales was up 10% in the second quarter, reaching R$ 6,319 million (approx. USD 1.6 billion) as of mid-year.
Natura & Co.'s consolidated reporting currently includes Natura, The Body Shop and Aesop. Natura's own revenue was up 7% in the first half, The Body Shop's 9%, and Aesop's 27%.
Commenting on the results, Natura & Co. Chairman Roberto Marques was happy, saying, "All three of our existing brands contributed to this strong performance. Natura posted a sharp improvement in Brazil despite a weak CFT market… The Body Shop's transformation is advancing. Sales grew despite the closure of underperforming 37 stores… Aesop's profitable growth continues." Then, he added the acquisition of Avon was "a decisive step in the creation of a multi-brand, multi-channel, purpose-driven group.
Currently, units' shares in the group revenue are as follows: Natura 63%, 28%, and Aesop 9%.
For more on Natura's second quarter performance, please click here.
NU SKIN
"Our second-quarter results were negatively impacted by limited sales meetings, media scrutiny and consumer sentiment in Mainland China in connection with the recently completed 100-day review of the nutrition and direct sales industries," said Ritch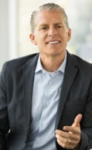 Wood, CEO of Nu Skin.
Nu Skin reported $624 million sales last quarter. This was 4% less than last year same quarter's figure ($704 million). Of the seven regions, only Japan reported growth (2%) and China dropped the most (-24%). China is Nu skin's biggest market with its more than 1/3 share in the global sales.
During the earnings call following the quarter results, Nu Skin management stressed the fact that China would remain as their top priority. They explained three specific initiatives: Launch of a new product, new business incentives to improve sales leader productivity, and initiatives focusing on customer acquisition and retention including a new customer referral program.
Management's revenue expectation for 2019 is:  $2.48 billion to $2.52 billion or -6% to -8%. Nu Skin's 2019 mid-year revenue is 7% less than last year's.
For more on Nu Skin's second quarter performance, please click here and here.
TUPPERWARE
Tupperware's second quarter sales performance was far from being satisfactory: $475 million (-11% as compared to last year same quarter). All regions reported negative figures, Asia-Pacific and South America leading them (each with -14%).  Tupperware's global sales force decreased to 565 million, representing a 9% decline.

"Overall, the business fell short of our expectations in some markets as geopolitical concerns and lower consumer spending headwinds in two of our key markets resulted in a miss of our local currency sales expectations," said Tricia Stitzel, Chairman and CEO of Tupperware.
Tupperware expects an annual sales decline of between 9-11% in 2019. Tupperware's sales had decreased by 8% in 2018. In fact, the company reported positive growth only in one year (2017) during the past five years. Tricia Stitzel commented on the future,  "This is the three-year endeavor that may be bumpy at times, we're tasked with turning a large ship and bringing along a family of over 3 million individual sellers with us."
For more on Tupperware's second quarter performance, please click here and here.



USANA
USANA reported quite disappointing results for the second quarter: Global sales was down 15% versus last year (USD 256 m vs. USD302 m). During the first quarter, USANA had come up with negative growth as well (-6.5%).  Consequently, company's mid-year growth is 10% behind last year.
The worst figure came from USANA's largest business region of the four, China. Sales in China was down 23% and accounted for about 70% of the total decline in USANA's sales. Americas & Europe (-15.9%) and Southeast Asia Pacific (-1.5%) also reported declining sales. The only positive situation was in North Asia (+19%), company's smallest business unit.
Commenting on the results, CEO Kevin Guest said, "The continuing challenging market environment in China was the major factor that impacted our second quarter results. During the second quarter, we offered promotions and incentives in China that have historically generated meaningful sales and customer growth. However, the contribution of these promotions was significantly lower than we anticipated, which we believe is due to the low consumer sentiment toward health products in China."
USANA management announced the net sales outlook for 2019 as "between $1.02 billion and $1.06 billion". This is significantly lower than their expectation after the first quarter (was between $1.21 billion and $1.26 billion). If this revised projection happens, USANA will be reporting an annual sales decline for the first time after several years of substantial sales increases.
For more on USANA's second quarter performance, please click here and here.
Generally speaking, the picture was not bright at all as a whole for these giants in the first half. Let's see how their performances will evolve during the second half.
…..
Hakki Ozmorali is the Principal of WDS Consultancy, a management consulting firm in Canada specialized in providing services to direct selling firms. WDS Consultancy is a Supplier Member of the Canada DSA. It is also the publisher of The World of Direct Selling, global industry's leading weekly online publication since 2010. Hakki is an experienced professional with a strong background in direct sales. His work experiences in direct selling include Country and Regional Manager roles at various multinationals. You can contact Hakki here.
SHARE THIS: