This second part of our 2016 review will cover Nu Skin, Oriflame, Tupperware and Amway. With their last year's 4Q reports at hand, last week we started looking at how the industry's major players did last quarter and eventually, closed the year. For last week's article that reviewed  Avon, Herbalife and Natura, please click here.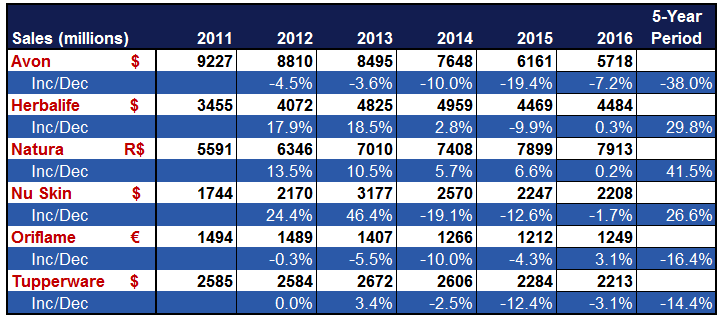 Nu Skin came up with $531 million quarterly and $2.208 million annual sales. As compared to previous year, these figures were down 7% and down 2%, respectively. 2016 was also Nu Skin's third year in a row with a negative sales performance.
The only positive growth performance came from Nu Skin's smallest region, EMEA in the last quarter (+21%). All of the remaining four regions reported revenue decreases: Americas -25%, China -7%, South Asia-Pacific -6%, and North Asia -4%.
"The fourth quarter of 2016 showed a decline against 2015 due to approximately $50 million of product launch revenue in the fourth quarter of 2015," said CEO Truman Hunt. "Revenue in the fourth quarter of 2016 was also negatively impacted by $7 million of deferred revenue, primarily from a stronger-than-anticipated response to a promotion of ageLOC Me cartridges in China where orders outstripped our supply."
The company had previously announced management transition. This time an update came saying in the next few weeks, a new chief financial officer was expected to be named. At that time, Truman Hunt will become vice chairman of the board, and Ritch Wood will assume the position of CEO, and Ryan Napierski will become the company's president.
For the first quarter of 2017, Nu Skin anticipates revenue of $480-$500 million, and for 2017, revenue of $2.26-$2.30 billion. Both targets are slightly above company's 2016 figures.
For more on Nu Skin's 2016 performance please click here and here.
In 2016's last quarter, Oriflame increased its sales by 5% to €355. Oriflame's 2016 sales was up 3%, too, reaching €1.249B.
The company has been posting negative growth every year since 2011. So, 2016 might be marking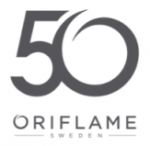 a reverse in this negative trend. However, Oriflame's 2016 revenue figure is still far from what it was in 2011 or 2012 (approx. €1.5B).
CEO Magnus Brannstrom said, "2016 was a year when we made significant steps to improve the overall position of Oriflame… It was a year when we returned to Euro growth, delivered double-digit local currency growth and increased the profitability each consecutive quarter – despite challenging market conditions and deteriorating macro."
In 4Q, Oriflame's unit sales decreased by 4% but the price/mix effect was up by 12%, pushing the revenue up.
Geographically, 4Q sales growth in Asia & Turkey was up 23%, in Latin America up 12%, in Europe & Africa down 2%, and in CIS region down 10%.
Oriflame celebrates its 50th anniversary this year, a remarkable milestone, of course.
For more on Oriflame's 2016 performance please click here and here.
Tupperware reported $601 million sales in the fourth quarter, representing a 1.5% increase from last year.
However, this was not enough to compensate the revenue losses in the first three quarters. So, Tupperware's yearly sales growth performance was -3% as compared to 2015. With 2016, Tupperware's sales has been declining for the third consecutive year.
Last year, the company's sales figures suffered the most in its "Beauty North America" segment (-21%). Then came Europe (-9%), and Asia-Pacific (-3%). South America made a positive contribution by 17% and Tupperware North America by 1%.
As of end-2016, Asia-Pacific was Tupperware's largest business unit with a 34% share. Europe's contribution was 25%, Tupperware North America's, 16%, South America's 16%, and Beauty North America's 9%.

Rick Goings, Chairman and CEO, commented, "We experienced a challenging fourth quarter to cap off an already tough 2016… Despite the impact of further economic and political instabilities, our businesses in emerging markets continued on a growth trajectory in the fourth quarter with outstanding results in Argentina, Brazil, China and Tupperware South Africa."
For 2017, management expects 0-2% sales increase in USD terms, globally. At the segment level, sales are expected to be down low-single digits in in Europe and Asia Pacific, about even in Tupperware North America, down mid-to-high teens in Beauty North America and up in South America by 22 to 24%.
For more on Tupperware's 2016 performance please click here and here.
This quarterly growth review has focused on the six largest public companies, since the beginning. This had two reasons: First, to give a general picture without boring the readers with so many companies' figures; second, we only have access to public companies' reports in detail.
As a private company, Amway has been reporting its yearly results regularly recently. So, we have been adding this giant's figures to the year-end reviews, too.
Amway reported $8.8 billion sales in 2016. This meant 7% decline from 2015. Worse than that is, it also meant Amway was having declining sales in each of the last three years. Sales was $11.8B in 2013 when it peaked, then it went down to $10.8B in 2014, and to $9.5B in 2015. Even with this figure, Amway is still the world's largest direct seller.
Chairman Steve Van Andel was not unhappy, though, saying, "Across the world, Amway did well in 2016. We experienced sales growth in several top markets, saw double-digit percentage growth in nine additional markets, and continued to evolve the business in China as we seek to take advantage of shifting market conditions and achieve the market's long-term growth potential."
Amway reported its sales by product category in 2016 as follows: Nutrition 49% (+3% from 2015); beauty and personal care 25% (same as 2015); durable products, 15% (-1% from 2015); home care 7% (same as 2015); other, 4%(-2% from 2015).
Company's top 10 markets in 2016 were: China, United States, South Korea, Japan, Thailand, Taiwan, India, Malaysia, Russia and Hong Kong. Amway said it enjoyed increased sales in seven of these top 10 markets.
For more on Amway's 2016 performance please click here.
We have only few weeks left until the end of the first quarter. Following that, we will be looking at these companies' quarterly reports to see how they kicked-off 2017.
…..
Hakki Ozmorali is the Principal of WDS Consultancy, a consulting firm specialized in providing services to direct selling firms. He is also the publisher of The World of Direct Selling, global industry's leading weekly online publication. He is an experienced professional with a strong background in direct sales. Hakki was the first corporate professional in the Turkish network marketing industry. His work experiences in direct selling include Country Manager roles at Oriflame, Herbalife and LR Health & Beauty Systems, and Regional Director, North America role at Lifestyles Global Networks.






Forward This Article to a Friend: