With their last year's 4Q reports at hand, the time has come to take a look at how the industry's major players did last quarter and eventually, closed the year. The first part will cover Avon, Herbalife and Natura.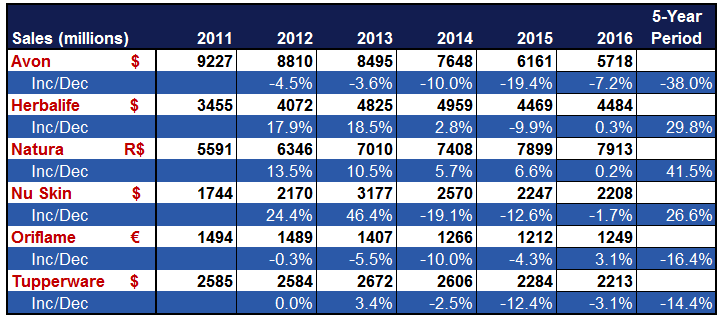 Before going into the details of individual companies, few observations on the above table:
 * Over the last five-year period, Natura (42%), Herbalife (30%), and Nu Skin (27%) succeded to grow. Tupperware (-14%), Oriflame (-16%) and Avon (-38%) had declining sales.
* Avon reported negative growth in each of the last five years. Nu Skin's and Tupperware's sales have been decreasing in the last three years.
* Oriflame announced a revenue increase in 2016 for the first time in five years.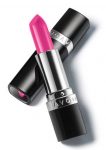 Avon's last quarter revenue decreased by 2% to $1.6 billion, and 2016 revenue by 7% to $5.7 billion. This result marked the 21st straight quarter of revenue declines.
For the year-end result, all of Avon's regions contributed to this global 7% decline: Asia-Pacific -11%, North Latin America -8%, South Latin America -7%, and EMEA -4%.
On the markets level, while Brazil was a shining star with a 27% sales increase in the last quarter, UK (-20%) and Mexico (-14%) were major disappointments.
CEO Sheri McCoy said, "Let me begin by saying that I am disappointed with our fourth order results… It is clear that we have more work to do on our multi-year transformation journey to improve consistency of performance, particularly in a handful of markets. For the quarter, both our constant currency revenue and our active representative growth came in below expectations."
In fact, Avon's active representitives in the last quarter of 2016 was down 2% as compared to the same quarter of 2015. And the major loss came from its Asia Pacific region (-9%).  The management highlighted the Active Rep declines in Malaysia, Colombia, Turkey and Italy.
As the company moves into 2017, the five key areas of focus and investment were listed during the Earnings Call as:
* Strengthening the Avon brand
* Introducing innovative products
* Pricing discipline
* Improving representative engagement
* Evolving the service model
Management also said  they would work to improve the top 15 markets through more resources and focus which represent approximately 80% of Avon's revenue.
For more on Avon's 2016 performance please click here and here.
Herbalife closed the last quarter of 2016 with $1.045 billion sales. This was 5% less than the previous year's last quarter. And for the whole year of 2016, Herbalife's revenue performance was slightly better than 2015 (+0.3%).
On the regional level, China reported the worst quarterly sales (-12%). The others' were not so bright, as well: South & Central America -11%, Mexico -8%, Asia Pacific -3%, North America -1. The only positive figure was from EMEA (+2%).
Herbalife management also announced an agreement in principle to form a joint venture with Tasly Holding Group, a leading health products and services company based in China. The joint venture will develop and commercialize high-quality consumer health products based on Tasly's deep portfolio of proprietary formulations, patents, know-hows, and clinical studies.
CEO Michael O. Johnson said, "I'm happy to say that we accomplished a lot in 2016 and I feel we are laying important ground work for the next 10 years at Herbalife Nutrition. That said, there are some key markets where we have work to do." In a few months' time in June, current COO Richard Goudis will take over as CEO of Herbalife. Michael O. Johnson will be company's Executive Chairman.
During the Earnings Call following the 4Q report, COO Richard Goudis explained how they would comply with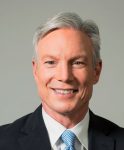 the FTC-imposed regulations. According to this, the rewards in the U.S. will be based on the final sales to end consumers as opposed to the initial sale from the company to a distributor. This will start in May. If the total of these sales meets or exceeds 80% of the total U.S. retail sales, then Herbalife will be able to pay out additional compensation on these sales. If such sales are below 80% of the U.S. retail sales, then the payout on documented sales will be capped at 10% above the total documented sales value. Richard Goudis added that this 80% was not a compliance requirement, but a threshold that if passed would allow Herbalife to pay out higher rewards for retail sales.
For 2017, Herbalife expects 0.3 to 3.3% net sales increase.
For more on Herbalife's 2016 performance please click here and here.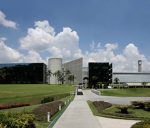 Natura closed the year with almost the same sales figure as last year's. There was only a 0.2% growth. The company realized 68% of its annual revenue in its home country, Brazil. Of the six public companies reviewed here, Natura had the highest sales growth in the last five-year period (41%). Natura is also the only one that managed to grow in each of the five year, although its 2016 figure was the worst of the five.
The management announced "Rede Natura", Natura's online business unit had doubled its sales compared to 2015, ending the year with R$ 106.7 million and registering 93,000 Digital Natura Consultants and 1.5 million consumers.
Natura's retail strategy also progressed during 2016 by launching five exclusive stores in shopping centers in the city of Sao Paulo. Natura said all of them have performed better than expected.
However, these developments do not mean Natura's leaving the direct selling channel aside. The company's focus in 2017 will be to "revitalize direct selling". Natura is launching a new value proposition for the consultants to further develop them professionally, and modernize the way they work and increase their income.
During the last quarter of 2016, Natura Board announced that CEO Roberto Lima had resigned, after being for two years in the office. The new CEO would be Joao Paulo Ferreira. Ferreria has been with Natura since 2009 and his last position was the Vice President.
For more on Natura's 2016 performance please click here and here.
Next week, we will look into Nu Skin, Oriflame, Tupperware and Amway's figures.
…..
Hakki Ozmorali is the Principal of WDS Consultancy, a consulting firm specialized in providing services to direct selling firms. He is also the publisher of The World of Direct Selling, global industry's leading weekly online publication. He is an experienced professional with a strong background in direct sales. Hakki was the first corporate professional in the Turkish network marketing industry. His work experiences in direct selling include Country Manager roles at Oriflame, Herbalife and LR Health & Beauty Systems, and Regional Director, North America role at Lifestyles Global Networks.






Forward This Article to a Friend: