Following the second quarter reports from public direct sellers, the time has come now to take a look at various companies' cost structures and profits.
In this article, 11 direct selling companies with varying sizes of business and with different product portfolios will be covered: Avon, Herbalife, Mannatech, Natura, Nature's Sunshine Products, NHT Global, Nu Skin, Oriflame, Tupperware, USANA and Youngevity. The review will be based on their 2016 half-year (Q1+Q2) performances.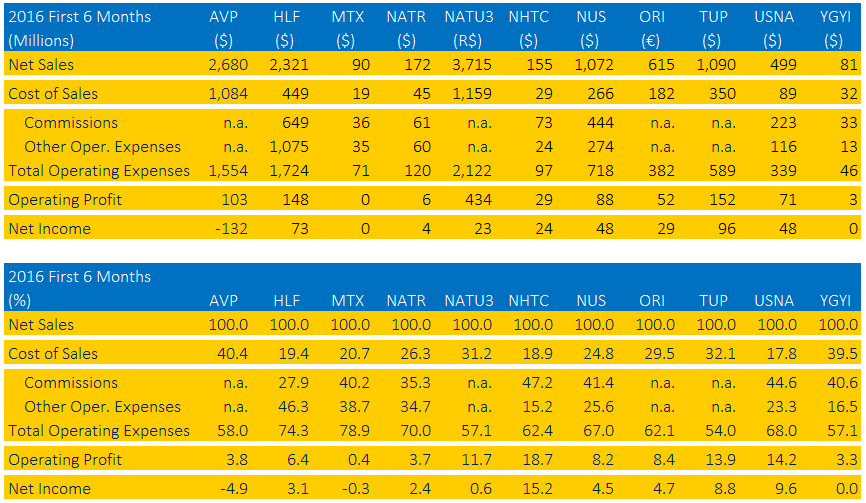 Symbols: AVP= Avon, HLF = Herbalife, MTEX = Mannatech, NATU3= Natura, NATR = Nature's Sunshine, NHTC = NHT Global, NUS = Nu Skin, ORI = Oriflame, TUP = Tupperware, USNA = USANA, YGYI = Youngevity
Cost of Sales
This figure consists of all direct costs attributable to manufacturing the goods at a company. It includes costs of materials bought and used in the production process and also the direct labor costs.
Among the 11 companies analyzed, Avon and Youngevity (both, roughly 40%) are the ones that have the highest product costs relative to their revenues. Herbalife, NHT Global and USANA stand on the other end with the lowest product costs (around 18-19%. The difference is really striking!
Operating Expenses
Not all companies disclose their commissions payout as a separate expense item. Such companies' figures are shown as "n.a." on the chart. Among those we have the commissions data for, NHT Global has the highest bonus payments as a percentage of its sales: 47.2%. The second highest is USANA (44.6%).
When the total operating expenses are compared, Mannatech has the most costly operation (79%). Herbalife follows Mannatech with 74%, and then comes Nature's Sunshine Products (70%).
Tupperware (54%), Natura (57%) and Youngevity (57%) had the lowest total operational expenses in the first half of 2016.
Profitability
All 11 companies reported operational profits in the first six months. The three highest operationally profitable companies were, NHT Global (19%), USANA (14%) and Natura (12%). Mannatech's operational income on the other hand, was almost nil.
The bottom line, net income, includes non-operational gains or losses like interest income or expense and taxes. Here, two companies reported losses: Avon (-4.9%) and Mannatech (-0.3%). NHT Global (15%), USANA (10%), and Tupperware (9%) reported solid net profit figures.