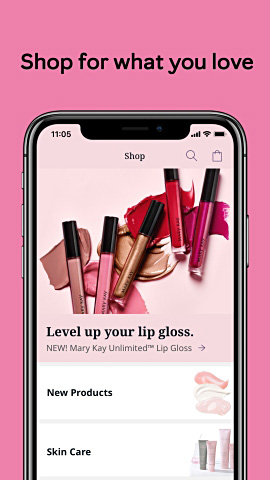 Mary Kay is making it easier than ever for customers to shop with their Mary Kay Consultant through the new Mary Kay App.
Customers will be able to shop the latest Mary Kay beauty products, create shareable wish lists, receive customized product recommendations when they complete their beauty profile and find detailed information on skin care, makeup tips and more. Mary Kay recognizes that knowing the order of application for skin care is important and can be complex, so the Mary Kay App provides a feature that will allow them to create their own personalized order of application based on the products they want to use.
Nathan Moore, Region President North America said, "We are very excited for the launch of the new Mary Kay App, understanding that it is a convenient and customized way for brand lovers to connect with their Independent Beauty Consultants and shop our innovative products. Life today is busy and we delight in knowing the intuitive, easy to use Mary Kay App will make shopping for favorite products even easier. As a Company, we are committed to providing our beauty consultants and their customers best-in-class experiences."
The app was created in partnership with Bottle Rocket Studios.
SHARE THIS: