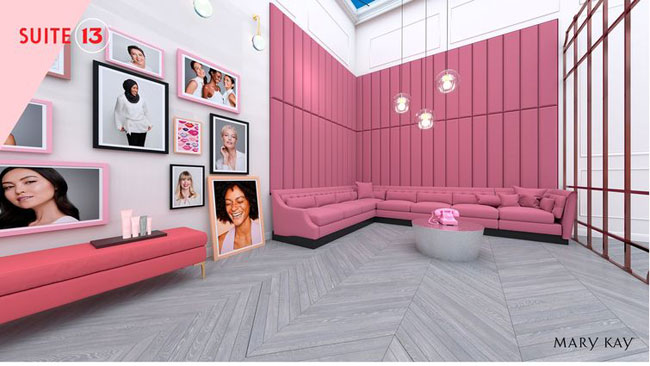 Mary Kay launches Suite 13, an innovative virtual beauty experience that leverages the use of virtual reality to digitize Mary Kay's first virtual pop-up showroom. Site 13 has been designed with the latest virtual reality technology, and offers Mary Kay Independent Beauty Consultants and their customers a 360-degree, 3D beauty experience. At Suite 13, users will be able to virtually browse Mary Kay's portfolio of skin care as well as explore the company and its founder Mary Kay Ash's history.
Sheryl Adkins-Green, Chief Marketing Officer for Mary Kay, said, "The launch of Suite 13 is the result of months of creativity, passion and commitment to provide Mary Kay's Independent Beauty Consultants the best and most innovative tools in the market to help them manage their business. Today, technology is at the center of everything, and people – especially the younger generation – want to discover, learn and find out about new products online. Suite 13 will provide Mary Kay Independent Beauty Consultants the flexibility of a digital business by being able to introduce our Mary Kay brand everywhere at any time and to elevate the way they build relationships with their customers by sharing an immersive beauty experience. To win in this new digital-driven environment, we will continue to find new ways for people to connect virtually for personalized low-touch experiences based in high-tech innovation."
Mary Kay reports it partnered with Obsess, a leading experiential e-commerce platform for the design of Suite 13.
Suite 13 was initially launched in Mexico earlier in 2021, followed by Brazil, Argentina, Spain, Colombia and Peru. The Company expects to launch the platform in most of its markets by the end of 2021.
SHARE THIS: