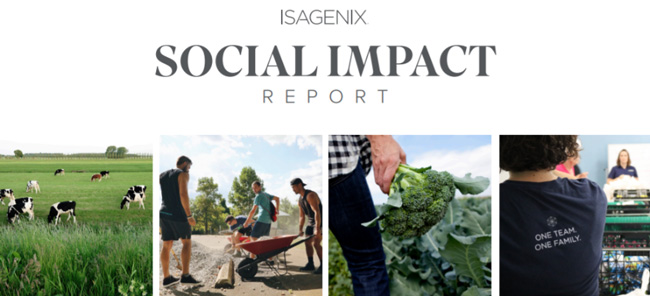 Isagenix International has made a difference in the lives of nearly 10 million people, as shared in a new report. Since its inception, Isagenix has contributed more than $40 million in product and monetary donations to charities and underserved populations around the world.
Isagenix has been dedicated to giving back since it launched in 2002, and that commitment increased when its ISA Foundation debuted in 2018.
"We don't want to be just another company that makes amazing products. We want to be a company that makes amazing products, gives back generously, and inspires people to make the world a better place," said Isagenix Chief Executive Officer Sharron Walsh. "It's what drives us each and every day."
Additional highlights from the Isagenix Social Impact Report include:
The most recent foundation grants included $100,000 to Washington, D.C.-based GirlTrek to support the physical and emotional wellbeing of Black women and girls and $150,000 to Georgia-based SERV International to provide sustainably grown and highly nutritious food relief in the sub-Saharan region of Africa.
Together, Isagenix and the ISA Foundation quickly used resources to help support the wellbeing of people worldwide impacted by the COVID-19 pandemic, including children out of school, homebound seniors, front-line emergency workers, and Navajo Nation residents.
In 2020, the company created the Isagenix Diversity, Equality, and Inclusion Collective, which includes several employees of different ethnicities, races, genders, sexual orientations, and other diverse attributes.
Click to read Isagenix Social Impact Report.
SHARE THIS: