Guest author Steve Jamieson is the Chief Executive Officer and Founding Partner of WorkingSocial, offering innovate and transformational business, sales, marketing and digital strategies to network marketing companies at every stage of success. Steve has a 20+ year career in direct sales that included working as the CEO at three prominent network marketing companies and as the CMO and Executive VP for Success Partners and Success Magazine.
Steve Jamieson
How IBM Watson Can Help Network Marketing Checkmate the Gig Economy!
In 1997, with the entire world watching, IBM's Deep Blue super computer, shocked and defeated the number one chess player in the world, Gary Kasparov!
Today, IBM's Watson may now be the next great player called upon to help Network Marketing defeat our inability to stake out a strong and vibrant position in the new Gig Economy. In fact, failing to do so may beg the question whether or not network marketing should even consider itself a part of the new Gig Economy at all.
Network Marketing and Direct Sales used to be the alternative income opportunity of choice. You were able to work it part-time, full-time, anytime and with a modest investment, and earn an income in proportion to your efforts. That opportunity is still true today and many companies continue to have great success.
Over the years, the cultural backdrop and technological landscape have driven even more people to choose non-traditional incomes in order to spend more time with their favorite people or their passions.
In pop culture, whenever a group, a movement, or a lifestyle becomes significant… we quickly name it and give it an identity. Hence, the term Gig Economy was born.
Just as the microwave created instant fully cooked meals you can consume quicker than you can preheat your oven, the Gig Economy created instant business opportunities faster than you can create an LLC, even while using Legal Zoom.com
A Shopify site can be set up in minutes. Amazon directs traffic to your new shopping cart a few minutes after launch. Join Uber in the morning and get your first customer even before your first cup of coffee. Rent your apartment on Airbnb? Sell your crafts on Etsy? In contrast, how long does it take for a Network Marketer to get their first customer or how many never get any customers at all?
The number one common factor in all successful Gig Economy opportunities is they are all equally vested in giving you the customer as in bringing you the opportunity. In the Gig Economy your time is spent servicing the customer instead of finding one. Your customers find you through your company and their technology.
Customers Don't Want to be Sold but They Do Want to Buy
If a Direct Sales Company wants to be compelling and relevant in the new Gig Economy, they can no longer only provide customer acquisition training and tools but provide the customers themselves.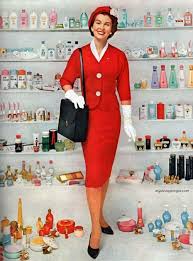 What made the Avon Lady an iconic figure in alternative sales wasn't the ringing of the doorbell but her passion for servicing her customers once she was on the other side of that door. While the Mary Kay Pink Cadillac became a symbol of the successful businesswoman, it was the Mary Kay Red Jacket seen in someone's living room that evoked an emotional reaction of great service and professional respect.
When we service our customers instead of trying to sell them, we not only become a part of the Gig Economy, but the very champions of it.
In the past few years mobile apps and click funnel sample programs became a first technology mover in pushing Network Marketing into Network Partnering and a newer company client acquisition and distributor service model:
"I just bought a new lipstick from my friend who works for a cosmetic company. In fact, I got so many compliments I decided to sell it too! The first thing the company did was send me a customer who sampled the same lipstick that I did. I ended up selling her $200 worth of products. I told this story to my neighbor and now she wants to sell it too!"
While sampling has been a good low-tech, hi-touch way to connect people more easily, companies didn't go far enough in embracing this as a potential pivotal shift in enabling us to compete in the new Gig Economy with a focused customer acquisition model.
The secret to the Gig Economy, is that the customer acquisition and service model has become a mainstream part of our lives, not an intrusion into it. Alexa, Siri and Gig Economy opportunities have replaced the Avon lady as the person we are more likely to let into our homes and into our lives.
The Gig Economy is not an app or a website. It's a voice, a persona that lives on our phone, on our nightstand, controls our lights, entertains us on TV and now delivers our groceries. Uber is no longer a ride to the airport but takes our kids to school. The most successful Gig Economy opportunities solve our problems, give unparalleled service and gives us instant gratification whether you are the customer or the person who seizes the opportunity to service that customer.
We need to get back into people's homes and more importantly get back in their hearts. We will do that through the culture of the Gig Economy, which is the culture of service, not sales.
Ironically, it is technology that can lead to a stronger emotional connection between your distributors and your customers by identifying those who are far more likely to be interested in each other. Connecting people who want to buy with the people who want to service them, based on data and not intuition, needs to be the new normal in network marketing!
The Future is Now and Cost-Effective
Since January of this year a large and established Network Marketing Sales Organization working within a well-known Network Marketing Company has been field-testing such a new normal and far exceeding expectations. Distributors are being introduced to vetted potential customers with a projected percentage of expected success.
Current mobile sharing apps that are predominating throughout our industry are not currently positioned to compete with an Alexa or Siri powered by an IBM Watson. A distributor who can ask an Alexa or Siri to import their contacts and tell them the likely percentage of interest from friends and family members, based on public profiles and algorithmic data (machine learning) can position us to win in the new Gig Economy.
What if your distributors could ask Alexa or Siri to connect them with new prospects everyday who might be interested in either the product or business who live in their area? Alexa or Siri, powered by Watson or the like, can match the data from the thousands of people who have bought a product or joined the opportunity over the past several years from your company with a similar like audience who live in their hometown with names, emails and phone numbers.
Using machine learning to facilitate the prospecting of new customers and distributors is our entry point into the world of the Gig Economy. While it won't actually give the distributor a customer, it will close the gap significantly by providing a constant flow of far more likely successful experiences. Machine Learning has great potential for retention, but its application for prospecting is what can place us in the Gig Economy.
With machine learning you not only give your distributors targeted success and percentage probabilities, but your data is now held accountable by all parties. If a distributor is given 10 customers with an average probability rating of having a 37% likely interest in purchasing a product, and they go 0 for 10… then, there is something wrong with the data or more than likely, the salesperson may need training.
Which is why I can comfortably project a probability of better than 50% your next distributor in the very near future will be saying, "Hello Alexa, Hello Siri, do you have a new prospect for me to talk to today?"
SHARE THIS: