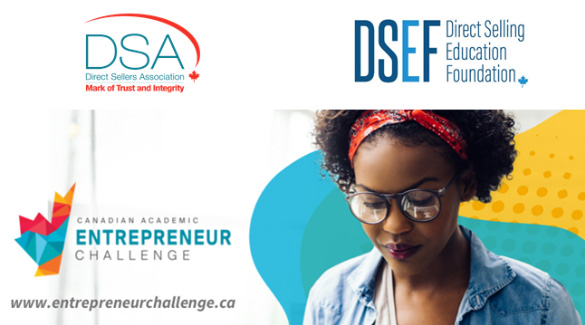 Direct Sellers Association of Canada and the Direct Selling Education Foundation's first Canadian Academic Entrepreneur Challenge is open until November 12!
Led by DSA Canada and its members, the Entrepreneur Challenge engages teams of post-secondary students, by having them imagine a distinctive product and then asking them to outline an entrepreneurial sales model to create market success.
It is a contest that celebrates innovative thinking, with the goals of promoting entrepreneurship amongst young Canadians, providing an introduction to the direct-to-consumer and direct selling channels, and building relationships between academia and industry.
Ultimately, Entrepreneur Challenge participants will utilize business, creative and critical-thinking skills, while also applying their research, communication and marketing abilities.
The Entrepreneur Challenge offers students opportunities to:
Gain recognition and participate in a resumé-building activity
Develop real-life skills, for use in education and career
Experience working as part of an entrepreneurial team
Win cash and prizes
It also provides valuable, real-world content for educators and academic programs.
Read more about the Canadian Academic Entrepreneur Challenge.
SHARE THIS: