Amway announced sales of $8.9 billion USD for the year ending Dec. 31, 2021. This represents an increase of 4% when compared to 2020.
Amway's top 10 markets in 2021 were: China, USA, South Korea, Japan, Thailand, Taiwan, Malaysia, India, Russia and Italy. The company reported increased sales in several of its key markets including Malaysia, South Korea and China.
Nutrilite, the world's top-selling brand of vitamins and dietary supplements, accounted for 53% of Amway's global sales.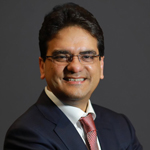 "Everything we accomplished in 2021 was because of the dedication, passion and agility of Amway employees and Amway Business Owners across the world," said Amway's Chief Executive Officer Milind Pant. "Amway is powered by people, an incredibly diverse group bound together by our common desire to help people live better, healthier lives."
The company said there were several factors that contributed to the growth to include:
Amway continues to lead with nutrition programs and products, and empower entrepreneurs to build holistic health and wellness communities online.
For the newest Amway Business Owners, investments in Core Plus+ compensation plan have led to meaningful improvement in their incomes.
Nutrilite Double X Multivitamin ranks among Amway's top-selling nutrition solutions around the world that is powered by a cutting edge, patented blend of botanical extracts.
The launch of Artistry Skin Nutrition, powered by cutting-edge skin science and plant-based nutrients, continues to show strength in the convergence of nutrition and beauty categories.
The successful opening of the XS Experience Center and the first year of XS Energy Plant operations at Amway's world headquarters reflects the company's commitment to the energy drink market. The XS Energy Plant is a 60,000-squarefoot state-of-the-art manufacturing facility that produces 500 cans of XS Energy drinks every minute. Amway invested $15 million in the redesign of the manufacturing facility.
"Amway is one of the most powerful ideas in the world," said CEO Pant. "It's a timeless idea that combines an inclusive entrepreneurship opportunity; freedom for people to set their own path and goals; with rewards that meaningfully improve people's economic situation and health and wellness," said Pant. "Over the past few years, we have all experienced immense change, but true to what drove Amway's founders back in 1959, our why remains the same: we do what we do every day to help people live better, healthier lives, and that's more relevant today than ever before."
To access all the latest facts and figures about Amway, read the 2021 Amway Global Impact Report.
SHARE THIS: