This quarterly analysis focuses on the seven largest public direct sellers. The period covering the first three months was generally not so good for this group of companies. Only one company reported a solid growth. Two of them came up with almost flat performances, but the remaining four announced quite negative numbers.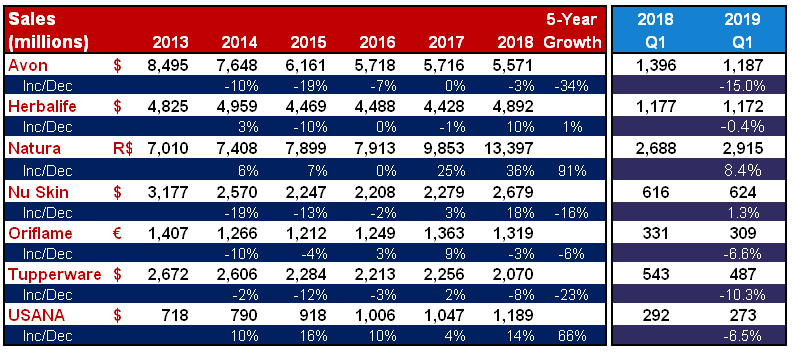 Avon's global sales in the first quarter was $1.187 million, 15% less than its figure in the same period of 2018.
Its EMEA region came with 19% and South Latin America with 17% quarterly decline in revenue. Sales in North Latin America was down 1% and the only positive figure was from Asia Pacific which grew by 3%. At the markets level, Russia's quarterly sales was -31% and Argentina's was -27% as the two worst-performers.
Avon's active representatives in the first quarter was down 9%, too.
Commenting on the first quarter results, CEO Jan Zijderveld was optimistic: "Although total revenue is down, we see improvements in many areas, especially the better underlying trends in Brazil and continuing good performance in Mexico; however, we did deteriorate in Russia."
Last month, Avon signed an agreement with LG Household & Health Care to sell its remaining 19.9% ownership in New Avon (i.e. Avon North America). Avon had previously sold its majority shares in Avon North America to Cerberus.
Furthermore, we know there is a strong interest from Brazil's Natura to acquire Avon globally.
For more on Avon's first quarter performance, please click here and here.



HERBALIFE
Herbalife's quarterly sales of $1.2 billion included growth in four out of its six regions and was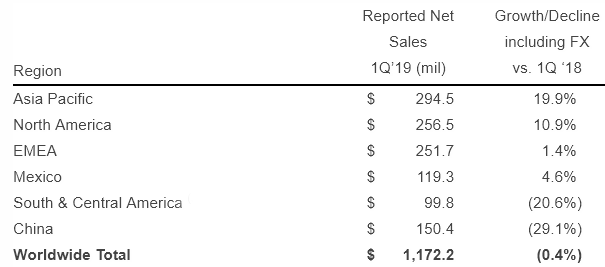 approximately flat compared to first quarter 2018. Excluding China, sales increase was 6% compared to the first quarter of last year. In China, sales decrease was 29%. Herbalife's other poor performing region was South & Central America (-21%).
Re-appointed CEO Michael Johnson said, "We delivered net sales growth in four of our six regions, which included year-over-year growth in seven of our top 10 countries. Our geographic diversity is an asset that helps us deliver these results, and geographic diversity is uncommon in the nutrition and direct selling industries."
The Chinese government had announced a 100-day review of Herbalife's health products that had an impact on its business, the management said. Without the impact from China, Herbalife announced it would not have taken down its yearly guidance for the full year.
Herbalife's sales growth expectation for the second quarter is between -3.5% and +2.5%.For the full year, it is between -1% and +5%.
For more on Herbalife's first quarter performance, please click here and here.
Natura reported R$ 2.915 billion in the first quarter of 2019. This represents more than 8% growth over last year's Q1. Natura is the sixth largest direct seller in the world as of 2018 sale.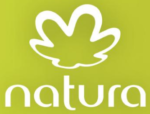 Among the Natura group, Aesop brand's sales increased by 34%, The Body Shop by 10%, and the flagship company Natura's net revenue grew by  5%.
Roberto Marques, Executive Chairman said: "Natura & Co. of posted another solid set of consolidated results in the first quarter of 2019, confirming the continuing momentum of the multi-brand, multichannel, purpose-driven beauty group we have constituted. All three of our brands and businesses posted sales growth in Brazilian Real in spite of challenging market conditions in some key markets, notably Brazil."
For more on Natura's first quarter performance, please click here.
The first quarter sales of US$629 million meant 1% growth for Nu Skin (vs. US$616 million).
China was the main driver with 6% sales increase. China was followed by Southeast Asia as the only other region that posted growth (2%). Nu Skin's all other five regions reported decreasing revenue.
"We remain confident in our growth prospects in 2019 as we focus on the continued execution of our growth strategy. We will drive increased productivity by investing in technologies to better support our sales leaders, expanding our global beauty device systems with product introductions and line extensions, and optimizing our Velocity sales compensation program," said CEO Ritch Wood.
Nu Skin's announced its 2019 annual revenue guidance as $2.76 to $2.81 billion. For the second quarter, projected revenue is $660 to $680 million.
For more on Nu Skin's first quarter performance, please click here and here.
Oriflame closed the first quarter with 7% decrease in its global sales (EUR 309 m vs EUR 331 m).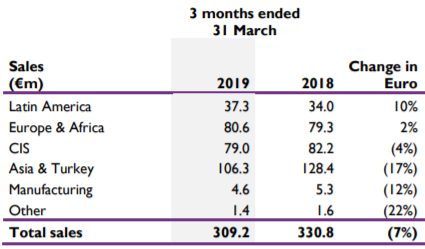 CEO Magnus Brannstrom said, "While we are encouraged by the positive development in Latin America, Africa, Europe and most of the CIS markets, we continued to see a sales decline in Asia & Turkey impacted by challenging market conditions as well as governmental and legislative initiatives in China and Vietnam."
Oriflame's worst performance came from its Asia &Turkey region where sales dropped by 17% versus last year's Q1. CIS was down also 4%, but Europe & Africa (+2%) and Latin America (+10%) came with better results. The situation in the Asia & Turkey region can be alarming for the company as these markets account for more than 1/3 of Oriflame's total volume. Active representatives in this region decreased 20%, too.
For more on Oriflame's first quarter performance, please click here.



TUPPERWARE
Within this group of seven, Tupperware reported the second worst sales growth performance after Avon. Tupperware's US$487 million quarterly revenue was 10% lower than previous year same period's.
All regions contributed to this global result with their negative growths: South America -20%, North America -11%, Asia-Pacific -9%, and Europe -4%.
CEO Tricia Stitzel commented, "We are beginning to implement the detailed project plans for transformation initiatives that we announced in January aimed at enabling sales growth and providing some future direct annualized cost savings. In the near term, we are pleased to see sequential improvement in sales as we continue to stabilize the business during this transformation period. We are also making good progress on our access and engagement strategies through studio expansion and digital deployment."
Management announced company's annual revenue is expected to decrease by 3-5% in 2019 as compared to 2018.
For more on Tupperware's first quarter performance, please click here and here.
USANA, too, reported negative growth in the first quarter: -6.5%
"Three factors unfavorably affected our sales results for the first quarter of 2019," said CEO Kevin Guest. "First, our 2019 operating plan contained very little promotional activity during the first quarter… This had a more significant impact on our global momentum than we anticipated… Second, the Chinese government's 100-day review of the health product and direct selling industries that occurred during the quarter was accompanied by unexpected, persistent, negative media coverage about these industries in China… Finally, the unfavorable impact of a stronger U.S. dollar on net sales was also significant."
In fact, first quarter sales in China was down 8.7%. This market accounts for more than half of USANA's global revenue.
Company's global sales in 2019 is expected by the management to be between $1.21 billion and $1.26 billion, representing growth between 1.7% and 5.9%.
For more on USANA's first quarter performance, please click here and here
We will have to wait now to see what the rest of the year will look like for these companies.
…..
Hakki Ozmorali is the Principal of WDS Consultancy, a management consulting firm in Canada specialized in providing services to direct selling firms. WDS Consultancy is a proud Supplier Member of the Canada DSA. It is also the publisher of The World of Direct Selling, global industry's leading weekly online publication since 2010. Hakki is an experienced professional with a strong background in direct sales. His work experiences in direct selling include Country and Regional Manager roles at various multinationals. You can contact Hakki here.
SHARE THIS: