Recently, the World Federation of Direct Selling Associations (WFDSA) has reported 2018 global statistics for the industry. Last year the global sales force of 118.4 million people generated estimated retail sales of USD 192.9 billion, a new record, the WFDSA said.


As the above graph shows, the global industry has shown a sustained growth over time, with a three-year compound annual growth rate of 1.7% for the 2015-2018 period. The  figures expressed here are in 2018 constant USD and at "estimated retail".
Markets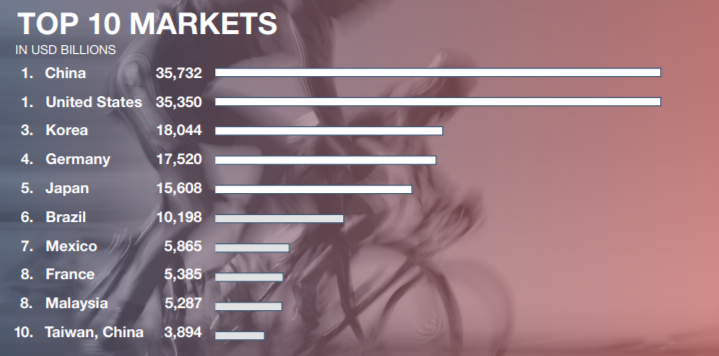 As far as the top markets are concerned, China leads the industry by a small margin ahead of the US. China grew by 2% and the US by 1.3% in 2018. These two top markets accounted for 36% of the direct selling volume in the world.
The top 10 markets on the other hand, generated about $153 billion sales and that is roughly 80% of the global sales.
Asia-Pacific countries made up the largest region with 46% share. Americas followed by 32%, Europe by 21%, and Africa-Middle East by 1%.
According to the WFDSA figures, the world's shining stars in 2018 in terms of volume increases were: Vietnam (30%), Argentina (23%), and Israel (15%).



Product Categories
Products under the wellness category produced 33% of sales, and cosmetics/personal care 31%. The following two largest categories were household goods & durables (13%) and clothing & accessories (12%). It is important to note here that these category statistics do not include figures from China, the largest market, as they were not available.
Wellness category had been especially strong in Asia-Pacific and this was again, the case in 2018. In almost all markets, this category generated more than half of the total direct sales volume. The figure for the US in 2018 was 35.6%.
Direct Sellers
The number of direct sellers in the world increased in 2018 by 1.7% as reported. China grew by 2%, reaching 5.6 million according to WFDSA's estimates. This number decreased in the US by 0.7% (to 16.5 million). Roughly, 60% of the world's total direct sellers were in the Asia-Pacific region.
This article has aimed at providing a general insight on how the industry performed last year, globally. For more detailed data, you might want to check WFDSA website.
Note:
The WFDSA states in its report that some country figures represent the whole direct sales market, some others represent only the volumes of the local DSA members, and some are basically WFDSA estimates. Nevertheless, these reports always give us pretty significant indications.
SHARE THIS: