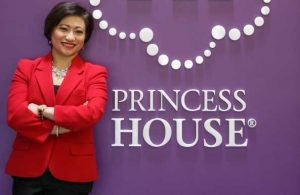 The next "Executive Q&A" on The World of Direct Selling features Connie Tang, President and CEO of Princess House. Between 1995-2008, Connie was at BeautiControl, holding various executive positions. Then, she joined JAFRA as the President, USA where she worked for nearly four years. And Connie has been with Princess House since 2012.
Could you tell us about your education?
I'm a proud product of the New York City public education system including Stuyvesant High School. I graduated from Brooklyn College with a Bachelor of Arts degree in Speech and Public Communications.
What was your childhood dream?
My early recollections were to be a teacher, then a singer/performer.
What were your past experiences before your current role at Princess House?
After working in customer relations roles at Clinique and Lancôme, I joined BeautiControl, Inc., an international manufacturer and direct selling company, where I held roles of increasing responsibility and led to my appointment as Vice President, International & Special Markets. During my tenure at BeautiControl, I opened domestic and international markets, increased sales in existing markets and business units, led market segment studies, successfully launched new product lines, developed distributor and sales force training programs and created public relations programs.
When Tupperware acquired BeautiControl in 2000, I was tapped to lead the introduction of BeautiControl in key global markets in Asia Pacific and Latin America through Tupperware's infrastructure.
In 2008, I joined JAFRA Cosmetics International as President of the U.S. division, leading corporate employees in California and Texas and consultants in the U.S., Puerto Rico and the Dominican Republic. As one of the members of the four-person JAFRA Management Board, I helped guide the company in its expansion efforts in India and Brazil, and led its development strategies across 10 global markets.
What do you attribute your career success to most?
Discipline. I travel a lot. My family lives on the west coast, my corporate office is on the east coast and my duties as President and CEO of Princess House take me all over the world. I've had to adapt my schedule to the time zones in which I live and work, and in doing so, I feel that I set an example for other women who may not have to contend with time zones, but do have to balance multiple roles as entrepreneurs, wives,
I've had to adapt my schedule to the time zones in which I live and work, and in doing so, I feel that I set an example for other women who may not have to contend with time zones, but do have to balance multiple roles as entrepreneurs, wives, mothers and caregivers. I get up every morning at 3 am to be available during east coast business hours and my staff meetings are held promptly at 8:30 am ET. I prepare for those remote meetings the way I would for meetings in person – fully dressed, with hair and make-up done. The example Leaders set through their actions matter and I strive to set an example of discipline for everyone at Princess House. My choice to maintain this level of daily discipline translates to our expectations for Princess House employees and Consultants. Being disciplined is a first step to becoming self-motivated, which is essential for success in our business.
What has been your most inspiring moment?
We work with women from all walks of life, and some may not feel powerful because they may have limited formal education, or their cultural environment may not value women. I am inspired every single day when I see the life-changing impact Princess House has when a woman starts learning and growing, and by her own power, belief and sheer determination builds a business to become successful. I have seen this scenario many times around the world, from Mexico to Malaysia, from India to Costa Rica and even right here in the USA. Every waking moment, I am inspired by the realization that what we do in the world of direct selling matters.
Your hobbies?
I love listening to music (all kinds: from pop, R&B, American Standards, jazz, to hip hop), movies, musical theatre and television/serial programming. My tastes are diverse – from drama, rom-com, action, Star Trek, to Marvel. Loved Lala Land as much as The Avengers and Argo!
How would you describe being a direct selling executive to an outsider?
The Princess House purpose statement begins with the words "Our power is our people," and ends with "Our business inspires dreamers, rewards excellence, and transforms lives." This mission is embraced by every direct selling executive. A direct selling executive is responsible for infusing the company, its products and its business with passion, energy and motivation to maximize product sales through the acquisition, development and retention of independent consultants/distributors. This leads to providing world class service to an increasingly demanding customer base. The direct selling executive provides the right tools, support, incentives and inspiration for its teams (internal and external) to succeed.
What is your biggest achievement at Princess House?
I am truly inspired by the thousands of women who have made the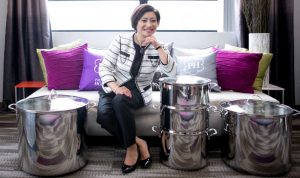 choice over the last 54 years to join the Princess House family and the tens of thousands of women who will be making that same choice in the future. I am proud that during my tenure the company has logged a 36% sales increase since I became President in 2012 and is now ranked #74 in the Direct Selling News Global 100 – the most prestigious ranking of direct selling companies in the world. Domestically, Princess House is ranked 45th in North America.
In 1969, Princess House had just 1,000 independent consultants and by 2013, the same year Princess House celebrated its 50th Anniversary, the company achieved a record-breaking 25,000 consultants in the U.S. and Puerto Rico. Princess House has also been named #22 on the Top 100 Women-led Businesses in Massachusetts by The Boston Globe Magazine.
And your biggest challenge at a direct selling company executive role?
My biggest challenge is also my greatest joy in watching our consultants learn and grow to become their best selves and in turn, bring other women into the Princess House family. At the executive level, that has meant attracting and retaining talent who embrace and promote our mission and have a deep understanding of how to provide entrepreneurial-minded women across the country exactly what they need to conquer the world of direct selling and realize their personal best in life.
What would be your best advice to those who are thinking of joining a direct sales company at a corporate position?
People who succeed in corporate positions at direct sales companies are passionate about making a difference in the lives of others: from your teammates, customers, to independent consultants. We are also very collaborative, and have the determination to stay focused on the same goal. As a profession, we are very results-driven in achieving what matters and are extremely agile in seeking new opportunities and challenges. We are also always mindful of the fact that as direct selling leaders, we need to walk the talk of what we ask of our consultants: to be respectful, compassionate and most importantly, accountable.
SHARE THIS ARTICLE: