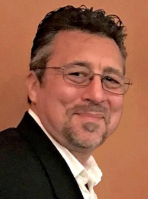 Sebastian Leonardi is President & Chief Business Strategist of DSXgroup, a strategic growth firm that implements innovative channel strategies to drive competitive advantage and new market opportunities. He is a recognized expert on omnichannel strategy, social commerce and aligning technology initiatives to accelerate revenue and market share. Aside from working with forward-thinking direct sales and technology companies, he's frequently engaged by innovative brands like Nestle, Nautilus, Lego, and Kellogg.
Guest Post by Sebastian Leonardi
Market Insights: The Retail/Direct Sales Confluence
It is evident that the Retail/Direct Sales confluence is more than a curious phenomenon, it is in effect, a stark reality. More and more brands are shifting their philosophy from 'Retail Sales' to 'Retail-as-a-Service'. As retail's transformation continues to accelerate with the prioritization of relationships over transactions, multichannel marketing bonds with omnichannel strategy to unify customer experience for a frictionless journey.

For the longest time, what we've held very dear as unique models engineered to provide 'Opportunity' and 'Sales' for exclusive products, are now being redefined as 'Sales Extensions' of omnichannel commerce. Seismic shifts in the retail landscape has forced them to adapt and innovate much like direct sales. Obsessively bent on finding solutions to drive customer engagement and demonstrably raising levels of personalization and consumer experience;  progressive companies are leveraging WOM initiatives to create socially shareable experiences and fresh opportunities to engage customers, prospects and employees.




In 2018, major brand retailers such as Sephora, Ulta Beauty, Bonobos, Burberry, Target, Nike, Niemen Marcus, and Nordstrom began dissecting the DS Channel strategy and integrating attributes that will drive: Social Engagement, Customer Experience, Personalization, and Brand Affinity. Recently, Nordstrom committed to their vision of creating smaller 'No-inventory -Nordstrom Local' stores where emphasis is placed on providing the 'New Nordstrom' experience that includes services such as a seamstress, nail salon and a bar.

Abercrombie & Fitch, although announcing many store closures around the country, have pivoted on their strategy to include the launch of smaller stores on college campuses. Their premise is to use them as 'Learning Labs' for gathering insight into operating small spaces within an omnichannel platform. By leveraging new technology and an omnichannel integrated brand & customer experience they will have the opportunity to measure and test 'store-centric experiential marketing' within their key customer demographic.

Further leading to reinvention of the Retail Store, companies like Kohl's have begun experimenting with physical presence to enhance customer experience and partnered with Amazon for product returns to promote convenience. Consequently, in attempt to offset lower sales and reinvigorate the retail atmosphere with fresh foot traffic- some Retail Stores are repurposing non-value physical space by renting out in-store locations with complementary partners to drive parallel goals.
One of the largest investments directed to developing a social selling initiative has come from Macy's- with the 2018 launch of 'Macy's Style crew'. Although they've announced closure of many brick & mortar stores, they've redirected assets and embarked on a strategy to inspire 130,000 existing sales associates and stylists to earn additional income by sharing products with their own personal networks.

As brands embrace the potential of customers evolving from digital communities connected through mobile/social platforms, subscription-based retail continues to emerge to target users who prefer those interactions over traditional methods. Examples? Unilever/Dollar Shave Club, Trunk Club, Stich Fix, Warby Parker, Quip, Casper, Purple, Amazon Subscribe…

Top CEOs and CMOs from the retail world are looking across the bridge into the land of direct sales and they're not only borrowing plans from our playbook, they're executing on it. Adopting strategies to increase relevance, competitive posture and drive for market share- all underscored by their desperate will & need to survive. Research shows that Omnichannel Strategy remains the top initiative for growth-oriented companies. Compelled by the consistent growth in e-commerce and escalated by the critical realization that customers establish loyalty  through preference, relevant engagement, and brand experience.


Two of the most valuable markets for Direct Sales are North America and Asia. Domestically, ecommerce is dominated by Amazon and internationally, by Alibaba's T-Mall. The distinction between models, sales, and market share are evident as we measure 'Trillions' vs 'Billions'.

To put things in perspective, we need to take a holistic view of the sheer size and value of Global Retail vs Global Direct Sales: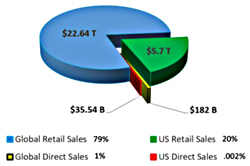 If we measure global e-commerce as a subset of global retail and compare it to the direct sales market footprint, we clearly see that Global Direct Sales represents 4% while total US Direct Sales (the red sliver) clings to only 1% of market penetration.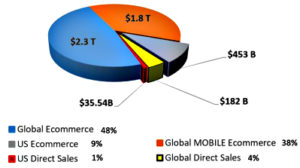 Numerous debates, articles, and questions have been focused on the threat of Amazon's dominance and its pressure on Direct Sales. In this chart, we see that US e-commerce represents $453B in sales. What isn't reflected is that Amazon owns almost half of that revenue… AND more than 90% market share across 5 different product categories!

As retail learns a great deal from Direct Sales, we need to learn how to remain competitive, relevant and sustainable in what is clearly a global omnichannel marketplace. One transformed by technology, culture and generational shifts in buying power and perspective.



We all like to believe that our models, experiences, consultants, and customers are 'unique'. However, Direct Sales companies must recognize that retail's transformation and the rise of ecommerce marketplaces have set the tone for ALL customer and consumer expectations. This includes our own customers and the pool of prospects every Direct Sales/Social Commerce company competes for. We cannot escape the influence of transformation and DS is no longer an impenetrable bubble.

Consumers are loyal to brands if, in turn, brands are loyal to them. That means engaging them on their terms to consistently meet or exceed expectations. Emotions affect consumer & consultant behaviors and when you know the 'triggers' that affect each positively, behaviors typically remain consistent and predictive. Through an omnichannel strategy, DS can increase exposure, experience and brand recognition to strengthen that emotional connection.

Improving customer preference and experience are vital for continued success. The most successful customer experience-centered omnichannel strategies prioritize Simplicity and Effectiveness. Studies have shown that 70% of customers are more likely to recommend a particular brand due to simple experiences and unified communications across channels.

Recognize the important distinction between a 'Multichannel Approach' and an 'Omnichannel Strategy'. Don't think you're doing it, Know you are…
One of the challenges, especially when dealing with creative entrepreneurial leadership and management structures, is the shift of internal culture to consider the enterprise collectively- instead of separate divisions or business units.

To be successful, it is often necessary to consolidate teams to re-focus vision, integrate planning systems and eliminate redundancies. Silos need to be broken and insights need to be shared across the enterprise to capitalize on real-time trends.

Consider the Value that Effective Relationships, Loyalty, Trust, and Brand Experience would have on Sales Execution, Revenue, and Growth. Shopping Cart Abandonment is estimated to be $4 Trillion which is almost double the value of Global e-commerce!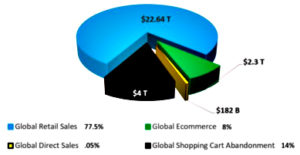 This is one of the least talked about 'black-hole factors' partially responsible for retail brands' leverage of social selling in the first place. A Unified omnichannel experience integrated with a WOM-driven strategy has the potential to significantly increase revenue, capture lost sales, and recapture loyalty. Embracing change and transformation are keys to sustainability.

Today, customers are much better informed regarding what to buy, when, where, and at what price. And, consultants have more cross-market opportunities than ever before. We have to ask ourselves: Why should they buy from us…? And, why should they join us? Do we understand their behaviors and emotional triggers well enough to align our vision of success with an effective strategy?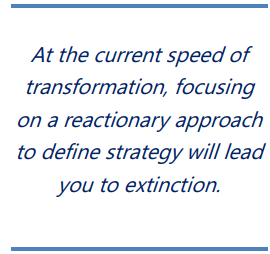 Excellent Customer Service has always been at the heart of the direct selling culture. There used to be a distinctive difference. Now, the thin veil that separated retail from e-commerce and direct sales has become blurred with the advent of social selling, mobile shopping, AI, IOT and rapidly changing fulfillment options. Regardless of the model, consumers are in the driver's seat and have the power to dictate their journey.

Focus on their customer journey and develop a seamless experience with your brand. Engage in a constant state of transformation led by customer needs, behaviors, and preferences. Capitalize on simplicity and automation perpetuated by an 'Omnichannel First' methodology. Act upon those elements that are expected and perfect the practice of providing answers to problems pre-emptively.
SHARE THIS: