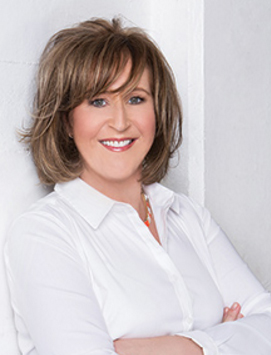 Guest author Bobbie Wasserman is Managing Director of Wave2 Alliances Inc., a corporate reputation and crisis management consultancy.
She has helped to shape the communications landscape of global brands and leading companies like Amgen, Arbonne, Bank of Montreal, Bristol-Myers Squibb, Chevron, Hewlett-Packard, IBM, and ORGANO. Bobbie is an Advisory Board Member of DSWA.
Guest Post by Bobbie Wasserman
The Rise of the U.S. CorpSumer: What Direct Selling Companies Need to Know Now
Consumer goods companies are already navigating a marketing maze with multiple twists and turns created by the expanding use of technology and accompanying decisions and issues that come with it. Now, add more complexity to the marketing maze:  the challenges posed by the advent of the growing "Millennial" demographic. At this point, even the 'great' companies are struggling to successfully recalculate their winning marketing strategy.
What or Who is a CorpSumer?
However, there is light at the end of the marketing tunnel or maze. During this frenzied time, a new consumer force is taking shape – a force that naturally bridges to the Millennial market and that also complements the Direct Selling channel. This force is taking shape in the U.S. (a market where many direct selling companies struggle). What or who is this new consumer force?  The CorpSumer. This growing CorpSumer consumer segment is a critical target — their attitudes and beliefs about a company and its reputation drive behavior – not only their behavior but the actions of others. There are CorpSumers 'hidden' among direct selling companies' distributors and customer base. The CorpSumer is a consumer leadership group and it is a newly identified and powerful consumer segment.
CorpSumers view a company's values and reputation as equal in importance to its products. Furthermore, CorpSumers then act upon their beliefs – if they like the values and reputations of a company, they will support that company consistently – with their wallets, investments and career choices. This broad group reflects approximately 33% of the U.S. population and as a group has the following characteristics:  spans a variety of generations; most members work full-time; members are well-educated, high-income earners, and they are parents. CorpSumers are also culturally plugged-in and vocal, with roughly 50% sharing their political and cultural views online several times each week. A majority of CorpSumers believe that a company has a greater ability to make a positive change in the world than the government.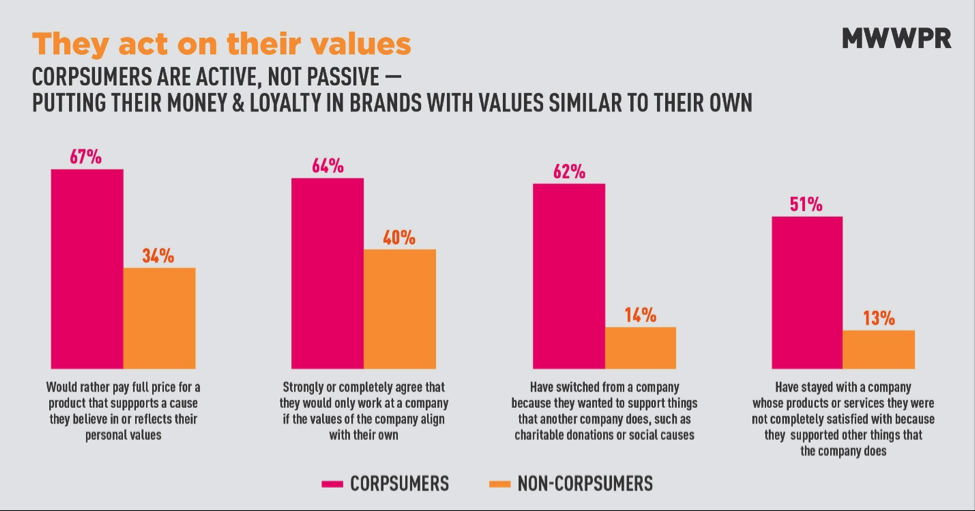 CorpSumers invest their money and loyalty in brands with values similar to their own and are quick to influence – positively or negatively – use of a product or service:
67% of CorpSumers would pay full price for a product that supports a cause they believe in or that reflects their personal values vs. buying a product at a discounted price.
Over 50% have remained loyal to products or services they weren't satisfied with because they supported other efforts made by the company.
89% are likely to share positive news about companies online and 76% have encouraged someone else to buy a product or service to support the companies they are loyal to
78% are also likely to share negative news about companies online and 74% have encouraged someone to give up or not use a product because of the company's reputation.

Approximately 4 out of 5 CorpSumers' purchase decisions are driven by a company acting as a good corporate citizen. And possibly as a reflection of their broad demographics, CorpSumers are impacting numerous industries, including: financial services, auto, health & wellness, food, electronics, entertainment, apparel and alcoholic beverage – beer/wine/liquor.
CorpSumers – The Direct Selling Champions 
Because this burgeoning demographic includes passionate users of social media, they pride themselves on influencing their friends and family. These are individuals who can be found among a company's distributor leadership and customer base. Yet, direct selling companies have been so focused on younger millennial marketing that this multi-generational consumer profile is often overlooked.
Like millennials, CorpSumers are tech savvy. However, it is important to note that CorpSumers use social media differently than millennials. Millennials flaunt and chronicle experiences online, while CorpSumers tend to integrate social media into their current lives with limited time. Given their distinct habits, viewpoints and behaviors, the following are a few tips for tapping into the CorpSumer base:
Tell your company story in a way that complements and brings to light the unique corporate culture. While the general story will (and must) be consistent, the storyteller – primarily the distributor – adds their authentic personal interpretation to provide the trust that does not come naturally to retail brands. This is a huge advantage that the direct selling channel needs to be leveraged more effectively. Ensure that distributors are properly trained and have the full arsenal of business building communication tools at their disposal.
Use brand champions as spokespeople; engage employees and customers as well as distributors. These are authentic company ambassadors. Be sure to pick good storytellers who are a positive embodiment of your company's values and who live your company's culture. Wrap the story around articulating your company's purpose.
Create shareable information to engage the CorpSumer in a positive way. Shareable information can include videos under 30-45 seconds, short posts and poignant images. Utilize this information to benefit from the greatest marketing advantage of CorpSumers — their tendency towards activism/advocacy which they will direct in a positive (or negative) way toward the companies who make the products they use. Keep the information simple, clear, and culture-centric.

Remember that the CorpSumer profile largely mimics a direct selling company's current distributor and customer base. Both groups are comprised of people who were introduced to the company by a person of trust. Both groups are willing to pay a premium for the products/services due to a belief in the company, its mission and product lines. At the end of the day, successfully leveraging the CorpSumer demographic offers a tremendous marketing opportunity for direct selling organizations. Marketing to the CorpSumer can yield more customers, and a higher quality loyal type of customer, while creating a natural bridge to the millennial marketplace.
SHARE THIS: