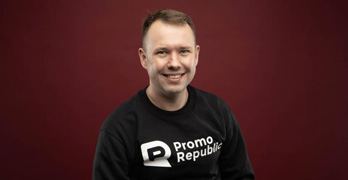 Guest author Max Pecherskyi is an experienced marketing & brand strategist and social media marketing pro. Max is a former lecturer at the Bavarian Academy for Advertising and Marketing in Munich, where he shared his knowledge of branding strategy and the value of branded online communities. In 2015, Max transitioned to the SaaS world and co-founded PromoRepublic, a distributed marketing platform for multi-location brands that launched a social selling solution for direct selling businesses.
3 Reasons Social Media Should Become the Lifeblood of Your Company in 2021
Many direct selling companies have mixed feelings toward social media. On the corporate side, it's a popular channel for staying connected with distributors and their teams. But when it comes to teams performing social media marketing as brand representatives, the corporate office usually has a lot of concerns, as this is where great exposure comes and automatically puts brand consistency, compliance, and reputation at risk.
Meanwhile, the opportunities social media opens, if used wisely, significantly outweigh these risks. Here are three reasons why getting representatives involved in social media marketing is a must for direct selling companies who want to get compelling sales results.
1. This is where your end users are.
Direct selling companies have always been known for proactively reaching out to people who need them. This approach worked with family circles, at parks, and at public events. Today these places are not the most promising in terms of finding new clients, as people prefer to minimize their risks due to the pandemic and stay home. There's a place where they have migrated, though — to the online world, and to social media in particular. And this brings us to the number one reason it's time for your direct selling company to become active on social.
40% of respondents of the Deloitte Digital Tools in Crisis and Recovery Report confirmed they are using social media and online messaging to find information about products they need and to interact with businesses.
According to GlobalWebIndex, Baby Boomers, Gen Xers, and Millenials use mostly Facebook (55%, 63%, and 67% correspondingly), while Gen Z is more into Instagram (67%). These two social media platforms are the most promising in terms of covering wide audiences of different age groups.
Moreover, 62% of Facebook users and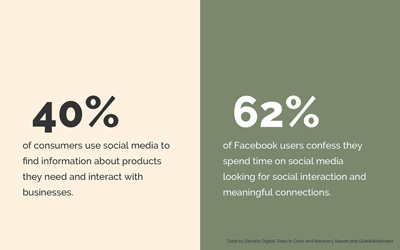 40% of Instagram users confess they spend time on social media looking for social interaction and meaningful connections.
SmartInsights predicts social media marketers will invest in "building relationships with employees, customers, and influencers to ensure our key brand messages are backed up by the voices our customers value the most" in 2021.
There's no one better than representatives at building such connections and relationships. Marketing leaders just need to empower them with the right skill- and toolsets to start building their networks on social media.
2. It's the way to provide a great brand experience.
When representatives start actively posting to their pages on their own, there are also risks. First, they might not be tech- and marketing-savvy enough to stick to the proper quality level of content and messaging. Second, reps who passionately believe in their products may start overpromising about their effects and this may cause legal issues.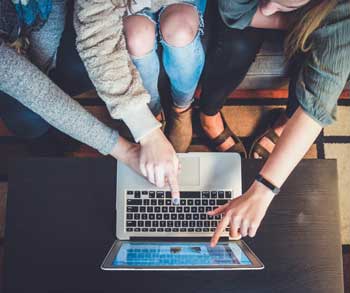 But consistently onboarding reps on company values and messaging, educating them on social media marketing, and giving them effective tools are great ways to mitigate these risks. Activating distributors to engage in social media marketing can become the best decision in a company's history. Not only can distributors spread their brand message to a wider audience, but they can also build a positive brand reputation through their own personal experiences.
People tend to trust other people much more than they trust brands. That's why reps sharing their lifestyles featuring how they use your products in their daily routines is better than any paid advertising. Luckily, social media offers a wide range of tools and formats for creating such personalized content: Stories, Live Streams, IGTV—all of these are in high demand among today's online users. Lives are even reported to be among the top trends for 2021.
In this case, it's important that distributors remain authentic in their communication, as this is their main strength.
3. Selling on social media actually brings results.
Almost half the respondents of the Deloitte Digital Tools in Crisis and Recovery Report say their online spending has increased since the COVID-19 outbreak. According to SmartInsights, social commerce will be one of the key trends of 2021.
This is totally natural behavior as in today's world online is the safest way to shop.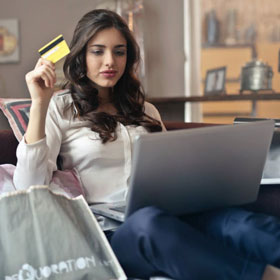 Especially when you can get the look and feel of products, speak to a consultant, and make a purchase all in one place. Direct selling representatives should turn their social media pages into such places.
To achieve such growth, marketing leaders should develop a social-first habit in distributors. That means advocating the importance of social media marketing at the corporate level and educating representatives via various webinars, courses, and workshops. Also, picking the right tools to simplify social media marketing workflow is a good idea. With such support from the corporate level, representatives will catch on and become more marketing savvy and customer-centric themselves.
Marketing specialists predict the year 2021 will be the year of "people-first social media marketing". Direct selling companies should be at the forefront of this trend, as giving personalized experiences is their strong suit.
SHARE THIS ARTICLE: