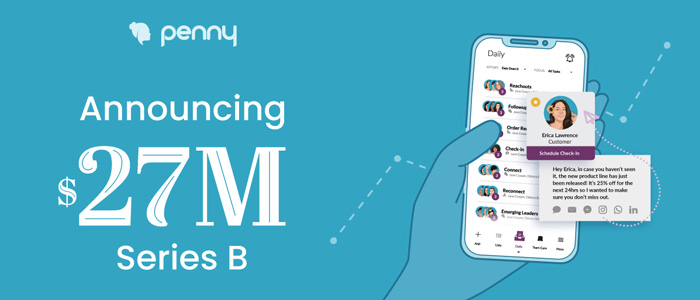 Penny AI announced it raised a $27 million investment led by PSG, a growth equity firm. PSG partners with software and technology-enabled services companies to help accelerate their growth. Acronym Venture Capital and ScaleUP Ventures also participated in this investment. This latest round of funding was oversubscribed, the company said.
Penny AI serves as a virtual assistant to sales consultants by providing contact management, prospecting and communication solutions on a single platform to help increase sales productivity. Purpose-built for global enterprises, Penny AI is the sales enablement partner of choice to some of the world's largest direct sales companies.

"We're witnessing the transition from traditional channels and e-commerce to a people powered retail revolution where the social seller and influencer now own the audience and customer relationship. Since day one, our mission has been to empower the seller with simple to use, intelligent and powerful solutions that help create an incredible experience for their customers," said David Abbey, CEO and Co-Founder of Penny AI.

The objective for the investment is to accelerate the platform's expansion into areas that are underserved by the existing sales enablement technologies, yet are critical for sellers' business growth, through:
● Engagement Based Micro-Learning – A learning platform built for how adults actually learn, combining best-in-class curriculum with science-backed learning design to enable learning in the flow of work to upskill sellers.
● Insights and Data Visualization – Actionable insights and data visualization for sellers and corporate teams to understand their business at a glance and drive the next best action.
● Social Commerce – Closing the gap between customer discovery and instant transactions across social channels to track sales data and attribution in a single platform.

"In our view, Penny AI is one of the most comprehensive and effective sales enablement platforms serving direct sales organizations and can solve critical pain points experienced at every level, from sales consultants to corporate teams," said Tom Reardon, Managing Director at PSG. "We look forward to partnering with the Penny AI team as they continue to innovate and grow to support more businesses throughout the global direct sales industry."
SHARE THIS: