Indian Direct Selling Association (IDSA) and Shoolini University have jointly launched a 'Center of Excellence for Direct Selling in Academics' (CEDSA). CEDSA will impart a year-long PG Diploma in Direct Sales starting Academic year 2021-22. CEDSA will be India's first 'Centre of Excellence' for direct selling.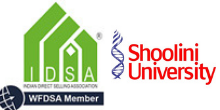 On the occasion, Vice Chancellor of Shoolini University Prof. Atul Khosla said, "This is a wonderful effort to bring industry and academia together which will also generate employment."
Rini Sanyal, IDSA Chairperson, said, "The launch of CEDSA will open a new chapter in the direct selling ecosystem in the country and we remain hopeful that other educational institutions also give a much-needed impetus on formal studies in direct selling business model. We believe there is need for an exhaustive academic curriculum, and that CEDSA can serve as a research incubator for direct selling in India."
Based out of the university's picturesque campus in Solan, CEDSA will also house the 2nd global research center on direct selling – the other being Pekin University Research Center on Direct Selling (RCDS) in China.
SHARE THIS: