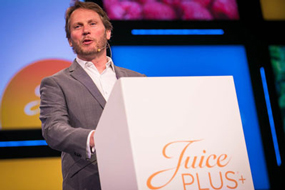 This time we have Paul Jarvis, Chief Operating Officer, EMEA of Juice Plus+ at the "Executive Q&A". Paul has a vast experience in direct selling and I had the pleasure of working with him twice: First, in his management team and second, as a consultant helping him expand into markets.
After having worked as Vision International Group's CEO for 10 years, Paul joined ORGANO at the VP Europe position, his next corporate role in direct sales. He has been at Juice Plus+ as its Chief Operating Officer since mid-2016.
Last October, Paul was elected as the Chairman of Seldia, the umbrella organization of European direct selling associations.
What was your childhood dream?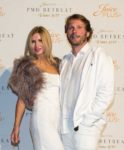 As a child I always dreamed to travel the world; when I was 9 years old my parents took me to Australia for a month. Back in 1978 this was a really big deal and for me it opened my eyes to a new world. Through direct sales I have now traveled to more than 90 different countries so my dream has become my reality. And I married an Australian!
What were your past experiences before your current role at Juice Plus+?
I was introduced to direct sales by Dimitry Bouriak, President of Vision International in 1996, one of the first direct sales companies to enter the Russian market. It was a runaway success and we expanded into 30 regional markets over the next 10 years. In 2012 I brought the Canadian coffee company, ORGANO, to Europe which was also an exciting experience.
What do you attribute your career success to most?
Working in direct sales is not a job or career, it is a lifestyle that you become immersed in. You need to love every minute of the role and focus on building relationships. For me these relationship are what bring success.
What has been your most inspiring moment?
Within this business you get to meet many incredibly inspiring people, everyday your field leaders can surprise and inspire you. Additionally we get to associate with some of the world's greatest speakers. My dinner with Neil Armstrong at a retreat in Portugal may be one of the most inspiring that I have had.
Your hobbies?
Haha, interesting, this is a lifestyle which leaves little time for hobbies, but recently I have been able to get back on my wakeboard; I even have one now at our headquarters in Tennessee. I also really enjoy going to live concerts, and with the travel you can sometimes co-ordinate to see some amazing performers.
How would you describe being a direct selling executive to an outsider?
We have recently given this a great deal of thought at Juice Plus+ and like to think of ourselves as a "C to C" company. We are now more increasingly digitally focused and with such a young demographic this makes a lot more sense to younger people.
What is your biggest achievement at Juice Plus+?
Since I started work at Juice Plus+ nearly three years ago the European business has nearly doubled in size and we have created a professional foundation from which we will be launching our expansion plans. I have been able to play a leading role in the development of the new global strategy and am incredibly excited about the future of this company.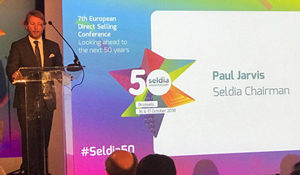 And your biggest challenge at a direct selling company executive role?
I think that as our distribution channel goes through this digital transformation the most challenging aspect is to work directly with the local governmental regulators to ensure that our business and our partners maintain the highest level of integrity. As you enter new spaces the formal rules no longer exist; it is therefore down to us to use this integrity in the performance of our responsibilities.
What would be your best advice to those who are thinking of joining a direct sales company at a corporate position?
There are amazing opportunities in this business for the right caliber of person. If you can be switched on 24/7 and relish a significant challenge then 'world of directs sales' could be your oyster.
Click here to read previously published "Executive Q&A"s.
SHARE THIS: