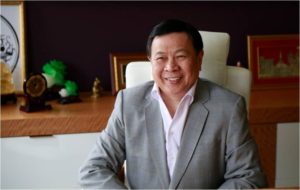 This week's "Executive Q&A" features Bernardo Chua, Founder and CEO of ORGANO. Bernie has been leading the company since it was founded in 2008.
Could you tell us about your education?
I earned a Bachelor of Science Degree at the University of Santo Tomas, in the Philippines.
What was your childhood dream?
As a child and teenager, my dream was to become a medical doctor – my goal was to help people to live long and healthy lives. I had plans to attend medical school. Although that did not materialize, I have been able to help people throughout my career.
What were your past experiences before your current role at ORGANO?
I went to work for our family business as a purchasing manager in a garment manufacturing plant in the Philippines.  All of my siblings were involved in the family business, and I was expected to follow their path.  So when I was old enough, I went to work and as the youngest of 14 children, I had to please many "bosses. "
Later, I wanted to venture out and I had the opportunity to manage a travel agency in the Philippines. At the travel agency, I was able to institute programs that helped to grow the agency throughout Southeast Asia. As we continued to grow the business, I was approached to manage a direct selling company that was opening a regional office in the Philippines.
Along with the help and dedication of my team, I successfully increased market share of the direct selling company and helped to grow its Asia presence. Subsequently, when the company decided to expand to North America, I was tapped to manage the Canadian business. The timing was fortunate – at the time, political problems in the Philippines were escalating – and I knew it was the perfect time to move my family to Canada.
Then, six years after moving to Canada –  and with a lot of support from my family, business colleagues and Distributors – I made a big move and decided to open my own company – ORGANO.
To what do you most attribute your career success?
Although I did not earn a medical degree, I've never strayed from that desire to improve the quality of people's lives.  My drive and passion to help others has guided me throughout my entire career.  I have also been very blessed with my own family – they push me to always strive to become a better person.
What has been your most inspiring moment?
I'm continually inspired as individuals approach me to share their stories of the ways that Organo has changed their lives. I love to hear about our Distributors' successes and the ways that our Company has positively impacted their lives. It is these stories – these testimonials – that tell me that we have reached our ultimate goal.
Your hobbies?
I have had many hobbies, but my most treasured hobby – which I devote as much time to as possible – is playing with my grand kids.
How would you describe being a direct selling executive to an outsider?
This industry is fascinating, exciting and very engaging – but it is also very different from "traditional" businesses. You must love people to be successful, at any level, in this industry. It is a people-driven-business.
What is your biggest achievement at ORGANO?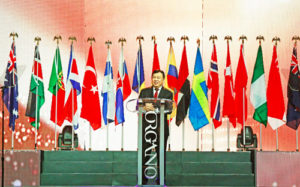 I consider my biggest achievement to be the founding of the Company, and the growing of the Company to a global enterprise. This enterprise is able to help many people (distributors, customers, employees and others) to improve their health – through the use of our products and the revenue stream that allows people to provide financially for their families. The positive impact that Organo has had, and continues to have, on families all over the world, is an achievement of which I'm very proud.
And your biggest challenge at a direct selling company executive role?
The roller coaster ride –  the high highs and the low lows – which are a part of the natural business cycle.  You see people leave the Company and it is really heartbreaking. As I have mentioned, this is a people business – you build a relationship with people and you want that relationship to be ever lasting. But change is part of life and business.
What would be your best advice to those who are thinking of joining a direct sales company at a corporate position?
There are always challenges in every workplace, company or industry you join. What is important is that you love what you do and that you are eager to learn and to build relationships. If this is your orientation, everything else will fall into place.
SHARE THIS: