Sponsored Content.
While your distributors may be at the heart of your organization, your customers are its lifeblood – and without them, it will be impossible for you to find success. Today's consumers expect more than ever, and it can be challenging to set yourself apart in a way that encourages them to stick around, continue placing orders, and develop loyalty to your brand. One way to ensure your customer base continues to grow is by establishing an incredible customer journey that starts from the day they place their first order.
You probably know the basic requirements for creating a journey like this: Fun email campaigns about the order and products, beautiful packaging, and a helpful customer service department. But there are a few other things you'll want to consider if you're going to stand above the crowd. Below, I'll discuss four ways to enhance the customer journey.
1. Implement Automation
A couple of years ago, I heard about a direct sales company losing over $1.5 million in revenue due to lost orders. These orders included auto-ships that weren't appropriately tracked, orders that had been canceled, and other pain points. By implementing some basic automation to provide insights and reporting, this company could automate the process to recover the revenue, generating over $14 million in profit in just one year. The right automated tools pay for themselves.
verbCRM features one such tool, PULSE, that provides a variety of reports that enable users to communicate with their customers quickly and effectively. When a user selects a customer from a report, they'll be provided with suggested ways to interact with them – whether following up now or setting a reminder to do so later. The feature even provides pre-written messages, complete with suggested attachments, that can be created and edited by your corporate team, along with the option for users to write their own. For example, a pre-written message for a customer expecting their first order might say something like, "Hey, I'm so excited for you to receive your order next week! I know you're going to love these products. Let me know which one is your favorite!" and may suggest including a product information sheet.
Tools like PULSE feature automated reminders for your distributors to follow up with all customer types: new, regular, customers with auto-ship orders, and inactive. The result? Better communication between your distributors and their customers leads to larger orders, fewer disgruntled customers, more frequent orders, and overall business growth.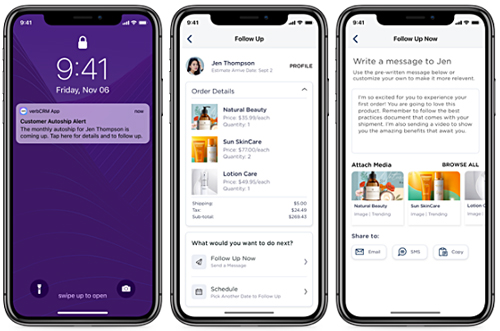 2. Focus on Reactivation
There are dozens of reasons why a customer might stop placing orders, and it would be impossible to prevent it from happening. However, the one thing you can do is pay attention. It's easy for a customer to feel like they don't matter anymore if they've stopped placing orders. Taking the time to reach out can make a huge difference in how they view your company.
Imagine your distributors having a list of every one of their inactive customers. When your company launches a new product, you can send a push notification encouraging users to connect with the people on that list. With just a few taps, they'll be able to reach out with a message (or even a sample) that inspires inactive customers to place a new order.
Inactive customers should be viewed as an integral part of a distributor's warm market. Encourage distributors to reach out to these customers and get to the root of why they became inactive. For an extra special touch, they can even send a personalized interactive video with product suggestions or a link to chat later.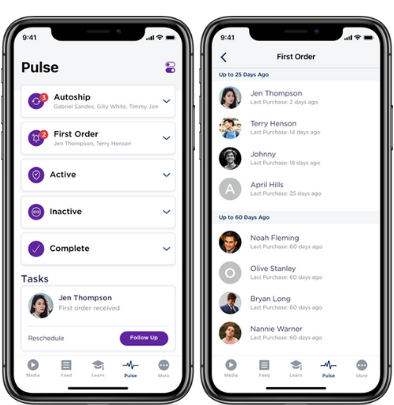 3. Encourage Education
In 2017, it was estimated that around 67% of all organizations offered some form of a mobile learning platform. That number has likely grown since. To compete in today's market, you need a system of reward-based educational tools that will enhance the overall customer experience.
Spend the time to ensure your distributors and your customers have access to education about your company and products. Using a learning management system ensures your distributors know precisely what they're selling and allows them to see where they can offer additional products or promotions to improve the customer experience.
You can also consider using an LMS to educate your customers about the products they've ordered. For example, if you have a cleaning product, a module about how it can be used can motivate your customers to use the product more often.
4. Pay Attention to Data
Take the time to make sure you know everything there is to know about your customers. See who is on auto-ship, who has canceled their auto-ship, who is expecting their first order, and more – then try to figure out the patterns. Another key data point is to pay attention to customer retention. At what point do your customers cancel their auto-ship? What type of rewards and incentives can you offer them to continue ordering? How can you drive the behaviors of the field to engage with those customers at the point when they may be considering canceling their subscription orders?  Features like PULSE provide your company with a goldmine of data about customers and their buying patterns, allowing you to make data-driven decisions that create a better journey. For example, noticing that several people signed up for auto-ship after ordering a specific product may mean a distributor could see success by promoting that product to other customers.
The companies in the industry experiencing the greatest success are the ones who have a heavy focus on the customer journey. Pay attention to their needs and create a powerful experience for them to ensure they become raving fans of your products and company.
Reach out for a demo if you want more information – let us show you how you can keep customers engaged, provide personalized service, bring back inactive customers, and monitor customer retention.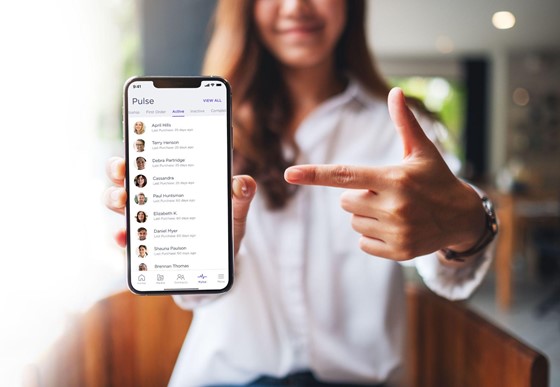 …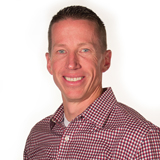 Written by McKinley Oswald, President of Global Sales at Verb. For the past 25 years, McKinley Oswald has been heavily involved in working with direct sales companies and industry leaders to help them achieve success. His full-time contributions at Verb began after graduating from the University of Utah in 1998, when he became heavily involved in the culture and direction of Sound Concepts (the company that was acquired by Verb in 2019). Although it originally started with kit assembly and cassette duplication, the company has now progressed far beyond that to offer a diverse lineup of sales-enablement tools and marketing services on the Verb digital platform. In his role as President of Direct Sales, McKinley has worked with hundreds of direct sales companies to help enable their field to succeed.
SHARE THIS: