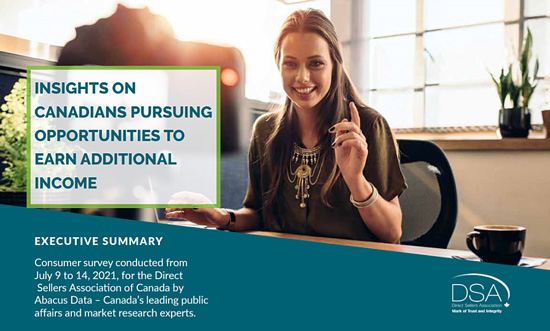 A new consumer research, completed by Abacus Data in July 2021, shows an intriguing picture of Canadians' interest in pursuing additional income opportunities, outside of traditional employment.
Direct Sellers Association of Canada's survey found that 31% of Canadians pursued opportunities to make additional income over the COVID-19 pandemic. These people said they sought out these opportunities for reasons including being laid off and underemployed, or because they were re-evaluating their financial and personal aspirations.
As the economy recovers, 3 in 5 survey respondents intend to pursue opportunities to make additional money to support their income over the next 12 months. Major demographic groups in this figure include young Canadians of 18-29 years old at 75% and students at 83%.
Moreover, there is a measurable year-on-year growth in positive impressions of the direct selling channel. In fact, 24% consider a direct selling business to be a realistic option for earning additional income.
Another outcome from the research was that a significant percentage of Canadians find it important for businesses to have a commitment to consumer protection and ethics.
SHARE THIS: