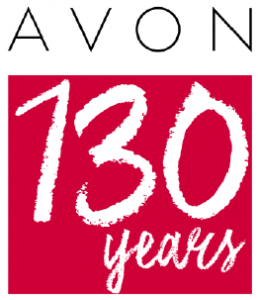 The negative trend in Avon's revenue growth began in 2012. But its profitability had started to deteriorate in 2009, three years before the downward trend began in sales. The sharp decline in profits came in 2012, though. And none of the measures taken to reverse this situation produced any material results.
The new CEO Sheri McCoy who was quite optimistic when she took over in February 2012 would say one year later, "…driving improvement has been more challenging and has taken longer than I had anticipated," during an earnings call with the investors. All signs showed that the situation was worse than many had thought.
In December last year, Avon took a major step by selling its problematic North American unit to Cerberus Capital, a private investment firm. This move was part of a major three-year transformation plan. After this $605-million transaction, Avon North America became a separate entity of which Cerberus owned 80% and Avon 20%. Cerberus paid $170 million for this 80% stake. With the remaining $435 million, Cerberus owned 16.6% of Avon Inc. and had 3 seats on Avon's Board. Along with this, Avon also announced it would relocate its headquarters from the U.S. to the U.K.
So for Avon, the year 2016 started with one less big problem and with quite a good amount of cash in its pocket.
The First Quarter
Even without its declining North America unit, Avon was not able to post growth in the first three months: -16%
Sales decline occurred in company's all regions: South Latin America -28%, Asia Pacific -17%, North Latin America -11%, and Europe, Middle East & Africa -2%.
Avon lost blood on the field as well. Active sale force went down by 1% globally as compared to the same period of last year. The highest negative figure was from Asia Pacific: -10%. Asia Pacific region roughly accounted for 10% of Avon's global business.
On the profit side however, there were good signs. Although modestly, Avon was operationally profitable in this quarter: +0.6%.
After quarters of disappointments, Avon management was happy with the first quarter.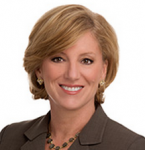 erformances from Avon's top 10 markets which represented about 70% of its revenue were pleasing for them.
CEO Sheri McCoy said, "Generally, I'm pleased with the underlying performance of the company in the first quarter and looking forward, I'm confident that we will continue to deliver improved performance."
The Second Quarter
Avon's second quarter sales also declined but by a less percent this time: 8%. Its active representatives were up 1%, and ending representatives up 2% in this quarter.
Once again, sales decline occurred in all regions of Avon: South Latin America -12%, Asia Pacific -10%, North Latin America -5%, and Europe, Middle East & Africa -2%.
Company's operating profit was $95 million, 6% more than its 2015 Q2 performance. The first two quarters combined, Avon reported $103 million operating income and this was 81% higher than what it was in the first half of last year.
The company brought in 7 cents per share for the second-quarter, versus 2 cents expected by analysts polled by Thomson Reuters
CEO McCoy was commenting, "Our second quarter results came in slightly above our expectations, driven by operating performance that was better than anticipated."
As far as the major transformation plan is concerned, management says they are on track in execution of the $70 million cost savings that they had committed to for 2016.
The Rest of 2016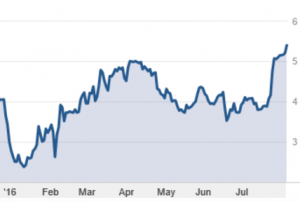 The investors reacted quite positively to Avon's second quarter results. With the  announcement of the figures, Avon shares rose from $4.16 to $5.1. The closing figure of last Friday was $5.43! To remind, an Avon share had closed the year 2015 at $4.05 and in January 2016, it went down to as low as $2.2. You can see the trend in 2016 on the graph to the right:
During the earnings call following the second quarter, Avon's COO and CFO James S. Scully listed company's 2016 priorities as:
* Continue to drive improved overall performance in top 10 markets.
* Deliver 1% to 2% active representative growth
* Continue to improve the ending representative trend
* Evolve the service model
* Invest in the brand with "Avon's Beauty for a Purpose" positioning
* Continue on the path to build the business in China while evaluating strategic alternatives
* Transition of IT infrastructure to HPE for all markets
* Enhance pricing discipline within the top 10 markets.
* Deliver $70 million in cost savings in 2016
* Continue to improve the balance sheet
An overwhelming to-do list, isn't it? Anyhow, after years full of attempts with no major positive results, it seems things are reversing for Avon this year.