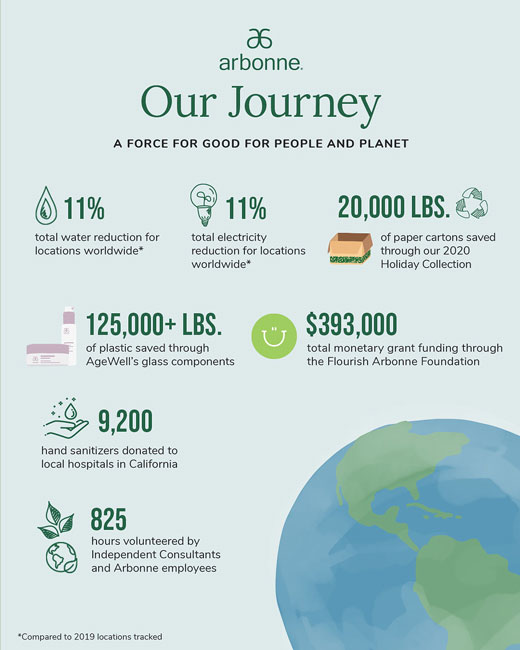 Arbonne unveils  its Annual Sustainability Report, built around the wellness brand's commitment to be a purpose driven company, caring for people, planet, and profit. The report also summarizes Arbonne's ambitious initiatives and performance.
Arbonne's key milestones for sustainability include recovering over 365,000 units of packaging through the ArbonneCycle program, converting the UK office into their first location to run off of 100% renewable energy technologies and moving to non-toxic glass jar packaging with the launch of AgeWell anti-aging skincare line.
Additionally, the Flourish Arbonne Foundation continues to lead caring for people and raised over $1.5 million dollars to positively impact the mental wellbeing of youth, while donating nearly $3M in products to non-profits that share Arbonne's mission.
By 2025, Arbonne plans now to have 100% non-GMO verified nutrition products, be zero-waste across all locations globally and reduce plastic packaging by 50%.
This year also marks the brand's first anniversary year as a Certified B Corporation. B Corp certification is the only one of its kind, comprehensively measuring a company's social and environmental performance, transparency, and accountability. Achieving B Corp certification strengthens Arbonne's commitment as a purpose-driven company.
SHARE THIS: