Sponsored Content.
We all appreciate a little personalization – that which accounts for our tastes, demographics and preferences. Whether this be personalized product recommendations or recommended content to view on streaming platforms, it is nice to cut back on time spent searching for the right thing.
Many retailers, for instance, collect a wealth of data – they know what their customers search for, click on and purchase, in the end.
"Relevance is when a customer gets what they want, when they want it — before they even knew they wanted it, and with no effort at all," noted a VentureBeat article. "Nowadays the seamless, frictionless, and personalized shopping experiences of brands like Walmart and Amazon have set the standard, and the kind of experience that customers simply expect. Any online retailer that falls short faces consequences."
When it comes to the business context, how can this same type of personalization – offering relevancy at the moment of need – be applied? Just as it is becoming essential for retailers to create personalized experiences for their customers, it is becoming essential for direct selling companies to create tailored learning journeys for members of their sales force. For distributors, personalization allows for them to feel a greater connection to their personal goals as well as the KPIs of the company, allowing them to thrive and advance in an environment that boasts a culture of continuous business growth.
Personalization: Boosting distributor performance
The COVID-19 pandemic turned the traditional environment on its head – and for members of the sales force, there has been a shift towards experiences that are highly personalized. To align with the customer-centric nature of the direct selling industry, it becomes critical for leaders to take an equally personalized approach to empowering the members of their sales force, especially in today's evolving landscape of work.
We are seeing that the central benefit of personalized learning all boils down to driving productivity, and it has been proven to deliver an average of 24X ROI. Learning and enablement solutions help companies efficiently and effectively personalize training for members of their sales force, using performance data to personalize the experience and improve business results. Here, data is key – collecting key insights such as a distributor's goals, skillsets and learning preferences, and tracking their business growth progress on a daily basis. To maximize training outcomes, a skills assessment can be used to determine where the learner has gaps and where they would benefit most from training, and accordingly, deliver the right activities, and at the right time. By prescribing either the right content (such as tips regarding various prospecting methods) or the right activity (such as sending a templated WhatsApp message to previous clients), each distributor is guided towards their end goal.
Veronica, for instance, has recently joined a direct selling company as a new distributor. As she has recently moved to New York City from Amsterdam, her primary goal is to build her network and make new connections with prospective clients in her area. She has just completed the initial training, is well-versed in company and product knowledge, and has established several Facebook connections. Just as Veronica may have been thinking: how do I grow my network and expand my reach even further, she then may be provided with tips and suggested resources related to how to grow her network and engage with her audience. Social media is identified as an area in which she is lacking in confidence and expertise, and where she would benefit most from training.
If the learning and enablement system detects a drop in a distributor's performance, it will deliver training to boost results. Veronica is seeing little traffic on her social media and few followers, she may then be offered tips and social media best practices, such as commenting on others' posts, and integrating more hashtags and diverse media content into her own posts.
This is the power of personalization: offering relevant content at the exact point of need – and steps for how to get there.
To stay ahead of the competition, adopt a personalized distributor experience
Going back to the retail example – personalization should account for a shopper's changing needs and preferences – they might be searching for swimwear on one shopping trip, for instance, and formal business clothes on another. How can relevant recommendations be offered, if the personalization engine cannot keep pace in real-time?
It is the same idea for distributors – that is, goals may change over time, as they progress and grow within a company. While her initial goal may have been to make an income as she settles in her new country, upon learning more about the company, Veronica may decide that she is interested in the coaching and mentorship aspect of direct selling, and choose to pursue a coaching and leadership-focused route. In this case, her learning path will be adjusted.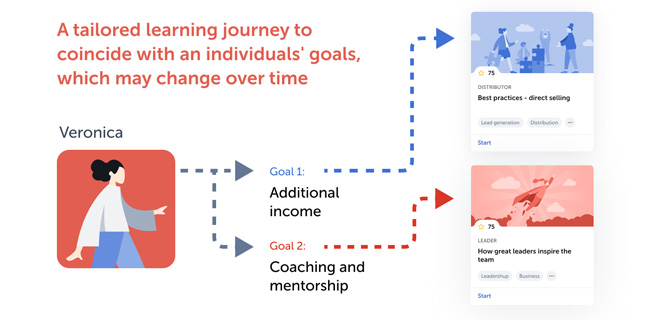 To keep up with the changing landscape of direct selling, we are envisioning even a larger shift towards personalized distributor experiences in the immediate years to come. Personalization will help businesses boost productivity, drive engagement and maintain a competitive edge in an ever-changing world. For leaders, it is time to take steps to provide the members of our sales force with personalized learning and enablement experiences, as we look towards 2022.
How can Rallyware's Performance Enablement Platform help to lead each distributor towards their goal by prescribing the right activity? Schedule a demo to see how!