The companies we have been reviewing here had strong starts to the year. Yet their revenue growth performances significantly slowed down in the fourth quarter. This was not unexpected, but it wasn't something that was wished for, either.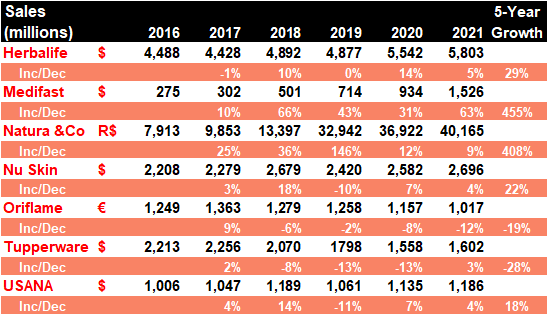 Herbalife's 2021 net sales of $5.8 billion was an increase of roughly 5% compared to 2020, representing the largest annual sales figure in company's history. The company's three largest regions: Asia Pacific, North America, EMEA along with 37 individual markets also set annual net sales records.
Fourth quarter 2021 sales of $1.3 billion, on the other hand, was a 6.6% decrease compared to the fourth quarter 2020. All regions but Asia-Pacific (+5.1%) reported sales declines in this quarter: North America -2.6%, Mexico -5.3%, EMEA -7.4%, South & Central America -14.3% and China -31.4%. The growth in Asia-Pacific was led by India which grew 33%.

In the investors' call, CEO John Agwunobi announced Herbalife's newly opened 150,000+ square foot facility in India. This new facility he said, will allow the company to accommodate growth in India as the India subsidiary goes from the current level of 900 jobs to approximately 1,500 employees over the next 5 years. This place will also be home to a new local product research and development center designed to accelerate new product launches.
Management was not too worried about this quarterly decline and said, "For the fourth quarter 2021, net sales declined 7% compared to the fourth quarter 2020 as the year-over-year trend was impacted by a challenging comparison period. On a two-year stack basis, the company saw growth of 8% compared to the fourth quarter 2019."
Company announced its Q1 2022 sales expectation as a decrease of 10% to 4% compared to the first qusrter of 2021. For the whole year, the outlook is between 0% to +6%.
For more on Herbalife's fourth quarter performance, please click here.
Medifast is included in our quarterly reviews for the first time, due to its impressive growth in the recent years. This company's revenue growth in the last five-year period is 455% (from $275 million in 2016 to $1.526 billion in 2021).
Medifast's fourth quarter revenue was $377.8 million, up 43% as compared to Q4 2020.  2020-2021 sales growth was 63%.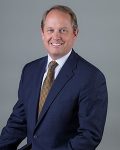 "2021 was another outstanding year for Medifast, with record revenue and earnings fueled by continued growth across our independent OPTAVIA Coaches and Clients. We've now established ourselves as the market leader by dollar share in the U.S. weight management market, and are now building the foundations of our approach to the broader health and wellness sector," said Dan Chard, Chairman and CEO of Medifast.
During the investors call following the fourth quarter, Dan Chard reiterated the importance of "coach-focused" model that they have been utilizing. He also said, at the end of 2021, over 90% of Medifast's revenue was subscription-based and 100% of their orders were direct-to-consumer.
For the full year 2022, management expects Medifast's revenue to be in the range of $1.72 billion to $1.79 billion.
For more on Medifast's fourth quarter performance, please click here.
Natura &Co reported R$ 11.6 billion (approx. US$ 2.3 billion) consolidated revenue in the fourth quarter, down 3% as compared to Q4 of 2020. Yearly revenue is 9% above previous year's.
Three of the business units came up with declining quarterly sales: Natura &Co LATAM -2.8%, Avon International -5.6% and The Body Shop -8.8%. Aesop was the only business that showed growth in Q4 (+22.8%).

The Body Shop's sales decrease was attributed by the management to the poor retail activity in the holiday season due to COVID. Aesop's success on the other hand was explained by the "growth in retail channels particularly in North America, Asia and Australia".
Within the group's Latin America business, Natura recorded 3.5% revenue growth in the last quarter, but Avon LATAM's sales declined by 12.3%.
Avon brand's total (International + LATAM) net revenue was stable in 2021, as reported. And this was the best revenue trend in the last three years.
Management said group's "digitally-enabled sales" that include e-commerce and social selling have reached 52% of the global sales. To compare, this was 49% in Q4 2020, and 35% in Q4 2019.
Given the global instability, Group CEO Roberto Marques was cautious in his comments on 2022: "As we expect to face continuing challenges especially in the first half of 2022, we are focused on delivering our priorities, implementing several key initiatives to drive sustainable profitable growth this year and beyond."
For more on Natura &Co's fourth quarter performance, please click here.
Having Q4 revenue of $673 million (down 4% from Q4, 2020), Nu Skin achieved $2.7 billion sales in 2021. This was 7% higher than Nu Skin's 2020 sales.
There were varying quarter results at the regional level: China -24%, EMEA -18%, Japan -14%, Southeast Asia/Pacific -9%, Hong Kong/Taiwan +4%, South Korea +2% and Americas +2%. Among the regions, Americas achieved the highest growth in 2021 (+21%).
Ryan Napierski, Nu Skin CEO, said, "Our U.S. business grew 32% for the year on top of 37% in 2020, due in large part to ongoing adoption of our social selling model. Many of our Asian markets, including Mainland China, continue to be impacted by strict lockdowns and restrictions on in-person sales events and promotional activities. However, South Korea is gaining some traction with social commerce and grew 9%." Previously, Ray Napierski had shared his 2022 vision in his new year message. Company's 2025 strategic imperatives have been revealed as below: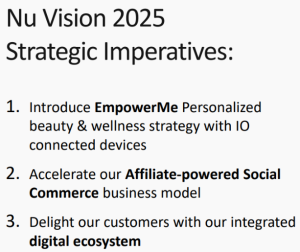 Nu Skin announced its 2022 first quarter sales forecast as  $560 to $590 million and 2022 full year forecast as $2.66 to $2.77 billion. Comparing this to 2021 realization, management's 2022 growth expectation is between -1% and +3%.
For more on Nu Skin's fourth quarter performance, please click here.
Oriflame's global sales declined for the fourth consecutive year in 2021 (-12%). Its number of independent consultants was also down 15% from 2020.
Company's last quarter sales performance was not satisfactory (-10%). From the regional perspective, Asia's growth in the fourth quarter of 2021 was -22%, Latin America's -16%, Europe's -9%, and Turkey & Africa's -17%. The only region that posted positive revenue growth in the last quarter was CIS (+6%). Management noted Mongolia and Armenia as the best performing markets during the quarter in the CIS region

"The pandemic continued to impact our possibility to fully exploit our social business model, where gatherings to train, motivate and celebrate our brand partners are important factors to drive a growing business. This affected the activity levels and recruitment numbers in the quarter and for the year. The actions taken to improve sales have rendered sequential improvement in the quarter, although we have a gap to close to get back to growth." said CEO Magnus Brannstrom.
Currently, 79% of Oriflame's business is generated by beauty products, 16% by wellness, and 5% by accessories.
For more on Oriflame's fourth quarter performance, please click here.
Tupperware announced $395 million sales for the fourth quarter (-12%) and $1.6 billion for the whole year of 2021 (+3%). This yearly growth came after a three-year period of declining annual sales.
"We delivered both top and bottom line growth in 2021 despite challenging operating conditions," said Miguel Fernandez, President and Chief Executive Officer of Tupperware. "Our strategy has not changed, and we are on track to make our company as big as our brand. I am highly confident in our future trajectory and look forward to 2022 being a year of meaningful expansion."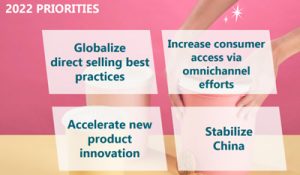 None of Tupperware's regions was able to post growth in Q4: South America -16%, North America -12%, Europe -11% and Asia also -11%. Sales decrease in the U.S. and Canada was reported as 29%.
Management said their focus in 2022 will be "globalizing direct selling best practices, accelerating new product development, increasing consumer access through omnichannel efforts, including expanded product access in the U.S. and Canada, stabilizing in China". Also planned for 2022 is the expansion of the glass bakeware and storage category.
For more on Tupperware's fourth quarter performance, please click here.
USANA reported $267 million sales in the last quarter of 2021. This was 14% below previous year's same quarter figure. With this, company's year-end sales reached $1.186 billion, representing 4% annual growth.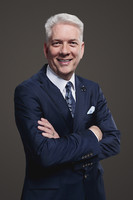 Commenting on the Q4 performance, CEO Kevin Guest said, "Fourth quarter net sales came in below our expectations as our business was negatively impacted in several key Asia Pacific markets where COVID-19 restrictions persisted throughout the quarter."
All of USANA's regions contributed to this revenue decrease in the fourth quarter: China -10%, North Asia -11%, Americas & Europe -11% and Southeast Asia-Pacific -26%.
Roughly 80% of USANA's business is generated in Asia-Pacific and 20% in Americas-Europe.
For 2022, management announced its sales forecast as $1.125 – $1.225 billion. Management acknowledged this was a wider-than-normal range and explained the reason as "continued uncertainty surrounding the COVID-19 environment".
As a side note, USANA is celebrating its 30th anniversary this year. There will be a hybrid, virtual and in-person event in Salt Lake City for this purpose.
For more on USANA's fourth quarter performance, please click here.
…..

Hakki Ozmorali is the Founder of WDS Consultancy, a management consulting and online publishing firm in Canada, specialized in providing services to direct selling firms. WDS Consultancy is the publisher of The World of Direct Selling, global industry's leading weekly online publication since 2010. Hakki is an experienced professional with a strong background in direct sales. His work experiences in direct selling include Country and Regional Manager roles at various multinationals. You can contact Hakki here.

SHARE THIS ARTICLE: