Despite all global challenges, we know by now that 2020 had been a year of growth for the direct sales industry in general. Those that saw the threats and took the relevant actions faster than others also finished the year with better results. This article is a review of five major direct sellers' fourth quarter and full year 2020 growth performances: Herbalife, Natura &Co, Nu Skin, Oriflame and USANA.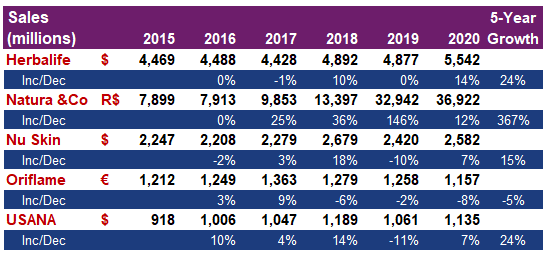 Herbalife ended the year with growth records: 1) Highest annual revenue in company history, 2) Largest fourth quarter global sales ever, 3) Best yearly sales in Asia-Pacific, EMEA and North America regions.
Herbalife's fourth quarter sales was $1.4 billion and this represented 16% revenue growth from previous year's same quarter. North America posted 33%, EMEA region 31%, Asia-Pacific 14% and South-Central America 10% sales increases. 36 of the EMEA countries came up with double-digit sales growth in the quarter. Among these, some stood out with remarkable results: Italy (34% growth), Spain (54%), France (57%) and the UK (129%).
The two Herbalife regions that reported negative growth in Q4 were China and Mexico.

Chairman and CEO John Agwunobi was very happy with the results, saying, "Simply put, 2020 was an amazing year, the best year ever for Herbalife Nutrition, and a testament to the strength of the company and the resilience of our distribution channel. Although 2020 was a record-setting performance year, I believe the best is still to come."
With this impressive finish, Herbalife's 2020 annual sales hit $5.5 billion, up 14% from 2019. This 14% rate of yearly sales increase was Herbalife's best YOY rate of growth in the last 10 years.
Herbalife management anticipates a further 6% to 14% global sales increase in 2021.
For more on Herbalife's fourth quarter and 2020 performance, please click here.
Natura &Co's consolidated net revenue in Q4 was R$12 billion (approx. US$ 2.2 billion), up 24.3%. The company reported sales growth in all four of the group's brands.

Company's 2020 full year performance was remarkable as well: Consolidated revenue increase was 12%, reaching  R$37 billion (approx. US$ 6.6 billion). Among the group brands, Natura &Co LATAM's sales increased by  9%, Avon International's by 3%, The Body Shop's by 32% and the smallest business unit Aesop's by 50%.
As was stated by the management, The Body Shop owed much of this success to its "at-home" business (206% sales increase in Q4) and e-commerce (72% increase).
Natura &Co LATAM generates the largest business for the company, accounting for 56% of the group revenue. It is followed by Avon International (25%) and The Body Shop (14%).
Roberto Marques, Executive Chairman and Group CEO of Natura &Co, said: "In a year of unprecedented challenges, Natura &Co associates and our network across all of our businesses showed care and adaptability in the face of a global pandemic, demonstrating both our purpose-driven approach to business and the strength of our omnichannel, multi-brand model. Our performance in the fourth quarter attests to that, with strong growth in sales and profits."
For more on Natura's fourth quarter and 2020 performance, please click here.
Nu Skin reported $748 million revenue for the last quarter of 2020 and $2.6 billion for the whole year. Company's quarterly growth rate was 28%.
At the regional level, all of the seven regions posted sales increases. Americas/Pacific came up with the highest sales growth in Q4 (83%), followed by EMEA (79%).
"Balanced Geographical Profile" has been emphasized by Nu Skin as a key pillar of company's overall strategy. In fact, there has been a significant business shift from Nu Skin's Eastern regions to Western ones in the last five years. You can see the comparison on the below chart: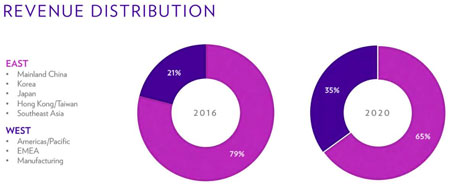 "Our strong fourth-quarter results were driven by exceptional customer growth of 34% compared to the prior year," said Ritch Wood, Chief Executive Officer. "The successful Boost and Nutricentials product introductions helped generate 28%revenue and 29% sales leader growth in the quarter."
While describing the results of the steps taken in digital technology at the investors' call, management said during Black Friday in EMEA, four months of inventory of "Galvanic Spa" products were sold in just 90 minutes.
Nu Skin's expectation for 2021 is announced as 5% to 9% revenue increase. The yearly growth was 7% in 2020.
In September this year, Nu Skin will witness a CEO transition. CEO Ritch Wood will retire after a 30-year career with the company. He will be replaced by Ryan Napierski, Nu Skin's current President. Ryan Napierski has also been with Nu Skin for 25 years.
For more on Nu Skin's fourth quarter and 2020 performance, please click here.
Oriflame, once again, closes a year with declining sales figures. Company's total revenue decreased to €1.157 billion (approx. US$ 1.4 billion) in 2020 from €1.258 billion in 2019. This represented a drop of 8%. 2020 marks the third consecutive year with declining sales.
Oriflame's fourth quarter performance was from reversing the negative trend within the year: Global sales decreased by 14% to €307.5m (€357.2m) in Q4.
All five regions of Oriflame reported negative growth in the last quarter: Asia (-19%), Turkey&Africa (-18%), CIS (-16%), Latin America (-14%) and Europe (-2%).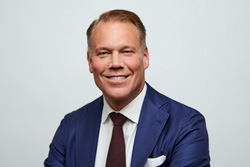 "2020 was a challenging year in many ways… After the first wave of the pandemic in the first half of the year, we experienced a positive sales turnaround in the third quarter that unfortunately was reversed in the fourth quarter. We also faced strong currency head winds negatively impacting our overall sales and margins. In addition, the combination of changed demand and product mix, together with relatively long inventory replenishment lead times, led to product availability challenges and accordingly impacted sales negatively in certain product categories towards the end of the year," commented CEO Magnus Brännström.
In fact, there was a strong shift in Oriflame's product mix. Color cosmetics' share declined from 19% to 15% in Q4, wellness category's jumped to 17% from 13%.
For more on Oriflame's fourth quarter and 2020 performance, please click here.
USANA is among those direct sellers that ended 2020 with quite positive results: 15% sales growth for the last quarter and 7% for the whole year.
In the fourth quarter, all of USANA's regions contributed to this result: Southeast Asia Pacific +34%,  North Asia 17%, Americas and Europe 14%, and Greater China 5%.
Kevin Guest, CEO and Chairman of the Board said, "Our fourth quarter results were better than expected and cap off a year during which USANA delivered remarkable results despite continued challenges from the pandemic…. As we kick-off 2021, we are confident that we are positioned to deliver another year of solid growth for USANA."
China is currently USANA's largest region, generating 47% of company's global revenue. When asked about plans for international expansion during the investors' call, Kevin Guest said their strategy for several years had been focusing on existing markets and on growth in those markets. Although they see now international expansion is a potential growth opportunity, it is not the primary strategic growth strategy for the company, he added.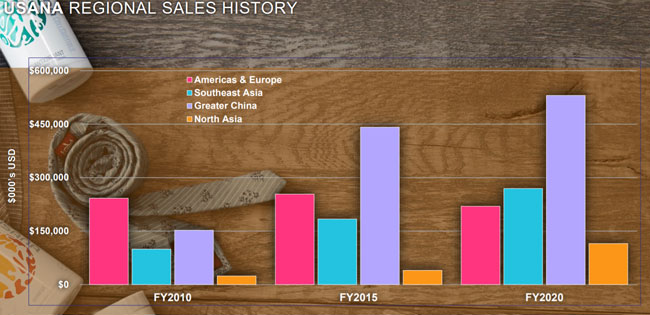 USANA expects  $1.21 – $1.27 billion sales in 2021.
For more on USANA's fourth quarter and 2020 performance, please click here.
…..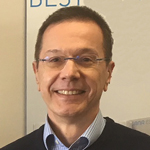 Hakki Ozmorali is the Founder of WDS Consultancy, a management consulting and online publishing firm in Canada, specialized in providing services to direct selling firms. WDS Consultancy is a Supplier Member of the Canada DSA. It is the publisher of The World of Direct Selling, global industry's leading weekly online publication since 2010. Hakki is an experienced professional with a strong background in direct sales. His work experiences in direct selling include Country and Regional Manager roles at various multinationals. You can contact Hakki here.
SHARE THIS ARTICLE: