Australia: Land of Extremes and Stunning Beauty
Australia is a land of extremes and stunning beauty: The weather, the topography, the beaches and, of course, the people. It is also a land replete with direct sales history and success.
The product mix in Australia covers many categories but there is always room to expand and innovate and Australia is a great environment to do both. Our members include global giants, family-owned operations, and everything in between and they are all supported by a passionate and persistent organisation committed to their success.
But before we dive straight into why direct sales in this sunburnt country are unique, we need to understand

Australia itself particularly its geography. What most people are surprised to hear is that the land area of Australia is similar to that of the America's 48 contiguous states if you remove the internal bodies of water. There is only 18,000 square miles difference between the two countries. Yet the population of Australia at nearly 26 million people is nestled between that of Texas and Florida respectively; while the total population of the US at nearly 332,000,000 is 13 times that of the Land Down Under.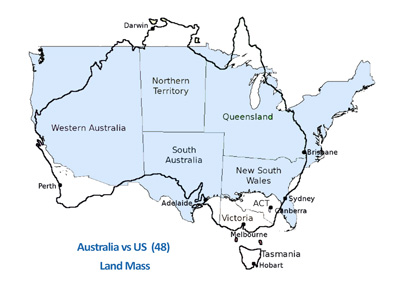 The World's Largest island
Australia, the world's largest island but smallest continent, is comprised of 6 states and 2 territories.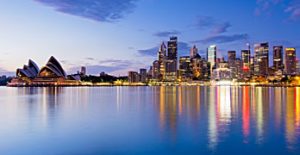 Sydney is Australia's and New South Wales's largest city based on a population of 5 million; Melbourne comes a close second and is the capital of Victoria; Brisbane, Queensland's capital comes third based on population. Perth, sitting on the west coast and in the fourth position is the capital of Western Australia and Adelaide, rounds out the top five state capitals and is the largest city in South Australia.
Canberra, 8th on the list in population order is the largest city in the ACT or Australian Capital Territory and has the esteemed moniker of being Australia's Capital much like the District of Columbia in the US. Hobart, the capital of the island state of Tasmania sits at 13th in population and the last capital is Darwin, sitting top and centre of the country in the Northern Territory (17th in overall population).
Countries around the world all have urban centres as well as regional outlying areas. But in a continent island nation like Australia, the regional spaces exist much closer to the cities and stretch out for many more miles before again blending into a suburb of the next populated cultural epicentre. The smaller population of Australia guarantees that services and choice become markedly slim as you move out of the cities.
With the pandemic inspired migration away from cities, there is a new regional population, able to work city jobs from bushland homes with city incomes and city money to spend whilst others look for flexible income options – but where? Well, the direct selling channel and the online economy is providing a regional shopping haven that bricks and mortar retail couldn't sustain. This increased activity, along with the Amazon's arrival in Australia in 2017, has inspired the long overdue growth of the logistics sector throughout Australia brought the last mile well beyond the city limits.
Direct Sales Industry
Direct Selling Australia's membership grew an average of 11% during the first year of the pandemic. The first year most of us were stuck at home reliant on our internet connections and that inspired DSA's highly successful It's All Next-Door campaign promoting direct sellers as local businesses contributing to their local economies… And they are everywhere with recent stats showing at least 50% of those involved in direct selling as being regionally based.
DSA's 2020 estimates put the number of independent sellers representing its member companies at just under 480,000 contributing to US$1.4 billion in sales generated in Australia that year. We may be small but we're feisty, and currently sit 24th on the list of the top direct selling industries globally.
There are a number of factors that help Australia punch above its weight each year. For many US-based companies, opening up in Australia is the next logical step after Canada as we share English as our main language. Also, having a foothold in the Pacific region enables expansion into Asia. Australia boasts a healthy and vibrant Asian direct selling community who remain tied to their country of origin.
Secondly, once investigating the Australian market, companies find that Direct Selling Australia not only boasts reputational excellence but has several membership categories that support every stage of prelaunch, launch and continued operation providing prospective distributors a feeling of security and integrity that we call "Proud to Belong".
Direct Selling Australia
Direct Selling Australia's staff of 5 are excellent networkers with over 60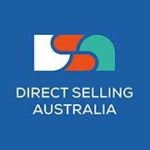 years' combined experience including in the field to share which is particularly useful for new entrants to the market. We can connect you experts who understand every aspect of launching your products or services in Australia as you progress through the different stages of applying for DSA membership.
Since 1967, Direct Selling Australia has sought and secured a seat at the appropriate Government Regulator's table and we continue to network and advocate on our members behalf to ensure that their interests are, as they say in the musical Hamilton, "in the room where it happens." Our voluntary Code of Practice brings members to the forefront of compliance in the retail and consumer space beyond the regulated requirements ensuring that the Australian direct selling channel remains viable for another 55 years.
"TribeNology"
The direct selling channel in Australia is highly collegial and nothing demonstrates that more than our annual conference where members converge and treat each other like family. And, in some cases, they actually are family.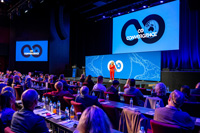 New members will often comment after receiving assistance from a seasoned Australian direct selling channel executive that they can't believe there is so much collegiality amongst members. No one is giving away any secrets and business is still business, but we're a bit more people-focused. This year's conference theme is "TribeNology", a DSA-coined term. It speaks of the intersection where people and tech come together, aligns our heritage of face-to-face connection to the emerging reality of society's digital progression.
The culture of the channel is one of abundance and many of the innovations created for our large but sparsely populated island are often copied in other markets. Australia has its share of negative direct selling press like everywhere on the planet. But most of this is left over global legacy perceptions from the 1990s that frustratingly are recycled by many an online journalist attempting to make their mark by picking low hanging fruit.
Direct Selling Australia chooses its battles carefully. It has released several social media campaigns to educate the general public on the reality of the business in 2021 focusing on the authentic success of direct sellers no matter how small a victory. And as 73% percent of our active direct sellers are women, many of these stories centre on female empowerment and equality.
And speaking of active direct sellers; of course, no product will find its way into the hands of those that want it without a passionate person demonstrating it and talking about it. Australians are by nature early adopters of new business models (benefit of our small population) and are receptive to the concepts of side hustles and multiple streams of income. Sounds familiar? Of course, it does – it's network marketing.
If you are contemplating expanding into Australia, we would love to hear from you. We won't promise to "slip an extra shrimp on the barbie" like Paul Hogan did back in the 80s. But we'll make sure your company knows what it takes to be able to say "G'day" just like the locals!
…

Written by Paul Seitz, Marketing and Membership Manager at Direct Selling Australia. Paul has been involved in the direct selling industry since 1992 working in over 60 countries. In his career, Paul has obtained a wealth of event production experience, with roles exposing him to graphic design, content creation, video and audio editing, talent acquisition, and all the details that make an event special. Despite possessing a strong understanding of technology, Paul emphasises that building relationships with people is the single most successful trait in his long and diverse career.

SHARE THIS: