It all started in 1967 when two brothers teamed up with a friend to set up an "Avon-like" company in Stockholm, Sweden. Oriflame would sell Swedish natural cosmetics. The brand's promise was the natural beauty that the world had been associating with Sweden. The founders also insisted on not testing their products on animals, a concept that was far from being a public concern at the time.
Company's name originated from a royal banner of medieval France that was opened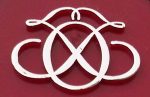 only on the battlefield. The original word is "Oriflamme" and means "golden flame". The first company logo is shown on the right.
The business did grow in time, expanding into some of the Western European countries. Oriflame even went public on the London Stock Exchange. However, until late 1980s, Oriflame registers no major international success.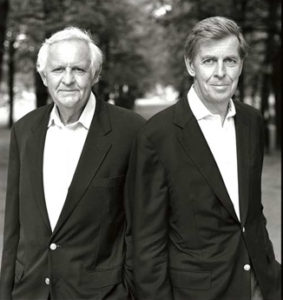 As the 1980s were ending, the brothers Jonas and Robert af Jochnick saw a huge opportunity in the democratization of the Eastern Bloc in Europe: Poorly served markets, coupled with a large number of talented and well-educated masses who would be willing to seek entrepreneurial opportunities that had not existed before.
Thus, Oriflame establishes a "daughter company" by the name of Oriflame Eastern Europe S.A. (or short, ORESA) based in Brussels. The older brother Jonas af Jochnick leads this operation as a very different entity from the parent company in many ways. The whole strategy was based on a very aggressive international expansion. The aim was to open as many ex-Eastern Bloc countries as possible and establish solid presences there before the major competitors do, especially Avon and Amway. To do this, it had to be practical in many aspects and also to be aggressive on the field. Amway's compensation plan served both purposes and it was implemented almost unchanged in this operation.
Between 1990 and 1996, many new markets were opened through ORESA, like the Czech Republic, Poland, Hungary, Russia, Latvia, Ukraine, Slovakia, Bulgaria, Lithuania, and Romania. With the momentum gained, Turkey, Greece and India were opened, too.
This major shift in its strategy brought a huge success to Oriflame. So, in 1999 Industry Kapital (now called, IK Investment Partners), a leading European private equity company bought 45% of Oriflame's shares, delisting the company from the London Stock Exchange.
In line with the initial plans, company shares were re-listed on the Stockholm Stock Exchange in March 2004. With this, Industri Kapital was realizing its investment in Oriflame through a SEK11.3 billion (approx. US$ 1.5 billion) initial public offering (IPO). The offering was reported to be more than ten times over subscribed and had provided Industri Kapital with a six times multiple on its original investment. Industri Kapital then, continued selling its shares on the stock exchange and exited fully by selling its remaining 4.5% stake in August 2006.
Having celebrated its 50th anniversary in 2017, Oriflame is one of today's major

international direct selling companies. It operates in 60 markets all over the world, has six production facilities in four countries, employs over 6,000 people and has a yearly revenue of €1.4 billion (2017). With this revenue, Oriflame is the second largest European direct seller after Vorwerk.



If this idea of expanding into Eastern Europe at an unprecedented pace had not been implemented, could Oriflame be as successful today? Having been a part of Oriflame's management team at the time, I can confidently answer this: "Hardly!"
More Pages in the History of Direct Sales:
FTC vs Amway (1975-1979)
The Death of Mark Hughes
…..
Hakki Ozmorali is the Principal of WDS Consultancy, a management consulting firm in Canada specialized in providing services to direct selling firms. WDS Consultancy is a proud Supplier Member of the Canada DSA. It is also the publisher of The World of Direct Selling, global industry's leading weekly online publication since 2010. Hakki is an experienced professional with a strong background in direct sales. His work experiences in direct selling include Country and Regional Manager roles at various multinationals. You can contact Hakki here.
SHARE THIS: