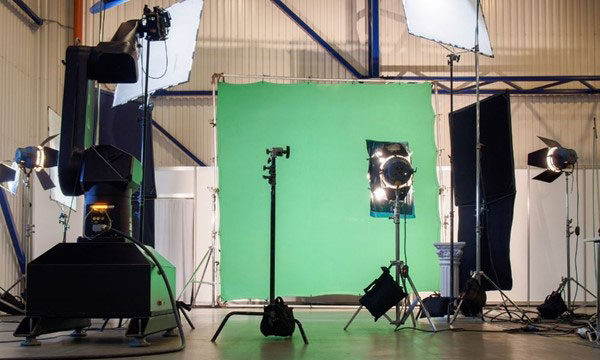 If it feels like your sales and marketing videos are falling flat, it might be time to add some visual pizzazz to your pitches. Green screens can help you craft more exciting and visually rich presentations, explainer videos, and product commercials. They do this by introducing effects and backgrounds that will take your videos out of the everyday and into an ever-changing new reality. With a small investment in tools and materials, anything is possible. Here's how to use a green screen for video marketing.
Buy Gear
One of the beautiful things about green screen technology is that it's so easy to put together your own film studio. Pick up a digital camera. You can also use your smartphone, but for a more professional look, go with a professional camera. Most film editing software, such as iMovie and FinalCut, is equipped with chroma key (green screen's fancy name) capability but double-check before buying and downloading it. There are several free programs that can handle chroma key effects as well. Finally, pick up a green screen drop cloth or, if you can dedicate a room to filming and production, paint a section of a wall with green screen paint. Now you're ready to shout, "Lights! Camera! Action!"
How Does It Work?
First, film your subject in front of the green backdrop, making sure both the backdrop and your subject are evenly lit. You will run that film through the editing software while the chroma key effect is activated. Simplified, chroma key makes the camera not see the green, allowing you to run another film or image behind the talent. You're probably most familiar with this effect through watching meteorologists deliver weather reports in front of a projected map. Keep that in mind for the next step.
How Can Green Screen Help Me Make Sales?
Green screens make their benefits known by giving you the ability to introduce exciting effects or present dull facts and statistics in memorable ways. When considering how to use a green screen for video marketing, just turn your imagination loose. The most basic and effective thing you can do is project your logo and website URL in the background of the video. If the video is shared, your brand sticks in the viewer's mind. Want to dazzle and entertain your potential clients? Show yourself standing anywhere on (or off!) earth or keep it more sedate with a calm and professional background image, such as a library. You can also project images and information that you can gesture to and appear to physically manipulate.
What Are the Benefits?
How about saving money? When you produce your own films, you're saving on hiring a production company, renting studio space, driving to and setting up in locations, and paying for costly reshoots and postproduction work. You also retain the ability to revisit and update your work and maintain continuity in sets, props, lighting, and more. Best of all, a green screen lets you film "anywhere" from everywhere. Don't worry about the weather or inconsistent sunlight. There are other ways to employ green screen in your business, but the above should be a good start.
SHARE THIS: