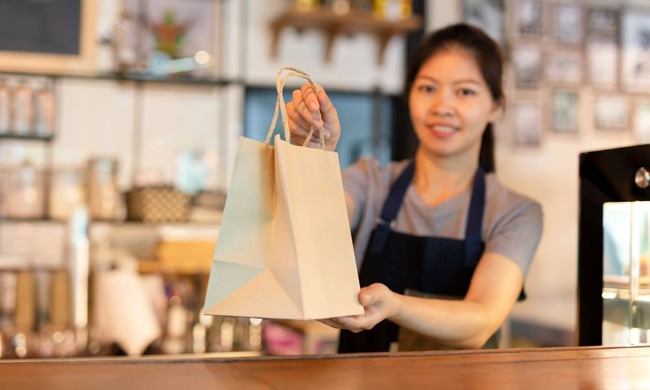 New direct sellers may balk at the idea of promotional giveaways. After all, they may have invested substantial funds for inventory, and they're looking for effective marketing tools to generate a profit. But understanding the psychology of free stuff, how giveaways build business, and why promotional items generate results can help sellers succeed.
Why People Love Free Stuff
Everyone loves getting something for nothing. When consumers pay for something, they assume the risk of disappointment ("buyer's remorse") and regret that they spent money on something that didn't live up to their expectations. However, the idea of buyer's remorse goes out the window when it comes to a free item.
A famous experiment described in a book called Predictably Irrational by Dan Ariely demonstrated the power of zero cost. Subjects were offered a discounted luxury chocolate for 15 cents and a Hershey's kiss for a penny. Most of them chose the luxury item. But when the cost of each item went down by one cent, to 14 cents and zero, far more chose the free item. The difference in price between the two items hadn't changed, but the students' perception of the deal's value did.
What's in It for the Seller?
Getting something for nothing triggers what's known as the "reciprocity effect." People who receive free items feel obligated to give something in return, whether that's a purchase of another product, their email address, or a referral.
Branded giveaways build your products' and brand awareness, increasing loyalty among customers. Those who buy a product that comes with a free sample of another product are more likely to return and buy both products. Therefore, make sure your giveaways are high-quality, useful, and relevant to your business. Giving away a branded coffee cup or pen doesn't relate to a beauty or apparel business.
When To Give Away Free Stuff
It's important for salespeople to choose appropriate occasions for giveaways. For example, an apparel company can determine the best occasions to give away branded logo socks. Giveaways effectively introduce new customers to a product line. As long as you're confident that your giveaway will provide a positive surprise and the item will be durable enough to serve as a repeat reminder of your products, your giveaway program should pay off in increased sales.
The Seven-Eleven chain of stores effectively demonstrated this effect when it held a free giveaway of small slushie drinks to celebrate its birthday. Their sales went up by 38 percent on the giveaway day.
Understanding the psychology of free stuff and how giveaways build business can help direct sellers establish themselves among a new set of customers or secure loyalty among previous buyers.
SHARE THIS: