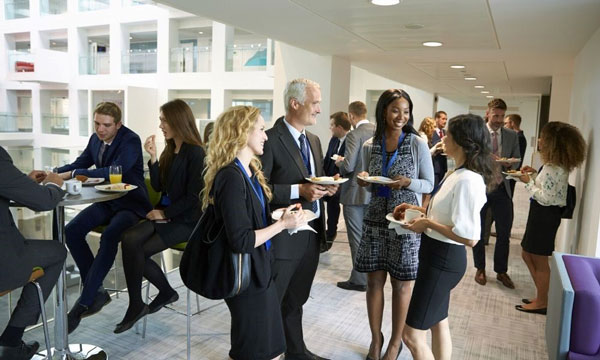 Networking is one of the best tools for finding new jobs and opportunities, but the process can be daunting at first. Explore this advice for attending your first networking event to help you prepare.
Set a Goal
A networking event can feel overwhelming, especially for those attending for the first time. So, it is helpful to show up with a goal in mind. Maybe there will be a representative from a company you want to talk to, or you hold yourself accountable to get three business cards or a new job lead. If you go there with purpose, you'll be able to act accordingly. Otherwise, you can fall into the habit of hanging around the bar, and the event could quickly turn into happy hour.
Look Sharp
In the business world, the first impression is half of the battle. Salespeople should already know this from experience, but make sure you dress to impress, even if the function is business casual. Also, looking sharp will increase your confidence, so your attitude and enthusiasm match your style.
Bring Business Cards
This should be simple, but make sure you bring more business cards than you think you'll need. You don't want to be telling someone, "Sorry, I just gave out my last card." That is a fast way for someone to assume you are an unprepared individual.
Also, when you are giving your card out, write your phone number on the back to give it a personal touch.  Add your social media handles to your business cards like LinkedIn, Twitter, Facebook, or Instagram. As social media continues to dominate communication, you must take advantage of the extra opportunities it offers to network.
Another business card tip is when someone gives you their card, jot down a couple of details about them from your conversation to help you be more specific in future meetings.
Stay Engaged
The most vital thing to remember when talking and meeting new people is to stay engaged in your conversation. Ask questions. Make eye contact. Treat each encounter like a mini interview. You're a salesperson; just now, you are selling yourself.
Staying engaged is also about being persistent in attending these events. Once you find an event you like, become a regular to build relationships with the people there. You can dispense with first impressions, and you'll have people there to sing your praises on your behalf.
Putting yourself out there can be challenging, but with this advice for attending your first networking event, you can take the bulls by the horn, using this invaluable tool to push forward your career.
SHARE THIS: